Section 11 Abe's Friday Morning Wakeup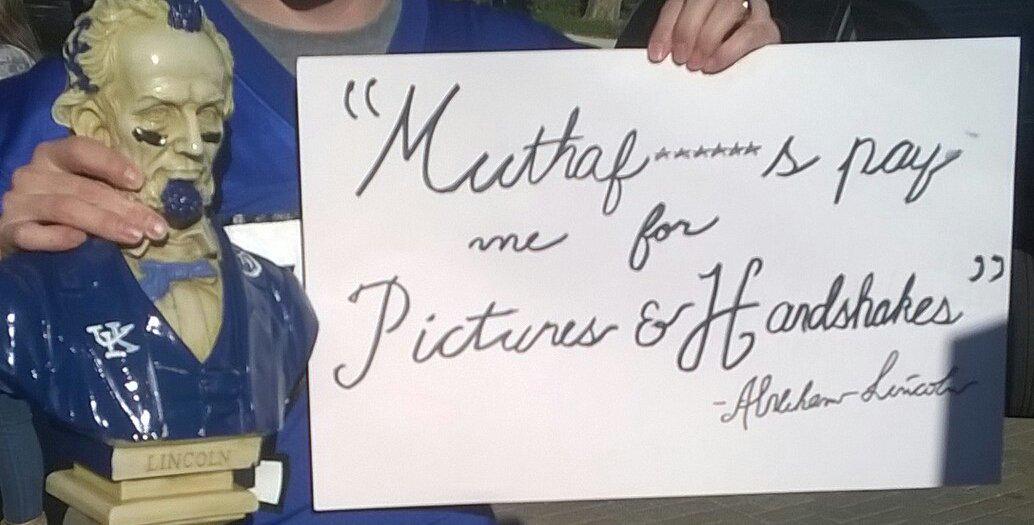 Kentucky football isn't exactly known for its traditions, although Mark Stoops is doing his best to change that. Stoops has taken the Cat Walk to a new level, put the Kentucky state flag in its rightful place in Matt Elam's hand, and given Kentucky football enough energy that when you think of it, you think of a rap song and not "We're from Kentucky and we like it that way."
All of those things are great, but my favorite new Kentucky football tradition may be Section 11 Abe. We've shown you pictures of the painted bust of Abe Lincoln before, but the one that came out on Thursday is my favorite. Abe is posing with a sign with Terrence William's famous quote from the TMZ article last week about the UofL scandal. After following @Section11Abe on Twitter (because of course he has a Twitter), I decided I needed to know more, so I went straight to the source.
The story behind Section 11 Abe goes back to 2007, when a fan we'll refer to as Turd Ferguson and his friends got season tickets. Over the years, they found ways to cope with the pain of being a UK football fan, including crazy touchdown dances, corn hole tournaments requiring the loser to wear an "I suck at corn hole" shirt to games, and creative signs.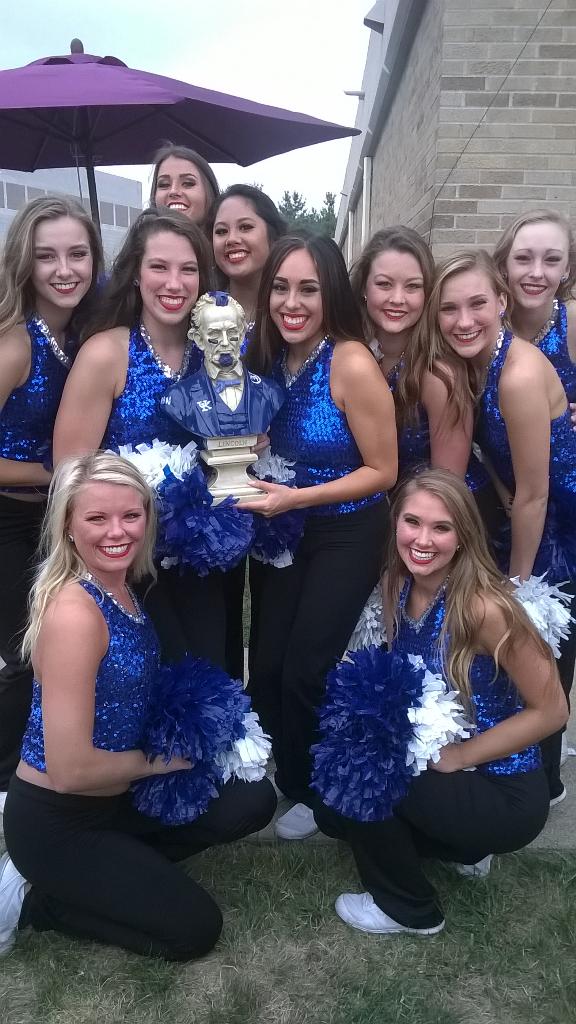 Left: Abe honoring his old section at CWS; Right: Abe hanging with the ladies
The latest manifestation of the group's fandom is a bust of Abraham Lincoln painted with UK colors; according to Ferguson, it was just random and hilarious enough to represent them. Abe first resided in section 212, but after the Commonwealth renovations, moved to section 11, where he was heartily embraced. Abe and his crew bring it each week in the form of signs and cheers, and fans around him rub his head for good luck. The fame quickly went to Abe's head and he demanded his own Twitter account, which you can follow @Section11Abe.
Ferguson says that when people ask him why Abe Lincoln, he says "If Abe could talk, he would say, 'Why not?'". As Stoops would say, he's just getting started, bro.
There's a lot going on today, so let's go over the agenda…
The Cats leave for Starkville
Mark Stoops seemed pleased with his team when he met with reporters last night, saying it was a good week and the group will go through one more practice today before boarding the plane to Starkville. If anything, he actually sounded excited to go on the road with his group, their first game away from Commonwealth Stadium in a month. Stoops said the team will watch a movie together once they arrive. Any guesses as to what they'll see? I'm going with "Woodlawn," because Fandango tells me that's a football movie and I can't imagine DJ Eliot sitting through "Goosebumps."
It's Friday, which also means a pretty awesome hype video from KyWildcatsTV will drop at some point. Ready to run through some walls?
KSR will be at UK's basketball practice this afternoon
Just because you're slacking on a Friday doesn't mean the Cats are. UK is opening their afternoon practice to the media and Drew will be on hand to check it out. He'll have a full recap on the site for you late this afternoon. Something tells me it will include the words "dribble drive."
The Louisville saga continues
Yesterday, Pitino promised Louisville fans he wouldn't let them down by resigning, although it seems a growing number of them wish he would. It's clear Rick is determined to go down with the ship while his sycophants play the violin to keep the delusional from jumping overboard. And that's just fine. It'll just make his slow and inevitable demise all the more entertaining.
In an even more puzzling move, a Louisville student is suing Katina Powell because for devaluing her UofL degree. Huh? That makes absolutely no sense, which I guess makes sense considering she's a Louisville fan. What will happen today? Well…
Katina Powell will be on "The View"
And I have the aspirin ready so I can sit through that train wreck. Want to join me? It's on at 11 a.m. ET on ABC.
Drake Jackson will receive his US Army All-American jersey
The US Army All-American Tour is stopping by Woodford County at 2 p.m. to give UK's future offensive lineman his jersey, one of 98 that will be given to the nation's top prospects. Nick Roush will be on hand to cover the event for us, so check in this afternoon for pictures. Landon Young and Kash Daniel get their jerseys next week.
Ryan, Drew, and Jared are at Klosterman Eye Associates in Harrodsburg
Come enjoy the show at 125 Collin Drive in Harrodsburg and be entered to win one of these great door prizes:
Then go have lunch at Old Owl Tavern and tell Dixon and the rest of the Dedmans I say hello.