Saturday's Top 10 is For The Kids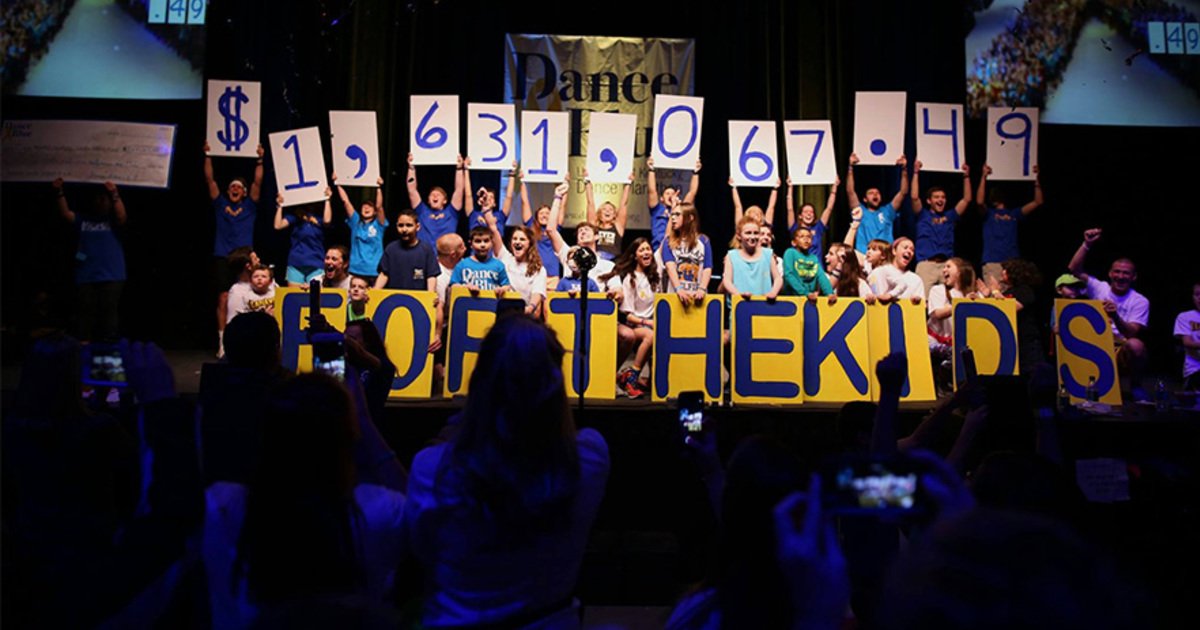 Rupp Arena will receive Saturday's early spotlight, but the night belongs to DanceBlue. Hundreds of tank-top and fanny-pack wearing UK students will fill the Memorial Coliseum floor to dance away pediatric cancer. The annual 24-hour marathon has raised millions for the pediatric oncology clinic at Kentucky's Children's Hospital. You can see the event anytime from 8:00 p.m. Saturday until 8:00 p.m. Sunday, but if you can't get involved in-person, you can still help by donating online.
Now, onto much less important stuff, sports.
What's at Stake
The magnitude of today's game doesn't have the hype it deserves. The Gators simply don't have the name recognition without a superstar and a young head coach with a generic name, Mike White. Still, it's the first time since 1997 a Kentucky game has featured two teams with 13+ SEC wins. It's only happened eight times; Kentucky is 6-2 in those games.
John Calipari has only lost three home conference games in the Calipari era. If the Cats can prevent that list from growing to four, Kentucky will be the No. 1 seed in the SEC Tournament, hold the tiebreaker over Florida and claim a share of the SEC regular season title. A win also keeps the Cats' hope for a two-seed alive.
I normally live by the philosophy, "the games don't really matter until March," but not today. The one-seed ensures a 1:00 tip-off in Nashville. Not only does it give the players more rest, it gives fans more time to enjoy downtown Nashville.
Will Fox Play?
Scoop Lemond's scoop had plenty of teeth. After revealing on Thursday that Fox's bruised knee might limit him vs. Florida, Calipari confirmed the report by stating at yesterday's press conference that Fox will be a game-time decision. The last time Fox was a game-time decision he played vs. Florida, but we all know how that ended.
No Egbunu for Florida
Florida forward John Egbunu has given Kentucky fits throughout his times as a Gator. They lost a significant piece of the puzzle when an ACL injury ended his season, but Calipari said Florida is still a fine team.
"They're still good. Their guard play and what they were (hasn't changed). They're missing one big guy but the other guys…they're good. They're what they're ranked. They're one of those top five, eight, 10, whatever they have them there. They're good and they've been good on the road, too.""
The Matchup by the Numbers
Brad Nessler and Jim Sparnakel have call on CBS beginning at 2:00.
Awesome with a Capital A
Remember that time Florida was ranked No. 1 when they came to Rupp Arena and Chuck Hayes, Keith Bogans, Cliff Hawkins and Co. ran the Gators off the court? That was AWESOME BABY.
Not too late for a #flashbackfriday One of the recent classic @KentuckyMBB #UKvsUF showdowns pic.twitter.com/MVuYnF2qpv

– KYwildcatsTV (@KYwildcatsTV) February 25, 2017
Another Big Recruiting Weekend for Stoops
If there's a big basketball game on a Saturday at Rupp Arena, you better believe Mark Stoops is going to turn it into a big recruiting weekend. The Kansas Game was Stoops' Junior Day, but this second weekend is so big, we'll call it Junior Day Jr.
Since NSD, he's already picked up two teammates from Florida for the 2018 class. Don't be shocked if that list grows after this weekend. A breakdown of visitors will be seen on this site shortly.
Caption This
Coach Ed had the team lifting heavy Friday, providing this quality candid moment during Josh Allen's front squat.
For more football talk keep reading, and listen to this week's Depth Chart Podcast with Cole Cubelic.
UofL Student Won't Get $38,000 Prize for Half-court Shot
Jackson Logsdon earned notoriety and $38,000 during halftime of Thursday UofL women's basketball game. Logsdon hit a layup, free throw, three-pointer and a half-court shot to take home the large sum….or so he thought. Logsdon will not receive the prize because he played high school basketball. The Courier-Journal reports a winning contestant is ineligible if they played high school basketball within the last six years. Instead of paying off out-of-state student loans, he is left with a bittersweet memory.
College Basketball on TV
Noon: No. 18 Virginia at N.C. State on ESPN
Noon: No. 25 Wichita State vs. Missouri State on ESPN2
Noon: No. 17 SMU at UConn on CBS
1:00: Tennessee at South Carolina on the SEC Network
2:00: No. 12 West Virginia at TCU on ESPN
3:00: No. 23 Creighton at No. 2 Villanova on Fox
4:00: No. 14 Purdue at Michigan on ESPN2
4:00: No. 10 Duke at Miami on CBS
4:00: No. 9 Baylor at Iowa State on ESPN
6:00: No. 3 Kansas at Texas on ESPN
6:00: Iowa at No. 24 Maryland on ESPN2
8:00: Alabama at Texas A&M on ESPN2
8:15: No. 5 UCLA at No. 4 Arizona on ESPN
10:00: BYU at No. 1 Gonzaga on ESPN2
Enjoy a Night at the Cardinal Hill Roundball Bash
Next Saturday UK plays Texas A&M early, giving you time to enjoy a night out on the town. Have some fun and raise some money for a good cause with our Cardinal Hill friends at the Roundball Bash. The enjoyable and entertaining event begins at 7:00 at The Grand Reserve and is the place to be in Lexington next Saturday night. Click here for tickets and more information.