RECAP: Montgomery, Richards outshine Perry in UK win over Mississippi State
The late start time didn't affect your University of Kentucky Wildcats in Tuesday night's home contest against red hot Mississippi State. The Cats jumped out early on the visiting Bulldogs and never looked back, winning the game by a final score of 80 points to 72 points. There were no lead changes in the game as Kentucky controlled the scoreboard for 38 minutes and 40 seconds after the first made basket.
The win is Kentucky's 17th on the year and the seventh in conference play. It keeps the chase for the league's regular season crown alive, and puts a dangerous opponent in the rearview mirror.
This is what happened:
EJ Montgomery and Nick Richards outshined Mississippi State's SEC Player of the Year candidate.
We'll start with Montgomery, who had one of the best games of his career. The sophomore scored 12 points, grabbed eight rebounds and played solid defense on the other end to help guide his team to the W. He scored in a variety of ways and never shied away from the physicality of the game. He was good, the kind of good many expected of him all year.
Richards was also great (real great) scoring a CAREER-HIGH 27 points (25 in the second half) with 11 rebounds. Richards' double-double count is now up to 10 on the year and it marked the fifth time he went for 20+ points and 10+ rebounds this season.
Give this man his SEC Player of the Year trophy.
There was a clear emphasis on rebounding.
After getting owned on the boards at Auburn last weekend, Kentucky made a point to crash the glass against Mississippi State, one of the better rebounding teams in the entire country. (Third in the nation in offensive rebounds going into this game.) Mississippi State won the final count, 40-37, but the Cats were on top for much of the game, including at halftime.
The guards did a good job of rebounding — Maxey and Quickley each had four — and UK pushed the tempo off Mississippi State misses to keep the opposing backcourt backpedaling the other way, away from the boards. It helped that Montgomery and Richards combined for 19 rebounds, while holding Perry beneath his SEC-leading average.
Photo of the Night: John Short and Maria Montgomery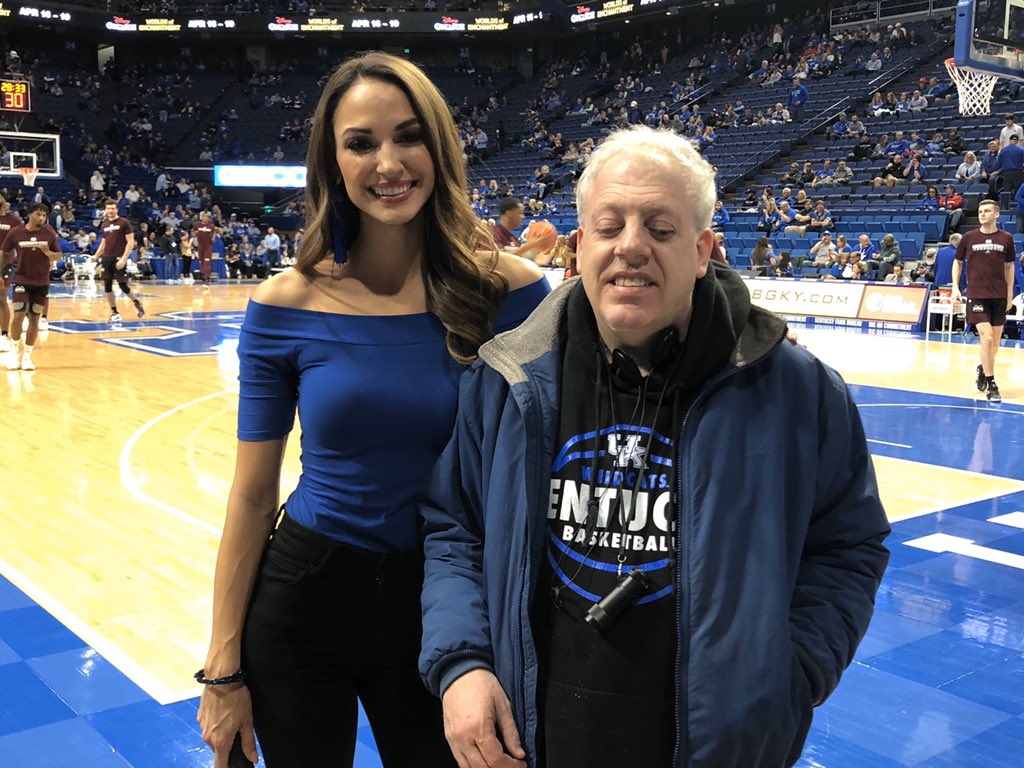 Big Blue Nation's favorite radio show caller got to meet Rupp Arena emcee and former Miss Kentucky, Maria Montgomery.
You can see our entire photo gallery on Facebook:
Immanuel Quickley is chasing history at the foul line.
Quickley went a casual 14-for-14 at the stripe tonight, giving him a share of the school record for most attempts without a miss, while bringing his average on the season to an insane 92.3 percent. He wasn't as hot from the field (3-of-11), but who can complain about a guy who hits 14 free throws without a miss? Quickley's scoring was crucial, especially as Mississippi State tried to mount a late comeback. He hit eight free throws in the final 50 seconds, which put him up to 21 points.
He's scored 20+ in three of the last four games.
If you need a good reason to like UK in the tournament…
With Mississippi State trying to claw back into the game, Kentucky iced it with 16 consecutive made free throws in the final three minutes. Say what you will about the team's weaknesses, and there are many, but you aren't going to give away many games going 16-of-16 from the foul line in crunch time. Heck they went 31-of-36 for the entire game.
Hagans didn't do anything to silence his critics on the offensive end.
If we're going to point out all of the positives, it's only fair that we at least acknowledge that Hagans' offense is not improving. He kept his turnovers down — two in the first half, none in the second, which is nice — and dished out six assists in the game, but he still can't put the ball in the basket. There was another missed routine layup and four more misses on his seven shot attempts for only six points, his fourth straight game beneath his per-game average.
Can't be mad about six assists and two turnovers though, not after 11 turnovers in his last two games.
A couple more stats that weren't awesome:
— Only six points from the bench, all from Nate Sestina. Johnny Juzang and Keion Brooks went scoreless in five minutes apiece.
— Only four second chance points in the entire game. That's with nine offensive rebounds.
— 1-of-10 from outside. Immanuel Quickley made one to keep them from missing every three-point try.
Still a win so eat it, you stats that weren't awesome.
The officials let them play!!!!
Finally, an enjoyable basketball game! There were only 39 fouls in the game and we made it through the first half without either team finding the bonus or foul trouble! Until Mississippi State implemented its foul strategy late in the game, we were on pace to finish within two hours and I don't think I heard more than one or two Boooooooooos in Rupp Arena.
Coach Cal even said, "This group tonight did a good job on this game," after a stretch of games that had him pulling his hair out.
As for the late technical, Cal admitted he deserved it.
John Calipari remains undefeated against Mississippi State.
Make it 14-0 for John Calipari against Mississippi State. He's had the Bulldogs' number over the last decade and the dominance continued Tuesday night. UK got back in the win column with a very important victory against a bubble team hungry for a marquee win. Let's all give a loud Go Cats to that.
Tennessee, you're next.