PJ Washington declares for draft, but not hiring agent
PJ Washington just announced on social media he is declaring for the NBA Draft, but will NOT hire an agent.
"After meeting with Coach Cal and talking through my situation, I am going to test the waters and see where I stand after my freshman year," PJ wrote. "I want the fans to know that I love school, I love this program, and I love Kentucky."
"I'm not in a hurry to make any type of decision but Coach believes I should evaluate where I am right now."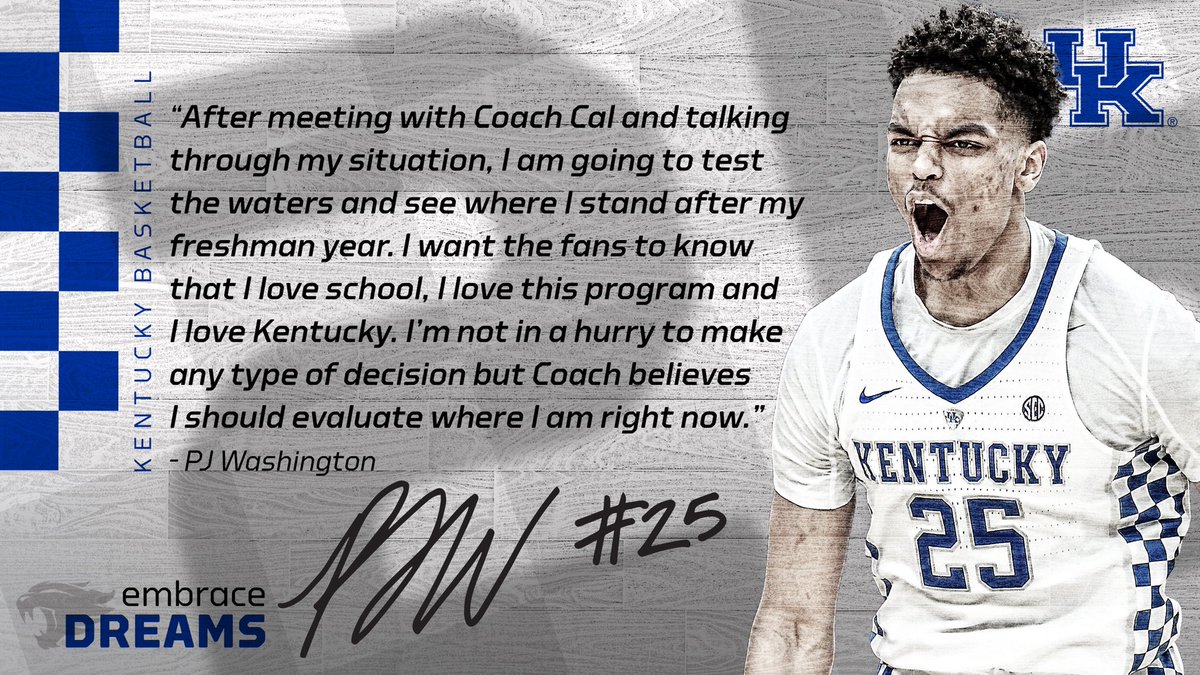 Washington averaged 10.8 points and 5.7 rebounds in his freshman year but came on strong in the final stretch of the season, averaging 12.9 points and 6.8 rebounds in the last 12 games. He led the team in total rebounds with 211 boards.
"PJ and I met and talked this week about his future and the process that he would be able to go through if he chose to," John Calipari tweeted. "I think it's very important that each kid understands where he stands at this point in the eyes of professionals."
"PJ has improved physically and mentally. His ability to play winning basketball isn't even close to where it was at the beginning of the season. I've seen a tremendous growth in all those areas. Like all these kids, I would like to continue to coach PJ, but I'm going to support him as he goes through this process."
Smart move. Best of luck to PJ as he goes through this process.
[mobile_ad]