Pitino doesn't deny allegations in another bizarre interview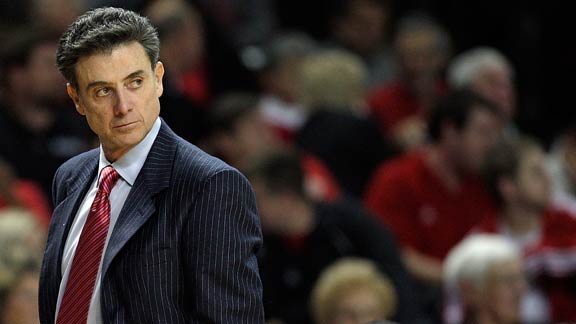 Rick Pitino taped an interview with John Ramsey and Mike Rutherford this afternoon, and well, it was bizarre. Once again, Pitino didn't come out and deny any of the allegations surrounding his program, insisting that the only person who knows for sure what happened is Andre McGee, and he's not talking.
"None of us — right now — can see any reference to what was written because only Andre McGee knows those questions right now, and obviously he hasn't talked," Pitino said.
When discussing how the alleged activities could have taken place for four years and the coaches not known about it, Pitino oddly brought up Roy Williams.
"Think about this. I'm a big Roy Williams fan. I know Roy Williams. He has never cheated in the game since he's been a coach. You mean to tell me that for 20 years, 2-3,000 students went by and not one student after they took the course wrote in to the university anonymously saying 'this was a bogus course'? So if something goes on for 20 years and nobody finds out, if there's something wrong here — which we don't know — then that doesn't necessarily mean that nobody knows or doesn't know. Until you investigate everything that's said, you don't have the answers to things. And I certainly don't have any answers right now to any of this. I have no knowledge of what went on, what didn't go on, if anything went on."
Huh? After comparing himself to Roy Williams — I think — he compared himself to the Pope:
"You know what I love about the Pope? The Pope is probably the most popular in some time because when they ask him about things, whatever it may be, he said 'I'm spreading our doctrine, but I'm going to let God judge. I'm not the judge. I'm going to let God judge.' And that's the way I feel about this tough game of life. I'm going to let God judge my integrity."
From there, Pitino talked about how upsetting it was that all of these things allegedly went down in the dorm named after his brother-in-law, who died on 9/11.
"When I heard all of this and it took — it allegedly took place in the dorm I named after him, quite honestly guys, I cried myself to sleep that night hoping that it wasn't true because it was Minardi Hall. It still bothers me. I have not slept because the allegations are it took place in Billy Minardi Hall. That's really a knife in my heart."
Next, Pitino brought up the "Kentucky's Shame" Sports Illustrated cover as proof he can keep his program successful amidst scandal:
"Many, many years ago when I took over at Kentucky, there was a little boy on a cover called, and the cover read, I remember it cause I had it hanging in my basement, and the little boy and it said something like, um, Kentucky Shame. That was the title: Kentucky Shame. And I went in there and said, you know what? I didn't focus on the shame part, I focused on the solution to the problem. Two years later, we had the largest crowd ever, we were on two years without television and Jamal Mashburn chooses the University of Louisville (sic)," Pitino said, obviously misspeaking.
"No NCAA, no television, the first year we had record crowds and we had the largest crowds in the history of Rupp, and then the second year we win the conference and it's turned around. We found the solution to the problem. I didn't dwell on whatever went on, I didn't want to know the problems. Right now, we've got to find the solutions to what's true and what's now true. Right now there's only one person who knows the answers and he's not talking."
I'll give Pitino this: he repeatedly said that if it comes out that the allegations are true, he and his program will own up to it. In listening to this interview, he sounds more convinced than ever that's the case.