Pilgrim's Insider Notes: It's decision week for Keion Brooks Jr.
It's officially decision week for one of Kentucky's final remaining targets in the class of 2019, five-star forward Keion Brooks Jr.
After months of back-and-forth between Indiana and Kentucky, along with some other schools making pushes along the way, we'll finally know where the 6-foot-8 forward out of Fort Wayne, IN will be attending college.
Let's take a look at the latest:
Keion Brooks Jr.
Keion Brooks
Forward | 6-8 | 185 lbs.
Fort Wayne, IN | North Side
AAU: Spiece Indy Heat
ESPN
No. 30 | 9 PF
Top247
No. 16 | 5 SF
Rivals
No. 35 | 13 PF
247 Comp.
No. 22 | 6 SF
For starters, it's surprising just how quiet things have been on Brooks' front since he announced his decision date. Usually things are quiet for a few days, but as we inch closer to the big day, we hear leaks, momentum changes, and/or runaway favorites.
This this decision, however, there has been little-to-no public buzz, which I find pretty interesting. On first glance, it shows that the family has decided to keep (mostly) everything internal and they're finally getting into the serious discussions of the decision.
Now, it's a waiting game to see what (if anything) slips through cracks over the next three days.
When we look at the big picture in terms of momentum right now, national analysts, Kentucky insiders, and Indiana insiders all believe he's slightly leaning Kentucky. I have posted on the insider notes over the last two weeks that I felt strongly in my UK prediction, and I still feel that way.
One thing I keep going back to, however, is the James Blackmon Jr. recruitment back in 2013. If you'll remember, Kentucky was rumored to be the favorite over Indiana for several weeks leading up to his announcement. In the final week or so, things went quiet, and the former five-star guard ended up going with the hometown Hoosiers over his father's Wildcats.
There are obvious differences in these recruitments (Devin Booker committed to Kentucky the week before Blackmon Jr. made his decision, UK has a more of a need at forward right now compared to their need at guard at the time, etc.), but I still find it interesting nonetheless.
Let me clarify that I'm not hedging my prediction at all. If I'm wrong, I'm wrong, and I'm okay with that.
Looking at the facts, though, Kentucky is the only school he's visited since November, and ever since then, every pick in the 247 Sports Crystal Ball has been in favor of the Wildcats. That includes the likes of Jerry Meyer, Andrew Slater, Mike Peegram (Indiana insider), and Kevin Ryan (247 Sports' National Recruiting Manager).
While recruiting expert Evan Daniels hasn't officially put in a Crystal Ball prediction, he did say he's leaning toward Kentucky.
"The truth is, I don't know where Brooks is going," he said. "If I was forced to make a guess, I would lean towards Kentucky, but Brooks and his family have done a good job of keeping their choice close to the vest. While there are more than three finalists, the only three that I think have an inkling of a shot are Indiana, Kentucky and Michigan State."
As I mentioned last week, Brooks' inner circle is now favoring Kentucky, while Brooks himself sees the decision as a toss-up, with a very slight edge likely going to Indiana. That being said, he has a very strong relationship with those close to him, specifically his parents, so if he likes both schools equally (or close to it), he would absolutely be okay with choosing the Cats.
I'm told that the Kentucky coaching staff has remained in strong contact with the elite prospect and they still feel strongly about their chances. They firmly believe their "Kentucky isn't for everybody" pitch resonated well with both Brooks and his family, as they enjoy the idea of a challenging experience to develop among NBA talent before making the jump to the big leagues. They're watching UK's season closely and the development the team has experienced from November to right now. It's intriguing.
On the flip side, Brooks' best friend, Trayce Jackson-Davis, is also committed to Indiana and has been telling reporters over the last week or so that he still thinks Brooks ultimately stays home and teams up with him in Bloomington. While his very close inner circle may favor the Cats, there are still folks at home wanting him to stay in Indiana.
Outside of Kentucky and Indiana, as mentioned last week, I genuinely don't think anyone else has a chance when it's all said and done.
After a bit of off-and-on Michigan State buzz, I did hear from someone on MSU's side of things over the last few days that they're no longer expecting to be the choice. Last week, I told you guys that Tom Izzo was still telling people that he thought Brooks was coming, but that's no longer the case. With the addition of 6-foot-8 power forward Julius Marble on Sunday, they effectively took themselves out of consideration from a pure numbers standpoint.
That same night, Tipton Edits (a well-informed insider with direct contact with many top recruits) released a graphic with Brooks wearing three different uniforms: Indiana, Kentucky, and North Carolina.
Decisions, decisions…? @KeionB_12 @keion_brooks pic.twitter.com/GNiCAcTZsW

— TIPTON EDITS ? (@TiptonEdits) March 11, 2019
At one point this weekend, however, Brooks also posted images of Michigan State and North Carolina on his Instagram story: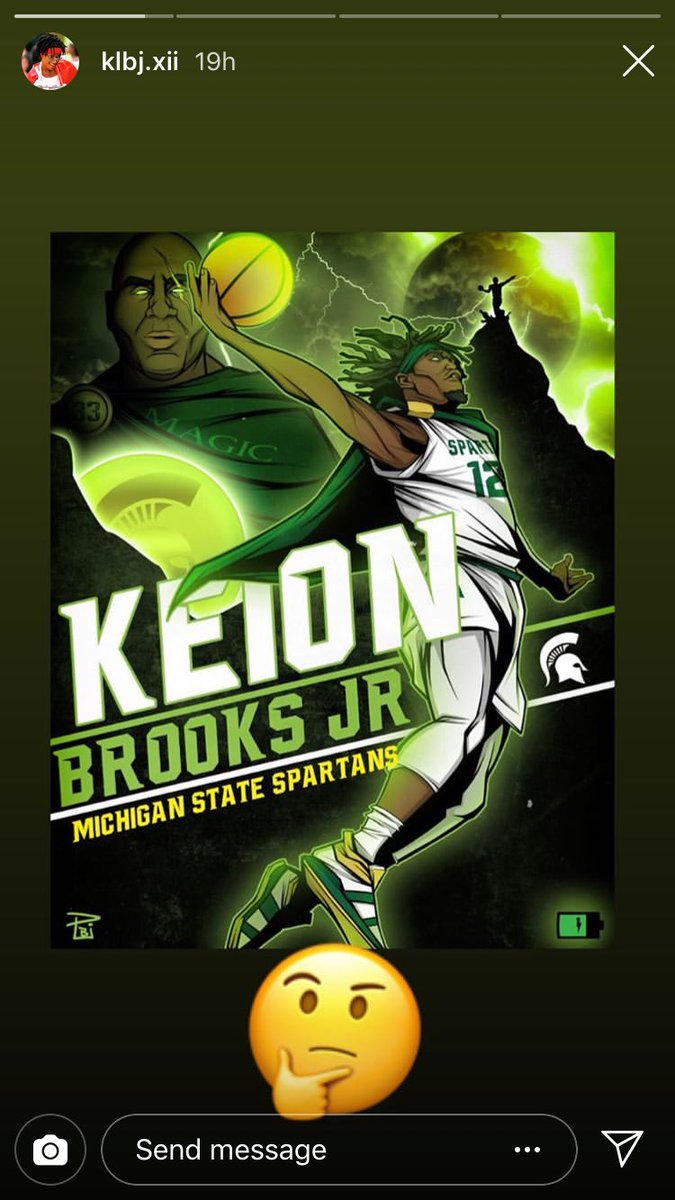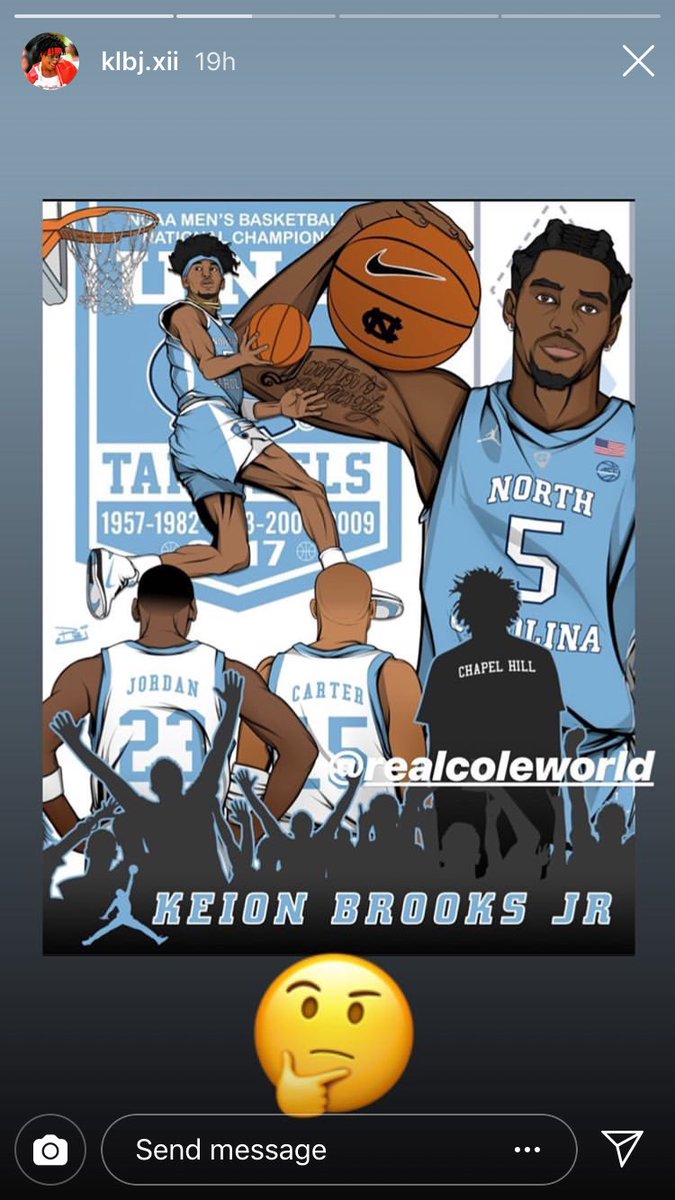 Though it comes off as a bit confusing, I'm told this is a similar situation to Anthony Edwards during the home stretch of his recruitment several weeks back. Despite all of the buzz surrounding one school at the time (Georgia), the former UK target built up the hype of his announcement by posting pictures of him on different visits wearing a variety of uniforms.
In the end, the choice came down to what everyone assumed to be true the entire time, which I believe will be the case with Brooks.
North Carolina felt they were out of the race over two weeks ago, and Michigan State felt the same over the last week.
That leaves the main two schools we've felt were the strongest contenders all along, Kentucky and Indiana.
I'll keep you guys updated if anything else leaks out over the next few days, but for now, I have no reason to go away from my Kentucky prediction.
NBA Decisions
I hinted at this on my "Takeaways" post from Saturday night, but after a few more conversations I've had over the last week or so, I strongly believe Kentucky guard Tyler Herro will be entering the NBA Draft after this season.
There are numerous people on social media that believe he's not ready for the NBA and needs more time to develop, but everything I've heard indicates Herro will absolutely be a first-round pick when the draft rolls around this summer.
The Kentucky freshman has almost zero holes in his game, exceeding all expectations in his game outside of shooting and scoring. Scouts love him, and they want him now, not later. Above all else, Herro believes he's ready to go, as well, and that's ultimately what it comes down to in the end.
As great as it'd be for him to return for a sophomore season, I just don't see it happening. If I were a betting man, I'd say we've seen Herro for the last time in Rupp Arena.
With Ashton Hagans, things are a bit more foggy than they were a few months ago. When the Kentucky point guard went through his stretch of elite play from the North Carolina game on December 22 through the Kansas game on January 26, there was serious talk that he was going to work his way into first-round contention.
As the regular season closed out, however, he reverted a bit back to the norm as a solid college starting point guard.
I'd put Hagans at 50-50 right now, with his postseason play being the key to his decision. If he stays on his current path, I think there's a solid chance we see him back in a Kentucky uniform next season. If we see what we saw from December to January, he'll absolutely go.
Make no mistake about it, Hagans came to Kentucky hoping to be a one-and-done, and if he thinks he's ready, he'll make the jump.
Beyond those two, PJ Washington and Keldon Johnson are still expected to leave, while EJ Montgomery, Nick Richards, Immanuel Quickley, and Jemarl Baker are all expected to return.
---
We still have more time to discuss NBA decisions as we roll right into postseason play.
With Brooks, though, we're just three days away before we find out whether or not Kentucky is adding yet another five-star high school All-American talent.
[mobile_ad]