Pat Forde says UofL firing Rick Pitino isn't out of the question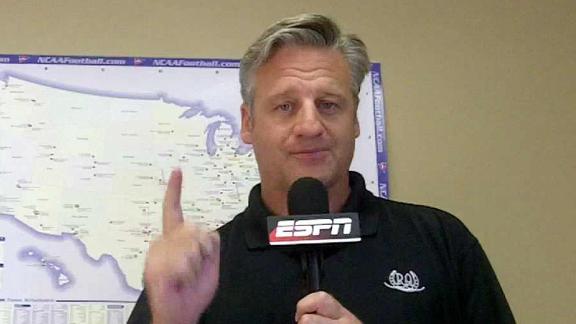 If you've read this site over the years or even followed the Kentucky/Louisville rivalry as a casual fan, you know about the bromance between Pat Forde and Rick Pitino. Anyone who's been to Molly Malone's in the past decade knows the two are close, which is why it was surprising to see Forde break the stripper scandal story on Friday afternoon. While you could argue the timing of the release — late on a Friday afternoon — was in the Cards' favor, both Tom Jurich and Pitino seemed caught off guard it, Pitino looking downright shaken in his press conference.
Over the weekend, Forde recorded a podcast with Dan Wetzel in which the two discussed the scandal and, in my opinion, although it pained him to do it I'm sure, Forde did not hold back. Forde told Wetzel that he found Katina Powell's story "credible," albeit probably embellished, and went as far to say he doesn't think it's out of the question that Louisville could fire Rick over it. Whoa.
"Could they fire Rick Pitino? I don't think it's out of the question. Rick Pitino could resign, he could step down," Forde said, doubling down when Wetzel guffawed and said 'no way.' "I am by no means convinced that Rick Pitino will be the coach a year from now, six months from now. He might be, but I don't think it's any sure thing. I don't think it's a 'no way' situation."
Forde said he doesn't think Rick knew specifically what was happening, but he still has to be accountable for what happens under his watch. He even mentioned the possibility of Louisville's 2013 National Championship being vacated.
"[The scandal] has rocked this city where I live. It has been the biggest story going and a potentially devastating story for Louisville," Forde said. "If that championship banner has to come down for this, wow. That will be a blow like few things I've ever seen here."
Click here to listen to the podcast for yourself.