Night 1 at the SEC Tournament LIVE THREAD
You're looking live at Bridgestone Arena, where LSU and Mississippi State just tipped off on night one of the SEC Tournament. It is a packed crowd here in Nashville— okay, no, it's not at all. There are maybe 1,500 people here, most of them Kentucky fans. A panoramic shot:

Regardless, we'll be here to entertain you throughout the night, which will probably mean very few updates on the actual games and more on the other stuff happening. I already have one gripe with the SEC: stop using the strobe light during intros. This isn't a high school dance and nobody likes it. In fact, it can trigger migraines and seizures.
Nick, 7:13 — For the second consecutive year, I forgot to pack an important item of clothing. Last year, it was everything that hung on hangers; all of my dress clothes. This year, I came without any socks. Smooth move, Roush.
Drew, 7:21 — Hello, friends! The fever is really flaming up here in Nashville and the only cure is more SEC basketball! Gimme! Tonight's crowd is respectable given this night's usual turnout, and most of them are Cats fans, as always. They're all here to watch the two most exciting basketball games you'll find anywhere this Wednesday. If you missed my predictions, see those here.
Drew, 7:30 — Looks like I'll be drinking water all week.
7:45, Tyler: It's halftime, and Mississippi State leads LSU 37-25. One dunk and a cute contest with a child in a blindfold withstanding, this game has gone about as expected, meaning it's been really, really boring. We've sent Roush off in search of food and water. Please cross your fingers that his wagon doesn't lose an axel or he falls victim to dysentery. SEC Basketball Fever is nothing to joke about.
7:52, Drew — The Jonny Jones era of LSU basketball is in serious jeopardy! (A year too late.) Maybe he could get a job coaching these kids playing at halftime.
Here's a box score if any one cares. I know I don't.
8:00, Nick –– I just made Kaylee laugh. No big deal (kind of a big deal).
8:03, Nick — Of all the meals I've been served as a member of the "media," this is one of them.
8:16, Nick — It's a damn shame this shot from Wake Forest was after the buzzer. It's also a damn shame we can't get something this cool to happen at the SEC Tournament.
https://twitter.com/JimMWeber/status/839641962848342019/
8:20, Drew — The LSU band is really giving it to the Mississippi State players, which I find hilarious. One Mississippi State fan had heard enough, so he yelled to the third-chair trombonist, "Sit down! Sit down and blow your horn!" SO MUCH DRAMA HERE ON NIGHT 1!!!!
8:37, Tyler — See what's happening LIVE in the KSR Suite by heading over to our Facebook page.
8:50, Nick — Mississippi State wins 79-52 and the Johnny Jones era at LSU is over.
✌🏼 pic.twitter.com/0CyHvE007l

— Nick Roush (@RoushKSR) March 9, 2017
Miss. State will play Alabama tomorrow at approximately 2:30 CT.
9:05, Tyler: In case you missed our thrilling Facebook Live tour of the KSR suite area, here's a peek at how the other half lives at SEC Tournament… Nick, 9:20 — The crowd is much better for game two:
Crowd has really picked up in time for game two between Mizzou and Auburn pic.twitter.com/xQvFVk8ruT

— Nick Roush (@RoushKSR) March 9, 2017
However, the quality of basketball is not any better at all. Drew and I witnessed what might be the worst basketball shot ever attempted. The Auburn air ball could best be described as "pathetic."
Nick, 9:27 — Meanwhile, at Madison Square Garden:
Whoa. Benches clear, Chris Mullin & JT3 get into it. Things just got real chippy at @TheGarden. #BEtourney https://t.co/LWAzgpcks7

— FS1 (@FS1) March 9, 2017
Tyler, 9:51: Missouri and Auburn are locked into an intense battle of quality SEC Basketball and the nacho bar is still rolling up here in the KSR suite. Need more proof that Kentucky Basketball is everywhere at the SEC Tournament? Check out these giant pictures of Malik Monk and De'Aaron Fox: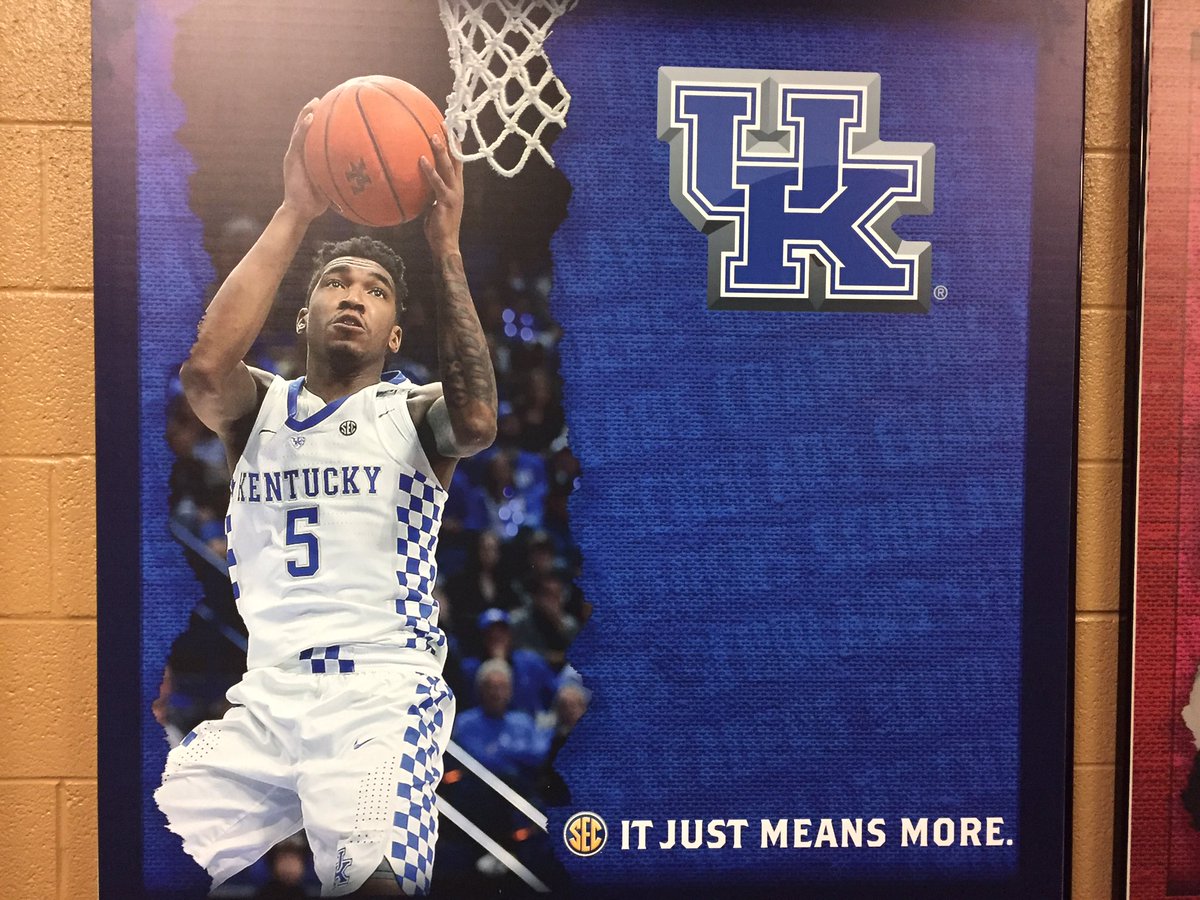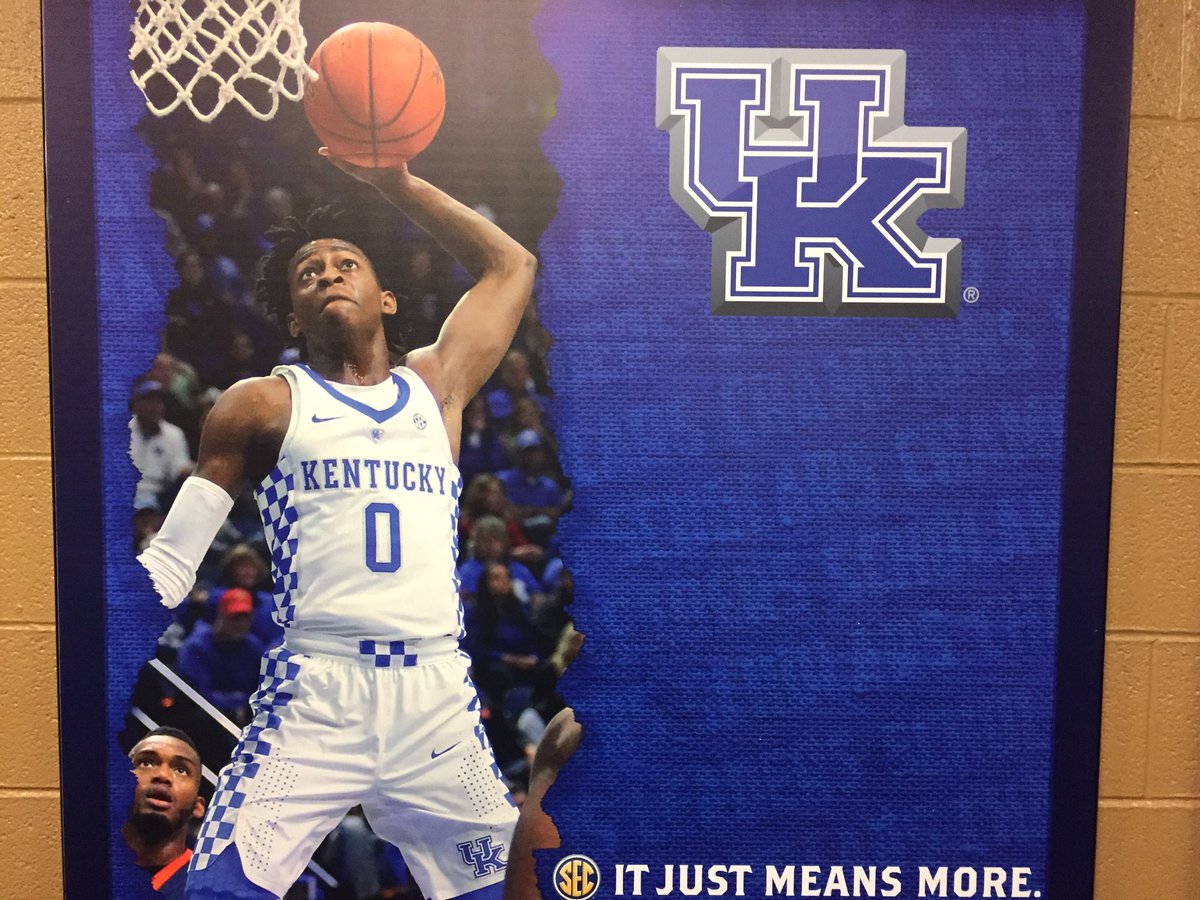 Fine, they do two posters for every school, but still, here are your two stars. Also, here is a Kentucky fan asleep in the crowd…because Missouri/Auburn:
10:15, Drew — Caption this excitement.
So much SEC FEVER on that face.