Monday's Top 10: Rematch with the Vols, Crean falls down, Sturgill makes us proud After a weekend in which the temperatures were in the 70's in Nashville, wintry scenes like the one above are hard to believe, but shoutout to UK and KSR fan Danny at the Alta Ski Resort in Utah. That picture is so pretty it almost looks photoshopped.
While Danny's strapping on his skis for another day on the slopes, let's go over today's agenda, shall we?
1. Will the reboot continue tomorrow night vs. Tennessee?
All eyes turn to tomorrow night's showdown vs. the Vols in Rupp Arena, and hopefully, the Cats will be out for revenge after last month's loss in Knoxville. John Calipari's been begging his team to take games and matchups personally; after a promising performance on the road vs. Alabama, will a rematch of one of their most embarrassing losses be the right medicine? I sure hope so.
2. Here's what Tennessee's been up to since beating Kentucky
After sending the Cats spiraling into the slump, Tennessee garnered some buzz as a bubble team, but that's unlikely after losses to Mississippi State and Georgia. While the Vols exploited Kentucky's weaknesses last month in Knoxville, I have a feeling tomorrow's game will be a different story. After all, Tennessee hasn't won in Rupp since 2006.
3. John Calipari and select players will preview the Vols
Tune in to the site mid-afternoon for a live stream of John Calipari and select players previewing tomorrow's game. Calipari was in a good mood following Kentucky's win in Tuscaloosa. Will that positivity carry over?
4. ICYMI, Fox and Bam are fine after a minor car accident yesterday
My heart rate spiked yesterday afternoon when I saw that De'Aaron Fox and Bam Adebayo were involved in a minor car accident on Nicholasville Road, but thankfully, both are fine. Bam and Fox were getting a ride to a team meeting on campus when the car they were in rear ended an SUV, sending one person in the car that was struck to the hospital with minor injuries. While this seems to be a fender bender, let's just be thankful it wasn't something a lot worse.
5. Also, UK was projected to be a three-seed by the Selection Committee on Saturday
These projections came out before Kentucky's win over Alabama, but that wouldn't have boosted the Cats' resume much. In fact, Kentucky has few opportunities left to work their way up to the two-line. Fortunately, the rest of college basketball seems hell bent on falling apart this season, so who knows what will happen in the next month. Regardless, you know Joe Lunardi and Jerry Palm will keep giving us their best guesses, and in turn, I'll bring them to you, because we have to have something to talk about, right?
6. Last night, Calipari and Tony Barbee (and Drew Franklin) watched Nick Richards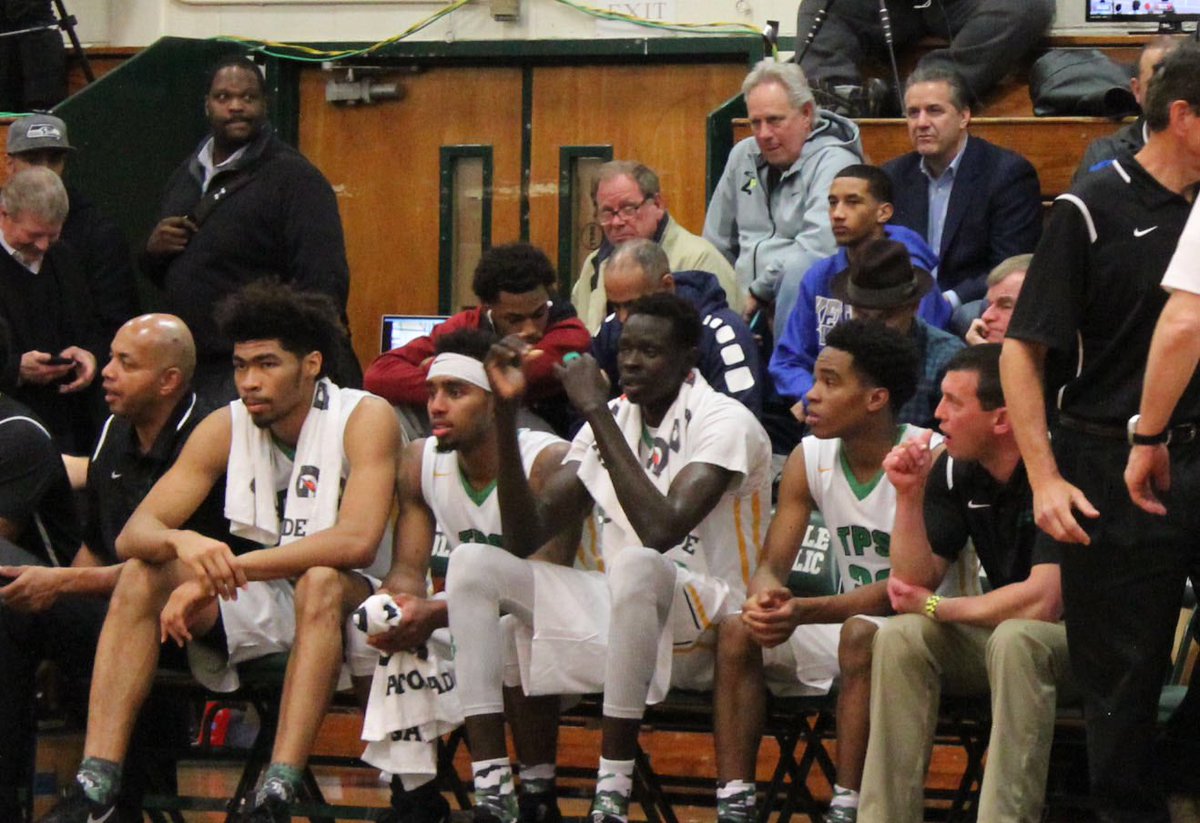 Coincidentally, our Drew Franklin, John Calipari, and Tony Barbee were all in New Jersey yesterday to watch Nick Richards play in the Primetime Shootout. Richards didn't play most of the first half, but he did throw down this ridiculous dunk, which hopefully made the whole trip worth it:
Coming to Rupp Arena next year… pic.twitter.com/Ot5sUWZN2U

– Drew Franklin (@DrewFranklinKSR) February 13, 2017
They also watched 2018 star Naz Reid and 2019 stars Scottie Lewis and Bryan Antoine. No days off for Cal.
7. I'm still laughing at this video of Tom Crean getting knocked down
WATCH: Indiana coach Tom Crean get creamed.#InTheLoop #B1gTalk pic.twitter.com/MEj9F9CYa6

– In The Loop (@CSNInTheLoop) February 13, 2017
It's just been that kind of year for Crean and Indiana.
8. College basketball on TV tonight
7:00 PM: #4 Louisville at Syracuse, ESPN
7:00 PM: #6 Baylor at Texas Tech, ESPNU
9:00 PM: #13 West Virginia at #3 Kansas, ESPN
9:00 PM: #2 Villanova at DePaul, CBS Sports Network
9. Will the UK Football hires become official today?
Late last week, word spread that Mark Stoops hired Derrick LeBlanc as his new defensive line coach and former EKU coach Dean Hood as his outside linebackers/special teams coordinator. Neither hire has been confirmed by UK yet, but we expect to hear word today or tomorrow.
10. Sturgill Simpson made Kentucky proud last night
After Beyonce was done with her holier-than-thou poetry slam (it sucked, come at me, Bey-hive!), Grammys viewers were treated to some real music courtesy of Kentucky's own Sturgill Simpson, who won Best Country Album for A Sailor's Guide to Earth. If you missed it, here's his performance of "All Around You":
Also, shoutout to Bowling Green rockers Cage the Elephant, who won Best Rock Album. Kentuckians doing big things in the industry these days.
Radio in an hour…