Monday's Top 10: Happy Thirth of July
Good morning, friends, and happy Thirth of July, aka one of the most underrated days of the year. Whether you're at work, taking the day off, or in Spain like that Cat fan up there, I'll be here to entertain you for the next nine hours. Let's have some fun.
1. Team USA looks unstoppable in the FIBA World Cup so far
After a shaky start in Game 1, Team USA found its footing and has dominated the FIBA World Cup. On Saturday, Calipari's crew blew past Iran 108-48, and yesterday, beat Angola 109-68. Here are the stats for Hamidou Diallo, PJ Washington, and UK's recruits:
| | | |
| --- | --- | --- |
| | vs. Iran | vs. Angola |
| Hamidou Diallo | 17 points, 4 rebounds, 2 assists | 15 points, 3 rebounds, 3 steals |
| PJ Washington | 13 points, 4 rebounds | 11 points, 7 rebounds, 4 assists |
| Immanuel Quickley | 6 points, 2 rebounds | 12 points, 2 assists, 2 turnovers |
| Cameron Reddish | 14 points, 4 assists | 11 points, 4 rebounds, 3 assists |
Romeo Langford had five points vs. Iran on Saturday, but is dealing with back spasms and hasn't played since. He's day to day.
2. The highlight so far is this dunk by Hamidou Diallo
😱 WOW @USABasketball's @Diallo1Hamidou with the block and the nasty windmill dunk #FIBAU19 pic.twitter.com/zMOL49zIet

– FIBA (@FIBA) July 2, 2017
My goodness. Can't wait to see that in Rupp this fall. Team USA has the day off, but will play Italy tomorrow at 10:30 a.m.
3. Tai Wynyard's been playing great as well
Through two games with New Zealand, Wynyard has 34 points and 11 rebounds. After barely seeing Wynyard during his time at Kentucky, it's been fun to watch him dominate for his home country. On Saturday, he had 16 points in the fourth quarter alone:
I tried my best to watch Team USA and New Zealand's games this weekend via the FIBA World Cup live stream, but the fact that there's no commentary really threw me for a loop. Of course, you can still hear Calipari screaming and stomping.
4. Check out our photo gallery from Cairo
Our Cairo correspondent Sofie Tapia is doing a great job for us, so be sure to check out her photos in our Facebook gallery:
KSR's Cairo correspondent Sofie Tapia snapped these pictures in the first half before asked to leave for not having the right credential. She fought the law, but the law won.

Posted by Kentucky Sports Radio on Saturday, July 1, 2017
5. The NBA Summer League continues
Derek Willis (Detroit Pistons) , Bam Adebayo (Miami Heat), and Dakari Johnson (Oklahoma City Thunder) started their runs in the NBA Summer League this weekend. Dakari had 18 points for the Thunder on Saturday, while Bam had a double double with 14 points and 10 rebounds for the Heat yesterday. Willis turned in 8 points, 3 assists, and 1 rebound in the Piston's win over the Knicks.
The Utah Summer League also begins today, meaning you'll get to see a trio of Cats play for the Philadelphia 76ers. Here's today's schedule, with all games airing on NBATV:
1:00 PM: New York Knicks vs. Oklahoma City Thunder (Dakari Johnson)
5:00 PM: Indiana Pacers vs. Miami Heat (Bam Adebayo)
7:00 PM: Boston Celtics vs. Philadelphia 76ers (Alex Poythress, Aaron Harrison, Isaiah Briscoe)
6. Malik Monk signs with the Hornets
Monk may be sitting out the Summer League with a sprained ankle, but last night, he made it official with the Charlotte Hornets, signing a four-year, $15.72 million contract. Monk will make approximately $2.9 million during his rookie year.
WE'VE INKED THE DEAL 🙌🏽 The Hornets have officially signed @AhmadMonk! #BuzzCity 👉🏼https://t.co/DtqIYZuVRy pic.twitter.com/tspNWkTjz7

– Charlotte Hornets (@hornets) July 3, 2017
In other NBA news, Jodie Meeks signed a two-year, $7 million deal with the Washington Wizards, meaning we'll finally get to see him team up with John Wall…even if it's eight years too late.
7. For some reason, this poll exists and Kentucky is losing
The Finals for best fans are set and it's down to Kentucky and Iowa State, who has the best fans?

— College BBall Polls (@cbb_polls) July 3, 2017
I trust you all will fix that.
8. The 2018 class gained a tight end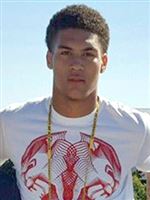 On Friday morning, Vince Marrow teased the BBN that a Yahtzee could be on the way, and on Saturday morning, it came in the form of 6'7″ 230 lbs. tight end Keaton Upshaw. Upshaw is a three-star prospect out of Lima, Ohio, and chose the Cats over Cincinnati, Louisville, Pittsburgh, West Virginia, Purdue and others. He's the 14th member of the 2018 class, the sixth from the state of Ohio. Welcome aboard, Keaton.
9. Jarren Williams impressing at The Opening
Kentucky's future quarterback is making some major noise at The Opening in Oregon, throwing three touchdowns in the 7-on-7 scrimmage last night. I'll have highlights from him in just a bit, but for now, enjoy this picture of Williams and highly coveted wide receiver Blue Smith:
Me and my boy @bluesmith_ pic.twitter.com/P1PBwlrPdd

— J D U B💰💫 (@Jarren2Williams) June 29, 2017
Bring your boy to Lexington, Jarren.
10. No new KSR today
iHeart employees are enjoying a long July 4th weekend, so tune in to hear a "Best of KSR" replay at 10 a.m. Or, go back and catch up on last week's shows featuring Dan Wolken, Pardon My Take, Evan Daniels, Aaron Torres, Jennifer Palumbo and myself. All the shows are available on our new iTunes podcast feed.
Shannon the Dude is making the most of his comp days in New York City, spending this morning outside the Today Show:
Hanging out @TODAYshow pic.twitter.com/tjCrukfkMy

— Shannon The Dude (@ShannonTheDude) July 3, 2017