Monday Morning Things To Know: Mamba Forever
Yesterday's helicopter crash that claimed the lives of NBA legend Kobe Bryant, his 13-year-old daughter Gianna, and seven others continues to send shockwaves through the sports world this morning. I won't pretend to have been a huge fan of Kobe's during his prime; however, as his career came to a close, I grew to really respect how he treated the game, his teammates, and most importantly, his competitors.
The impact Kobe left on the sport is obvious through the grief of those who loved him and the countless tributes we saw throughout the day. Here are a few that resonated with me:
A powerful moment in honor of Kobe.

After the Grizzlies took a 24-second violation to begin the game, the Suns took an 8-second violation. Devin Booker was moved to tears. pic.twitter.com/YikW0sY4rr

— SportsCenter (@SportsCenter) January 26, 2020
Hug someone you love today.

Well said, @RealJayWilliams. pic.twitter.com/m9WnfP3sWn

— SportsCenter (@SportsCenter) January 26, 2020
Kobe's second career as a father, husband, mentor, coach, and even filmmaker showed that we had just brushed the surface of his many talents, and the fact that he died alongside his daughter is absolutely devastating. It's easy to fall into a black hole of emotion with this one, but if anything, let this tragedy serve as another reminder that life is short. So short that most of us never realize it.
There is no good way to segue to sports stuff right now so I'm just going to do it.
MEN'S BASKETBALL
Your University of Kentucky Wildcats are now 15-4 following Saturday's 76-74 overtime win at No. 18 Texas Tech. The fact that the Cats were able to leave loud, liquored-up Lubbock with a win is remarkable, and a huge testament to Nick Richards and Immanuel Quickley, who combined for 46 of Kentucky's 76 points. In the wake of the news that Kahlil Whitney was leaving the program, Richards and Quickley's performances served as a timely reminder that life in Lexington for a McDonald's All-American doesn't have to end after one season. Richards summed it up way better than I could after the game:
This is a great comment from Nick Richards about his development.

"Just because I go to a school known for one and dones, doesn't mean I have to be one and done." pic.twitter.com/27AxnnAIF0

— Lee K. Howard (@HowardWKYT) January 26, 2020
In case you missed the game, here are the box score, highlights, and a few notes:
— Nick Richards' 25 points and 14 rebounds marked his eighth double-double in 19 games. He had one double-double in 74 games prior to this season.
— Immanuel Quickley is averaging 17.6 points over the last eight games, including 22 of 45 on 3-point shots
— Bizarrely, Kentucky is a perfect 10-0 in the John Calipari era when committing 20 or more turnovers. Let's not try to keep that streak going, okay?
Around lunch, we'll get a new set of rankings. Currently, the Cats are No. 15 in the AP Poll, No. 14 in the Coaches Poll. After two wins, they'll move up, but your guess is as good as mine as to how far. This afternoon, I'll also bring you an update on Kentucky's NET ranking and team sheet, which gets more and more important as we get closer to March.
Next up: Vanderbilt in Rupp Arena at 6:30 p.m. on Wednesday. On Saturday, the 'Dores lost to South Carolina 90-64, their eighth consecutive loss and 24th straight in SEC play, which ties a league record. Yikes.
As for Whitney, Evan Daniels tweeted on Saturday night that he's hearing Whitney's first option is to transfer to a different college, but the family is still considering all of their options.
---
WOMEN'S BASKETBALL
After an odd weeklong break between games, Rhyne Howard and the No. 12 Kentucky Women's Basketball team is back in action tonight, hosting Auburn at Memorial Coliseum for the annual "We Back Pat" game. The game tips off at 7 p.m. and will be broadcast on the SEC Network.
The team will be rocking these special kicks in honor of Pat Summitt, the legendary Tennessee coach who was diagnosed with early-onset Alzheimer's in 2011 and passed away in 2016:
Dusting off the kicks for tomorrow.

Which pair are your fav? ?#WeBackPat ?? pic.twitter.com/tX8eZ6tfv7

— Kentucky WBB (@KentuckyWBB) January 26, 2020
---
BASKETBALL RECRUITING
Instead of returning to Lexington with the rest of the team on Saturday, the Kentucky coaching staff went west to visit five-star combo guard Jaden Hardy in Las Vegas. Hardy is considered the No. 7 overall prospect in the 2021 class and received a scholarship offer from Calipari back in September. You may remember that when Kentucky played its two games in Vegas in December, they practiced at Hardy's gym. Last week, he had 62 points and 11 rebounds to lead his team to a comeback win:
For more on Hardy, check out Jack Pilgrim's post from yesterday and stay tuned for details on how Calipari's visit went.
---
FOOTBALL
It was a big recruiting weekend for the Kentucky Football program, and the staff will be hosting prospects again this week. Nick Roush will be by later to get you caught up on it all. We'll also be keeping our ears to the ground to follow up on Ryan Lemond's scoop that Mark Stoops' brother Mike is being considered for the special teams coordinator position left vacant by Dean Hood.
Yesterday, former Cats Za'Darius Smith, Josh Allen, and Larry Warford participated in the Pro Bowl. Za'Darius had two solo tackles, two sacks, and an interception, while Allen finished with two tackles, a sack, and a blocked extra point. The event kicked off just as news of Kobe Bryant's death broke, and in the third quarter after one of his sacks, Za'Darius and his teammates did fadeaway jumpers as a tribute:
Za'Darius Smith just gathered up his teammates to put on a post-sack Kobe tribute pic.twitter.com/80p4ZjrfI1

— Christian D'Andrea (@TrainIsland) January 26, 2020
If you care, the AFC beat the NFL 38-33. You can read a complete recap here.
---
KSR TAKES IOWA
The radio crew spent their first day in Iowa attending rallies for Elizabeth Warren and Amy Klobuchar. Afterwards, they sat down with the podcasting equipment to recap it all. You can find the hour-long conversation on the Free Money podcast feed on iTunes or however you get your podcasts. I'm sure we'll hear plenty more on the radio show, which begins one hour from now.
If you're curious, here is how Shannon the Dude ranked the first two rallies: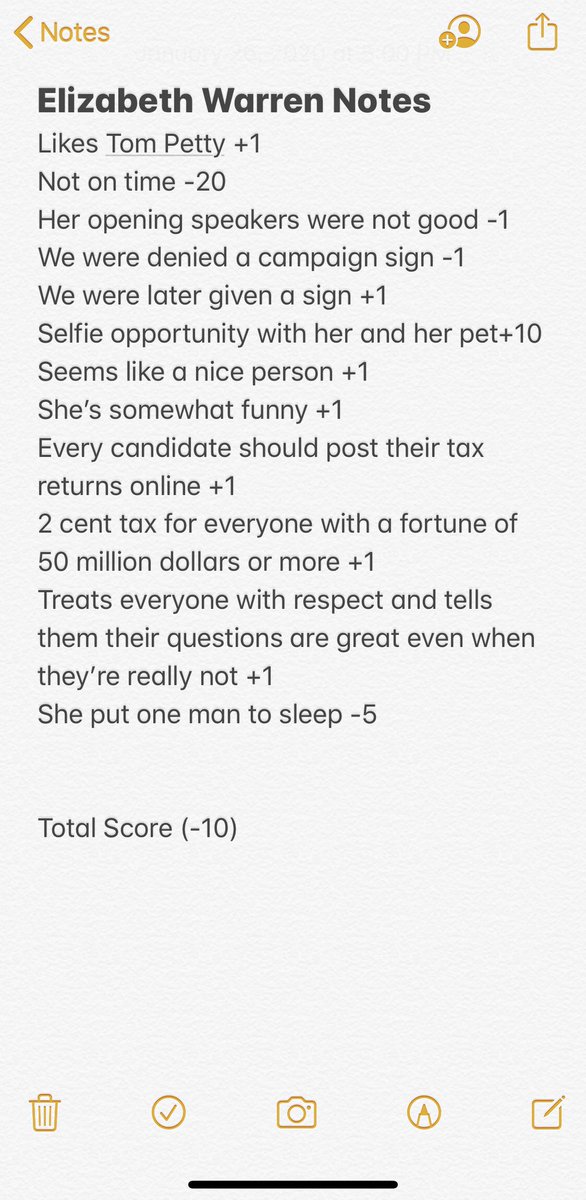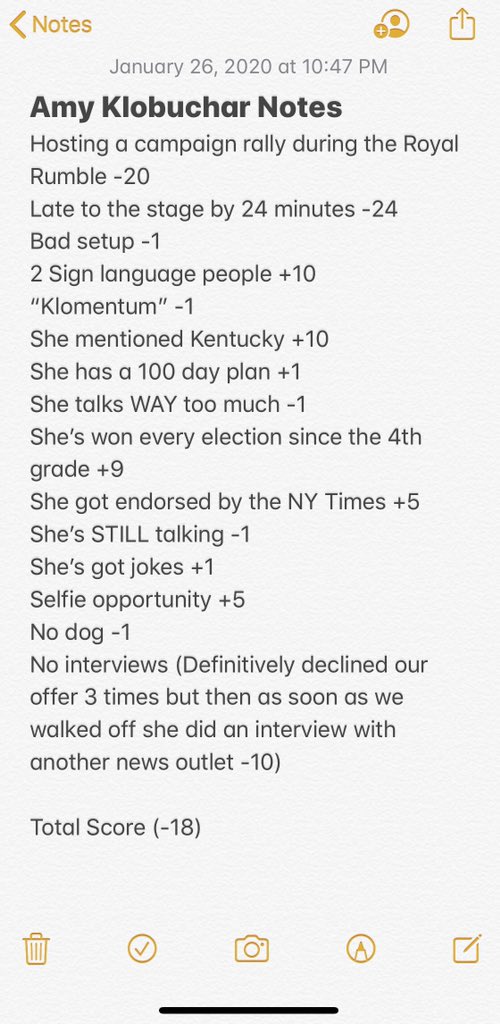 BTI HAD A BABY
Congratulations to our own Bryan the Intern, aka BTI, who is now a proud father. Tony Vanetti shared this picture of the KSBaby on Twitter over the weekend.
BTI is a daddy! Bryan Hash I cant wait to see you become the crazy tennis dad. Great job Melissa @LachTalk pic.twitter.com/R8BRDliBgY

— Tony Vanetti (@tonyvanetti) January 25, 2020
Now, in addition to random stats and hot takes, BTI will be giving out parenting advice. Roush, you ready?