Monday Morning Things To Know: Happy MLK Day
Good morning, friends, and welcome to a new week. It's Martin Luther King Jr. Day, but we don't do holidays here at KSR, so how about a roundup of the news to get you going on this chilly Monday?
Basketball
The big news of the weekend was Kentucky's 73-66 win over Arkansas in Fayetteville on Saturday. John Calipari was ejected from the game with 8:19 remaining, which sparked a fire under the Cats and led to a 15-2 run. Kenny Payne and Tony Barbee took over coaching duties and, much to fans' delight, used a zone defense to stymy the Hogs. Here are the box score and highlights, in case you missed it:
A few takeaways:
— Kentucky owned the boards 47-29, the third largest rebounding margin of the season and the best since the win over Utah Valley on Nov. 18.
— Immanuel Quickley started for the first time since the Utah game on Dec. 18 and played all 40 minutes, notching his first career double-double with 13 points and 10 rebounds.
— Nick Richards almost had a double-double with a team-high 17 points and 9 rebounds.
— Ashton Hagans had 13 points, 6 rebounds, and 6 assists, extending his streak of games with five-or-more assists to 14.
— Keion Brooks had his best game of the season, finishing with 10 points and 7 rebounds. He was big late in the game, hitting four free throws to seal the victory.
The Cats host Georgia tomorrow night at 7 p.m. Later this morning, Tony Barbee will meet with reporters to preview the game, and, I expect, answer questions about the zone and why Calipari doesn't like to use it. We'll have a live stream of his remarks and a full recap afterwards.
Around the same time, new polls will come out. The Cats are currently 10th in the AP Poll and 12th in the USA Today Coaches Poll. Will they rise or fall after a loss at South Carolina and a win at Arkansas? Your guess is as good as mine, but we'll bring you the news as soon as it happens. I'll also update you on Kentucky's standing in the NET Rankings, which become more and more important as the season goes on.
---
Basketball Recruiting
All eyes are on Springfield, Massachusetts today for the Hoophall Classic, where John Calipari will be in attendance to see BJ Boston and Devin Askew play and check on his other targets in the 2020 and 2021 classes. Cal made the trip up there last night and got a pic with the future Cats.
"Can't wait to coach these two," Cal tweeted. "Great people and terrific competitors!"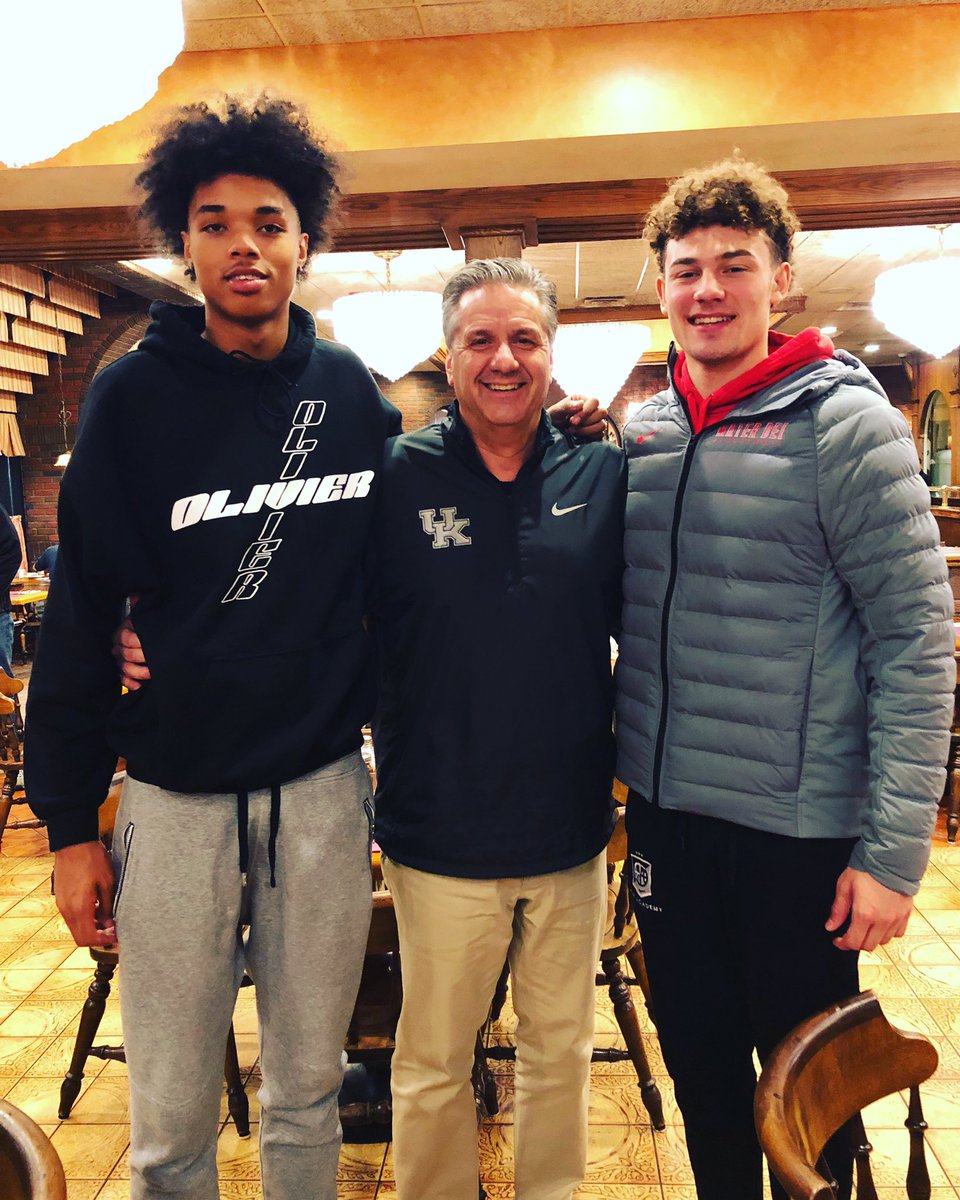 Jack Pilgrim is watching Askew play as we speak and will have a ton of coverage for you from the event as the day goes on. Here's a sneak peek:
Devin Askew jumps the passing lane, finds himself a breakaway dunk early in the first quarter. Animated, intense defender. pic.twitter.com/tBMJKGBLOQ

— Jack Pilgrim (@JackPilgrimKSR) January 20, 2020
Boston and Sierra Canyon's game at 1 p.m. will be televised on ESPNU if you'd like to do some scouting yourself. As you probably know, Sierra Canyon's roster also includes Bronny James, the son of LeBron James, and Zaire Wade, the son of Dwyane Wade.
---
Football
There's not a ton of football news to pass along — did you see Josh Allen made the Pro Bowl? — but if you missed Lynn Bowden's signing at KSBar on Friday, be sure to check out our video recap by Bradley McKee. It looked like a heck of a time:
Kash Daniel's signing tour stops by KSBar on Friday and you know it will be wild. We'll have details on how you can secure your spot in line as the week goes on, but if you can't make it, here's where you can see Lynn and Kash this week: ---
Cheerleading
Congratulations to the UK Cheerleading squad, which finished third at the Universal Cheerleaders Association finals Sunday in Orlando, Fla. The cheerleaders have won 24 championships in the last 36 years and were coming off four straight titles from 2016-19, so it's a little strange for them not to be at the top of the podium, but third place is nothing to sneeze at. Congrats also go out to the Dance Team, who placed fifth in both the Game Day and Hip-Hop competitions.
CATS! CATS! CATS! The fans were yelling loud and proud for @KentuckyCheer! ? #UCAnationals pic.twitter.com/zVizM8mfk4

— UCA (@UCAupdates) January 20, 2020
Speaking of cheerleading, is everyone else as obsessed with Netflix's Cheer as I am? What a show. I need to be friends with Jerry.
---
NFL Football
Do I have to talk about yesterday's football games? Sadly, my Titans lost to the Kansas City Chiefs 35-24 in the AFC Championship. In the NFC Championship, the San Francisco 49ers beat Green Bay 37-20. So, it'll be the Chiefs vs. the 49ers in Super Bowl LIV in Miami on Sunday, Feb. 2. Go Chiefs, I guess?
It was sad to see the Titans lose, but what a run. Like the 2013-14 Kentucky team, it felt like we were playing with house money during the playoffs, and the future is incredibly bright. Next season will be a lot of fun. Shoutout to Drew as he makes the long trip back from Kansas City.
---
That'll do it. A new episode of Kentucky Sports Radio will be live on the airwaves at 10 a.m.