MLK Day's Top 10: UK Cheerleading wins again, gearing up for Mississippi State, and PACKERS WIN!

Good morning, friends, and happy Martin Luther King, Jr. Day. Whether you're at work/school or at home, we'll get you through the day, which is chock full of UK sports news. Shoutout to the UK Cheerleading squad, who brought home their 22nd national championship yesterday, an unprecedented feat. Here's part of their routine:
University of Kentucky #UCAnationals pic.twitter.com/cD8FBHMzDp

– American Cheerleader (@cheerleadermag) January 16, 2017
The UK Dance Squad also turned in an impressive performance, finishing second in the Hip Hop competition and fourth in the Pom competition. Well done, ladies.
Now, on to the rest of today's agenda…
1. We'll look forward to Mississippi State
Starkville is the armpit of America, so thankfully, Matt didn't require one of us to go, but we'll do our best to prepare you for Kentucky's game throughout the day. Here's a glimpse at what Ben Howland's squad has done so far this season:
Given the horrid state of SEC Basketball, it's hard to tell how impressive Mississippi State's 3-1 league record really is, but regardless, the Cats can't afford to look past tomorrow's showdown at The Hump.
2. John Calipari will be on the SEC Teleconference
Cal will discuss tomorrow's matchup and take a few questions on this morning's SEC Teleconference, so check the site mid-morning for highlights.
3. Joel Justus will preview Mississippi State at 2:45 p.m.
Because Calipari's doing the SEC call, assistant coach Joel Justus will preview Kentucky's road trip at 2:45 p.m., along with a few players. We'll have a live stream on the site and a recap shortly after.
4. Four future Cats were named to the McDonald's All-American Game
If you missed the news last night, Quade Green, Nick Richards, P.J. Washington, and Jarred Vanderbilt were chosen for the McDonald's All-American Game, which will be played March 29 at the United Center in Chicago. In a telling stat, 29 Kentucky players have been chosen for the all-star game in the Calipari Era, the most by far of any program. In fact, this screenshot tells you all you need to know: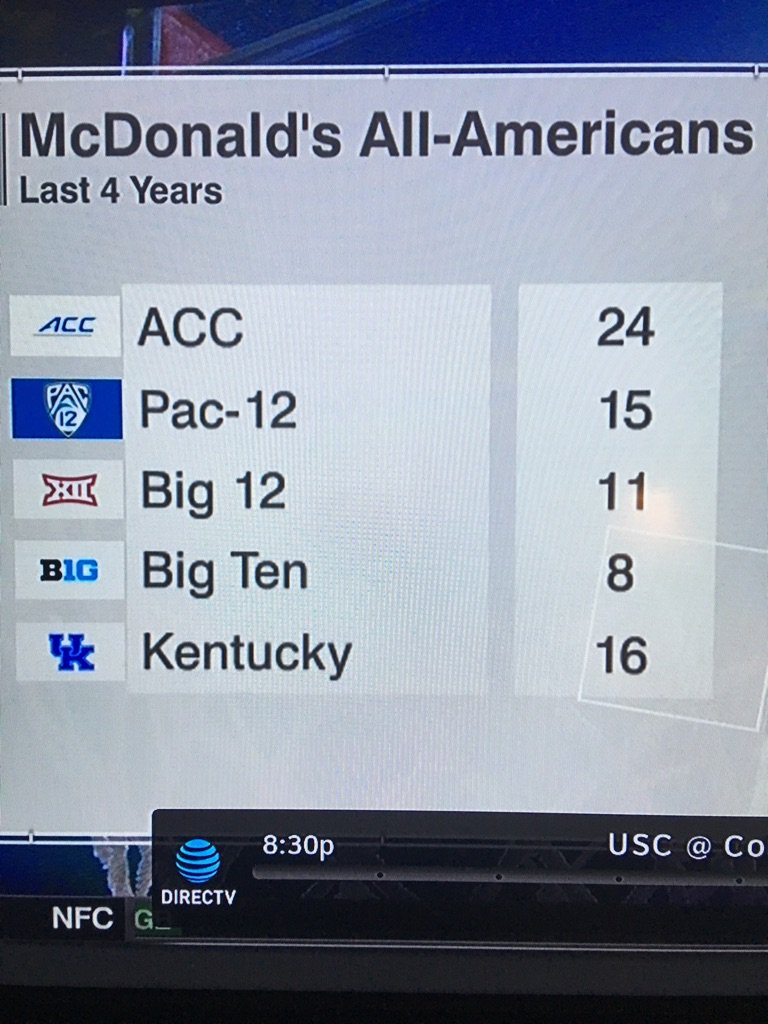 Coincidentally, all four of Kentucky's commits will play on the same team as Mohamed Bamba and Kevin Knox, which is good because, you know, peer pressure. Speaking of…
5. Bamba will take an official visit to UK this weekend
Mohamed Bamba is the biggest remaining target in the 2017 class and this weekend, he'll take his official visit to Lexington. The 7-footer already visited for Big Blue Madness and has taken official visits to Michigan and Texas. Quade Green and Hamidou Diallo have been relentless in their pursuit of Bamba, so hopefully having him on campus this weekend can further Kentucky's case. His 247 Sports Crystal Ball is a 50/50 split between Duke and Kentucky, but on Thursday, Jerry Meyer flipped his pick from the Blue Devils to the Cats, which is a very good sign.
6. Calipari visited Immanuel Quickley yesterday
Because the man is incapable of sitting still, Calipari was on the recruiting trail yesterday, visiting 2018 star Immanuel Quickley. Quickley is currently the only point guard in the 2018 class with a scholarship offer from Kentucky, and visited UK for Big Blue Madness back in October. He's also got offers from Kansas, Louisville, Maryland, Miami, and Virginia.
7. Drake wore a Zion Williamson jersey over the weekend
Zion Williamson is considered one of the best players in the 2018 class and still doesn't have an offer from Kentucky, but he does have the endorsement of one of UK's most famous fans, Drake. Drake was pictured wearing Williamson's jersey this weekend:
Don't put your middle fingers up like that, kids. It's not nice.
8. So, landing Lynn Bowden was huge
In case you missed it between all the basketball, Mark Stoops landed a huge recruit on Saturday in four-star athlete Lynn Bowden. Bowden chose the Cats over Penn State and West Virginia, and has been described as the most electric playmaker since Randall Cobb. Keeping Bowden on board will be paramount over the next couple of weeks, and cross your fingers that Ohio State doesn't come calling.
9. How about those Green Bay Packers?
Speaking of Randall Cobb, how about last night's Packers/Cowboys game?? Green Bay advanced to the NFC Championship in thrilling fashion thanks to a last second 51-yard field goal by Mason Crosby. It was awesome:
GAME WINNER! @crosbykicks2 comes through AGAIN in the clutch!#GBvsDAL #GoPackGo https://t.co/O5CBaWYEPi

— Green Bay Packers (@packers) January 16, 2017
Bud Dupree and the Steelers advanced to the AFC Championship game as well. The Packers take on the Falcons in Atlanta next Sunday. Anyone want to swing through Nashville and pick me up on the way to the game?
10. Today's the last day to #NBAVOTE
Do you want your favorite former Cats to be NBA All Stars? Then you best get to voting because the polls close today. Here's how:
Go to NBA.com/vote and select your favorite players (you can vote once per day)
Vote through the NBA app (once per day)
Tweet, retweet or reply with an NBA player's first and last name or Twitter handle with the hashtag #NBAVOTE. You can vote for up to ten players per day using this method.
Do the same thing on Facebook
You can even just Google search "NBA Vote All-Star" and it will pull up a special ballot.
Radio in an hour…