Michael Phelps' Wednesday Morning Wakeup
There are times in life that you just have to sit back and admire history in the making. Last night was one of those times. Michael Phelps picked up his 20th and 21st gold medals in the 200m butterfly and 4x200m freestyle relay, further cementing his legacy as the greatest Olympian of all time. Going in to yesterday's 200m butterfly final, Phelps' South African rival Chad le Clos — who beat Phelps in the event in London in 2012 — talked plenty of trash. Aside from the now famous death stare before the semifinals, Phelps let his work in the pool do the talking; all le Clos could do was turn his head and stare while Phelps soared by. Le Clos finished fourth.
For a guy who had won 19 gold medals prior to the event, Phelps looked like he was celebrating his first, wagging his finger ala Lilly King and raising his arms to the crowd. DeMarcus Cousins had a front row seat with Team USA, and shared his view on social media, calling Phelps, now the oldest swimmer to ever win an individual gold medal, the Greatest of All Time (GOAT):
Boogie posed for a pic with Phelps later on, writing that he "witnessed greatness":
Just awesome. Phelps isn't done yet. Today, he'll swim in the prelims of the 200m individual medley, followed by the 100m butterfly and the 4x100m medley relay later this week. Will he go home with 24 golds? I sure hope so.
Meanwhile, around these parts…
EJ Floreal is leaving basketball for track and field
In case you missed it, yesterday, EJ Floreal announced he is switching sports. After three seasons on the basketball team, EJ will now shift his focus to track and field under his father's tutelage. In high school, EJ was an accomplished 100m and 200m sprinter, and with this new opportunity, will have the chance to utilize his freakish speed and athleticism, which we've seen in glimpses in warm-ups and practices. Personally, it will be tough to see EJ leave the team, as he's been a critical locker room presence and a friendly face during media opportunities, but I'm proud of him for chasing his chance to shine.
We'll hear from DJ Eliot and the UK defense
With the news Regie Meant may miss the season for personal reasons, Monday was not a great day for the UK defense. Here's hoping they get back on track today, which is the team's first two-a-day of camp. DJ Eliot and defensive players and coaches will address the media this morning, so check back in a few hours from now for notes and quotes.
The second season of "UnREAL" sucked
I was a big fan of season one of Lifetime's scripted show about the behind-the-scenes drama on a Bachelor-type reality romance show, but season two was a wreck (literally). Sadly, the show lost its edge and focus and turned into another soapy Lifetime drama, which is a shame. Here's hoping season three gets back on track or it'll be off the land of great shows gone wrong, along with "Weeds," "Glee," "True Detective," "Lost," and "Gilmore Girls" (still not over Season 7).
On a much better note, "Below Deck" returns September 6!
Team USA takes on Australia at 6 p.m.
After taking in swimming last night, DeMarcus Cousins and Team USA will be back in action today at 6 p.m. ET on NBC Sports Network. They'll take on Australia, who also has a 2-0 mark in Group A. Boogie's coming off a disappointing performance vs. Venezuela on Monday, when he fouled out in nine minutes of play with six points and five rebounds.
I'm sure DeMarcus will bounce back nicely, but if not, it looks like he's willing to try a side career in gymnastics:
What about me on the rings? 🤔Good luck to #TeamUSA gymnastics tonight! #CANTBOXBOOGIE #UNITE pic.twitter.com/aItw35fzbr

— DeMarcus Cousins (@boogiecousins) August 9, 2016
The highlights of the rest of today's Olympic schedule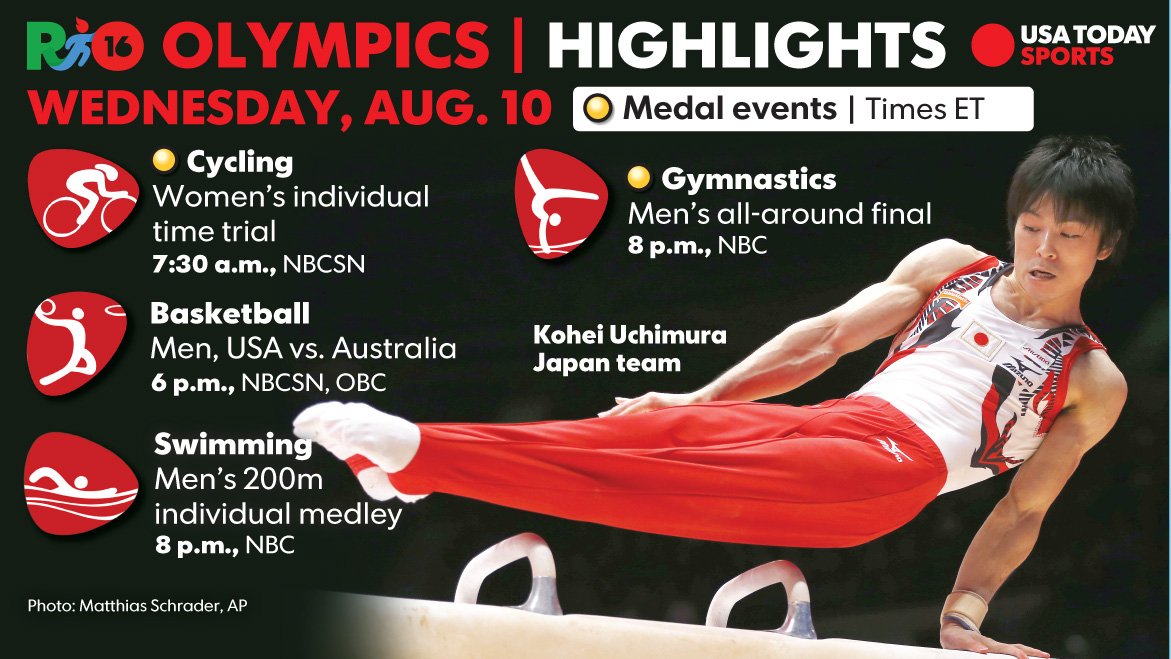 KSR heads to Eastern Kentucky
But where? The only hint we'll give you is, they'll be at the stop they usually begin the KSR Summer Tour with. Where is it?! Find out in an hour.
Until then, shoutout to these KSR fans at the Dolly Parton concert in Danville last night: