Memphis fans are pretty salty about Calipari being honored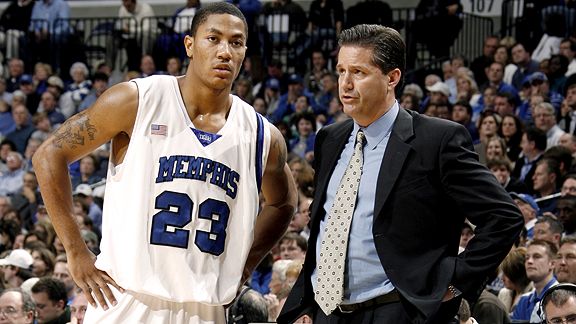 Yesterday, University of Memphis president David Rudd announced the school's plans to honor former coach John Calipari this December. Predictably, many Memphis fans were very unhappy with the decision, taking to Twitter to air their grievances.
@UofMemphisPres No one in Memphis wants to see Calipari honored. He killed my Tiger Fandom while he was there. He's a truly miserable person

— Mark Bravura (@memphomofo) September 10, 2015
@UofMemphisPres Have you lost your mind?? Unbelievable. #fail

— PL901 (@playcook) September 9, 2015
@UofMemphisPres Dr. Rudd, you have all my respect for your great work at UM. Please don't tarnish it by honoring Calipari.

— Justus Smith (@JustusCSmith) September 10, 2015
Ouch, bitter much? That's just a small sampling. Of course, it couldn't have been easy to see Calipari take off for Kentucky with DeMarcus Cousins, a former Memphis commit, and John Wall and Eric Bledsoe, two Memphis targets that eventually chose the Cats over the Tigers. Add in the fact that he left in the middle of an NCAA investigation and you can see why resentment simmered over the years. It must suck to be on the other side, especially when Cal has taken UK to four Final Fours in six years and can land practically any recruit he wants, including Skal Labissiere, longtime thought to be Memphis-bound. As Cal put it earlier this week, "Kentucky changed everything."
So it's not surprising when some in the Memphis media still have an ax to grind. Last night, The Commercial Appeal's Geoff Calkins penned a column entitled "Honoring Calipari is a miserable idea." Here's an excerpt:
Now Memphis wants to bring him back to the little table? Have a big wing-ding on his behalf?

Oh, and by the way, this wing-ding is scheduled to take place in late December, at which point the Memphis basketball team may be struggling, and Kentucky and Labissiere may well be rolling along at No. 1.

Yay for the guy who hid his NCAA dirt until he could get the Kentucky gig! Yay for whatever he may have done to win over Skal and Gerald Hamilton!
It goes on and on like that. I won't link it, so you can find it if you want. Thankfully, most Memphis fans approve of honoring Calipari, or, at least the 68% who voted in the Commercial Appeal's poll do: Hopefully, that 68% will drown out the 32% on December 29.