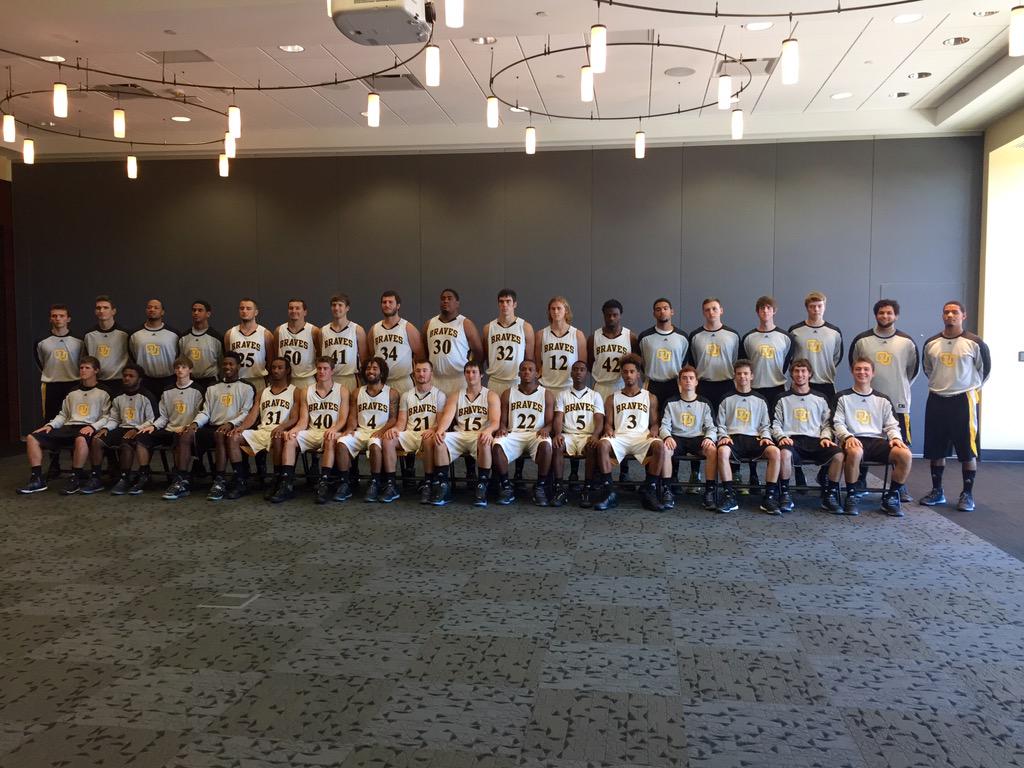 Tip-off is only an hour away. Earlier, I shared some fun facts about tonight's opponent with you. Now, let's get to know the Braves' starting lineup:

#0 HOLLIS MITCHELL
G, 5'8″, Sophomore; 9 ppg, 4 assists
Ottawa also has a junior varsity squad (which explains why there are so many of them in that picture), and Mitchell spent his freshman year playing for both varsity and JV. He's only played in five varsity games so far. He hails from Tulsa, Oklahoma and is an exercise science major. Here he is in UK's locker room today "taking it all in":
…aka checking his phone.
#3 PAT JONES
G, 6'3″, Senior; 7 ppg, 1 rbg
Jones transferred to Ottawa from Lynn University in the spring. He used to be teammates with Preston Oakes at Johnson County Community College.
#32 JOHN O'CON
C, 6'8″, Senior; 5 ppg, 8 rpg
O'con (sic) played in 28 games last season, starting nine. He's the tallest player on Ottawa's team, and, although his weight is not listed on Ottawa's website, I'd wager he's also the heaviest.
#33 MARSHON NORFLEET
G, 6'1″ , Senior; 22 ppg, 7 rpg
Norfleet is the Braves' star. Last season, he earned Second Team All-KCAC honors and scored in double figures in 25 of 28 games; in 13 of those games, he scored 20 or more points. In his senior season, he's expected to rewrite the Ottawa Basketball record book.
#44 PRESTON OAKES
G, 6'4″, Senior; 12 ppg, 5 rpg
Oakes, who plays both guard and forward, is the Braves' second best player behind Norfleet. He'll probably guard Alex Poythress, whose jersey he posed with earlier today:
HEAD COACH: Aaron Siebenthall
This is Siebenthall's first year as the head coach at Ottawa after spending nine years as an assistant. He's also an assistant professor at Ottawa and his wife, Shayla, is the Ottawa Spirit Team Coordinator.
He occasionally makes jokes on Twitter:
Pretty excited about our new recruit. He is deceptively athletic. Should be a great addition to the squad. pic.twitter.com/5GtxB7ssB2

— Aaron Siebenthall (@ASiebenthall) July 4, 2013
kjn