Malik Monk Doesn't Have to Carry Kentucky to a Final Four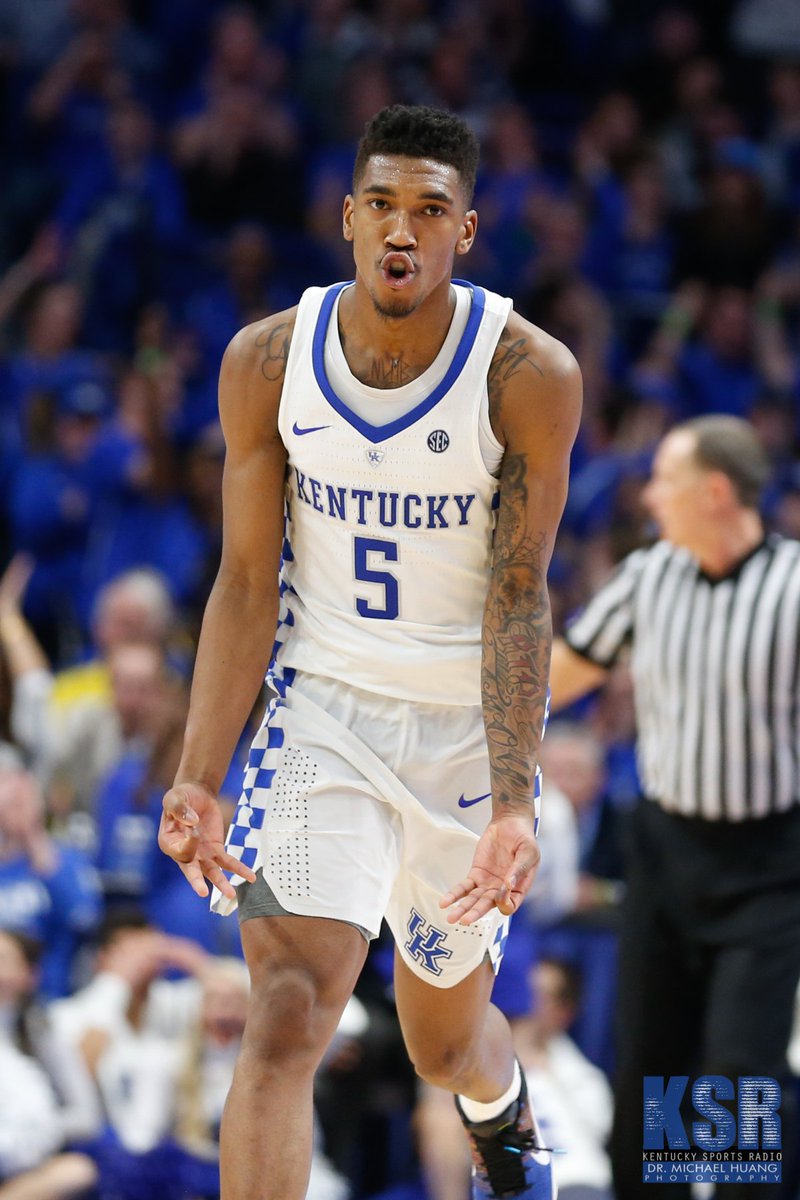 Throughout the month of February, the national narrative about Kentucky was simple: "They're struggling against a bad SEC, but you can't count out Calipari in March, especially when Malik Monk can go for 30 at any given moment."
The simplistic viewpoint was further illustrated by ESPN's Myron Medcalf, who penned a piece yesterday titled "Why your team will not be going to the Final Four."  Surprise, surprise, Medcalf points to Monk.
Malik Monk (9-of-18) collected 33 points in Kentucky's 76-66 win over Florida on Saturday. He could lead Kentucky to a national title. But if the player who finished 4-for-14 in a 22-point loss in the first matchup against Florida shows up, how will Kentucky recover? Last season's Wildcats thought Jamal Murray could bail them out. And when he went 1-for-9 from the 3-point line in the second round against Indiana last season, Kentucky went home. Could happen again with Monk.
I won't spend time poking holes in that logic (it's too easy).  Instead, I'll focus on the good things Kentucky has done over the last six weeks, the kind of things that easily get overlooked when you aren't covering the spread and blowing out opponents every single game.
Bam is Good
The same could not be said earlier in the season.  Just because Bam looked like Dwight Howard, doesn't mean he was playing like the former NBA All-Star.
He didn't have a reliable post move, he wasn't an exceptional rebounder, he didn't make substantial defensive impact and he spent most of the game figuring out the difference between playing physical and fouling.
Bam has developed a nice hook shot.  It isn't a guaranteed make every single time, but it's quick, soft and assertive.  When Bam hauled in 13 rebounds against UCLA, it was the third time he surpassed double-digit rebounds.  He didn't do it again until Valentine's Day (17 games later).  He's done it three times since because he's now using two hands and anticipating the missed shot.  On defense, his timing on blocked shots has improved, but his greatest improvement is on the perimeter, avoiding the foul and forcing guards into bad shots.
Adebayo is being aggressive and attacking, instead of playing timid and afraid to foul, transforming the way Kentucky plays.
Monk is Driving
As Medcalf pointed out, it's hard to win when Monk is 4-14 from the floor.  That is a fact and will always be a fact.  Malik Monk can't always be 'on.'  There will be times when Monk's shot will not fall.  The good news: Monk is doing something about it.
In the last two games Monk has scored 50 second half points after shooting a combined 4-15 in the first half.  The shooter always knew to get out of a slump, you must keep shooting.  He didn't realize the easiest way to do it was from the free throw line…until now.  He's getting buckets at the rim or getting fouled in the process to heat up before catching fire.
Combine the first two points together and you have UK's deadliest weapon: Monk and Bam in the pick-and-roll, a combination that has produced plenty of buckets over the past two games.
Multiple Defenses
The Cats' Achilles heel isn't finding offense from somebody besides Malik Monk, it's perimeter defense.  Straight-line drives and miscues in pick-and-roll defense gave opponents too many easy buckets early in the season.
Calipari has found a solution to the problem in a variety of defensive schemes.  He hates the 2-3 zone, but it's worked too well to scrap.  Trapping has probably been the most effective tool.  It was just enough to get the ball out of J.J. Frazier's hands at Georgia and it sped up Vanderbilt to create enough turnovers to pave the way for the largest Kentucky comeback in the Calipari era.
Contributing Seniors
The often forgotten trio fits this team well.  When something is not working, they have the skills to fill the absence.   If a guard isn't defending or playing timid, Dominique Hawkins will shut down the opponent, draw an offensive foul, then attack the rim.  If a guard isn't rebounding or shooting well, there is Mychal Mulder.  Derek Willis can do both from the four-spot.
The term "role player" carries a negative connotation, until you come off the bench in the Final Four and knock down a couple threes in the final minutes.  Don't believe me, just ask Tim Henderson.  Do not be surprised if one of these three has a similar moment in March Madness.
---
This team is starting to click, but they aren't quite there…yet.  While they've been trying to put the pieces of the puzzle together, they've improved individual assets that will become valuable in postseason play.  We haven't seen the beautiful picture, but we've got a good idea what it will look like.