LSU sent Kentucky back to Lexington with an 18-point loss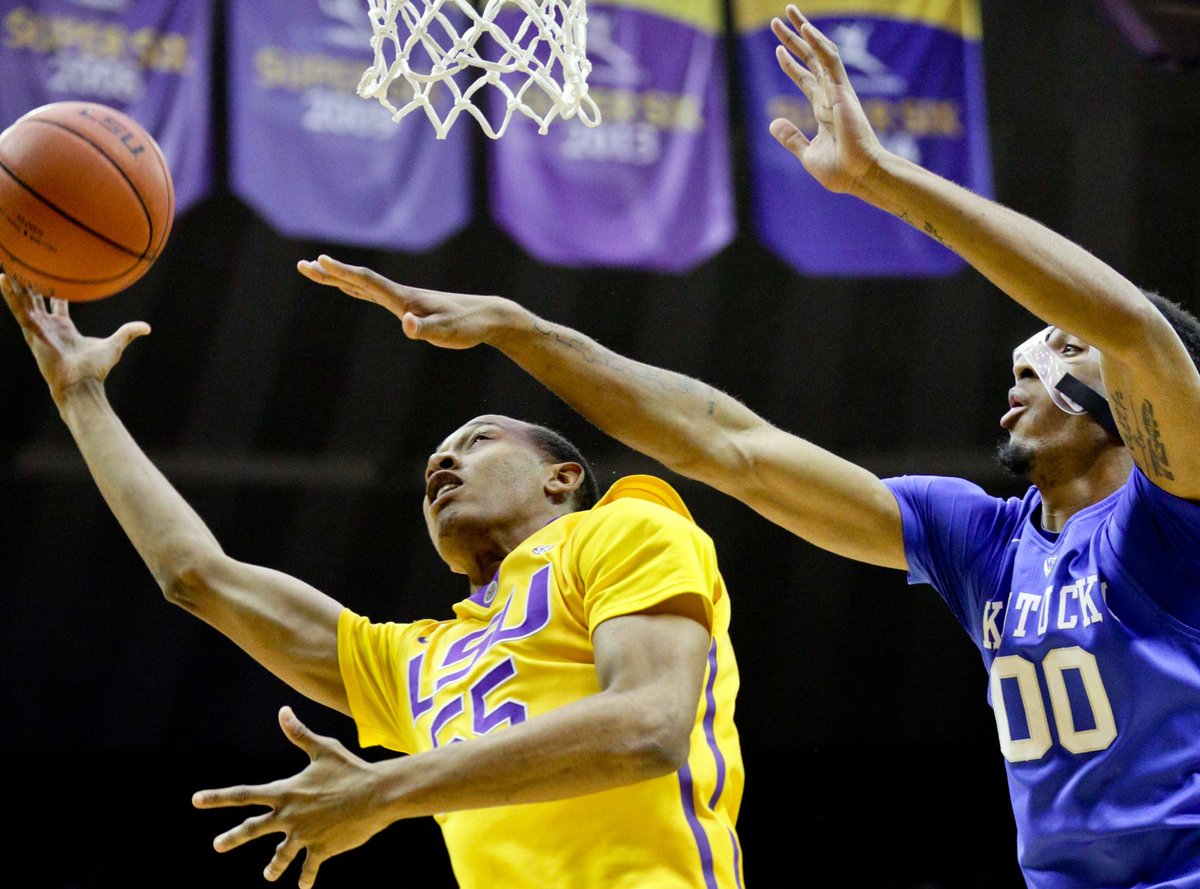 Kentucky has a lot of work to do.
Tonight's game at LSU was a reminder of that as the Cats fell to the Tigers, 85-67, in a game that felt much more lopsided than that. Kentucky would occasionally get close to mounting a comeback, only to give up a backbreaking sequence going the other way to fall further behind. It was just one of those nights, and it was to be expected.
Looking back, LSU as a five-point underdog was free money. The first true conference road test for Kentucky, the best player in college basketball in purple and gold, and a much-improved LSU team with Keith Hornsby and Craig Victor, this was a game UK was destined to lose. It was the perfect recipe for the third loss of the year.
Now at 11-3 and 1-1 in the SEC, it's far from time to hit the panic button on the season.
But Kentucky has a lot of work to do.
Let's talk about what must improve and why Tuesday night's outcome was not a favorable one for blue.
LSU played its best game of the season, as all teams do when Kentucky comes to town.
Aside from maybe its last game, the win at Vanderbilt, LSU played its best basketball Tuesday night. Johnny Jones' bunch shot 42.9 percent from deep, well above its season average, while out-rebounding Kentucky by fourteen. LSU also won the turnover battle and held Kentucky to only eight assists, five below its season average. Down low, UK gave up 44 points in the paint to 22 of its own. LSU won every statistical category in the game.
"Let Ben Simmons get his and stop everyone else" did not go as planned.
If the game plan was to make someone other than Ben Simmons beat you, the Cats succeeded in making someone other than Ben Simmons beat them. A lot of other Tigers stepped up and had big games, which is exactly what couldn't happen in order to win.
Simmons took only five shots for his 14 points, making all five attempts from the field. He didn't need to do much more because Tim Quarterman and Craig Victor was handling most of the scoring. Quarterman scored 21 points on 9-of-15 shooting to go along with Victory's 15 points and 12 rebounds. Keith Hornsby and Aaron Epps chipped in with two three-pointers apiece.
Everyone beat Kentucky.
Marcus Lee and Alex Poythress fouled out with minimal contribution.
Lee played only five minutes due to foul trouble and left the game with nothing more than two rebounds and two turnovers to show for his trip to Baton Rouge. Alex Poythress was a little bit better, but not by much. Poythress managed to play 26 minutes before he fouled out, though he didn't do a lot with those minutes. He had four points, four rebounds and three turnovers in the game.
Without those two, Kentucky doesn't stand a chance against anyone.
I can't watch Isaiah Briscoe shoot another free throw or jump shot.
Never in my life have I seen a guard as good as Isaiah Briscoe be so awful at shooting the basketball. Briscoe went 1-for-7 at the foul line and missed two three-point tries he never should've taken. He is now shooting 21 percent from deep and 38 percent at the foul line on the season. Any time he is fouled at the rim it's a turnover, which is unfortunate because he is so good at getting to the rim and getting fouled.
Kentucky had NO offense.
Worst performance of the season on that end of the court. Every single player in blue looked lost and out of sync, leaving Tyler Ulis and Jamal Murray to play a lot of one-on-one against the defense for any chance at adding points.
Ulis and Murray took over half of the team's shots as they scored 23 and 21 points, making up all but nine of the 53 points from the starters. Kentucky got 14 from the bench thanks to two three-balls from Derek Willis, five points from Mychal Mulder and Skal Labissiere's pathetic one bucket and one free throw.
Mychal Mulder deserves more playing time.
If there's one positive takeaway from the game, it is the play of Mychal Mulder. Mulder had a career-high five points and a career-high eight rebounds in a career-high 14 minutes. Entering the game he had two career points and seven career rebounds in nine appearances.
I've long been an advocate of more playing time for Mulder, and he earned it Tuesday night. He's wrongfully been labeled as nothing more than a spot-up three-point shooter, but he proved he can contribute in other ways by leading the team on the glass.
If Briscoe continues to miss every shot he takes, Mulder deserves more opportunities in his place and a longer leash when he is in. That's especially true with the current status of Dominique Hawkins.
More Mulder, please.
On a night Skal Labissiere could've made a statement, he did absolutely nothing.
Another missed gimme at the rim led to an LSU dunk on the other end. We also saw him get stripped inside, again. He struggled to keep his hands on the basketball. He's still nowhere near what Kentucky needs him to be.
Kentucky's lack of a post presence is killing the offense.
How bad is this team without Tyler Ulis?
Ulis has been the one constant this season, even with his cold shooting hand, and he's the only reason Kentucky is still a top 25 team. Sure, Jamal Murray is a good player, but Ulis is what propels the team each game. I can't imagine where the Cats would be without him running the point and rising above each new challenge every night.
Ulis' 23 were a career-high and he now has 20+ points in the last three games, as well as at least six assists. Jay Bilas called him the second best point guard in America, behind Providence's Kris Dunn.
As bad as it was, it's not time to give up. Not even close.
I've seen some of you compare this team to the 2012-13 NIT team and that's absurd. Outside of Nerlens Noel, all of you would take a player from this team over a player from that team at every position. So let's chill with the unfair comparisons to the worst team of the Calipari era.
Hopefully this team is more like the 2013-14 team, the one that lost 10 games before playing for the national championship. Kentucky fans, of all people, should know it is way too early to give up on a Calipari-coached team. There is a lot of basketball still to be played, folks.
But Kentucky does have a lot of work to do.