Looking Ahead To Champagne Châlons-Reims Basket
At the end of last season Champagne Chalon-Reims got offered to move up to French National League Pro A from their spot in the tier below in Pro B. With the move to ProA CCRB now has more money to sign better players. As a result it doesn't appear the Cats will get to square off with CCRB star and ex-Vol Ron Slay. Enjoy the final, horrible, headbanded Ron Slay pic you may ever get to witness here on KSR. Enough tears? Good, let's take a look at the team the Cats will take on tomorrow at 1.
Who do we know?
As Drew posted earlier this week, you can remove one villain in Ron Slay but two more will take his place. Hail Hydra! CCRB will be bringing in De'Sean Butler and Tasmin Mitchell to test our young Cats. Butler, you may recall, teamed up with Joe Mazzulla to knock the beloved 2010 Cats out of the NCAA tournament. I wrote a month ago that we should bring him back to town for the upcoming alumni game to enact some sweet revenge. Hopefully, our young squad will be able to set things right.
Tasmin Mitchell sticks out to me for one reason. The year? 2009. The scene? SEC tournament. Kentucky was decked out in the all black uniforms we haven't seen since. Fitting, as the tournament was seemingly the funeral of Billy G. The Cats had to win if there was any hope of making the NCAA tournament. Tasmin Mitchell and Marcus Thornton combined for 35 points and Kentucky never really had a chance. Now, Kentucky will have a chance to right some wrongs against a player that picked Baton Rogue over Lexington.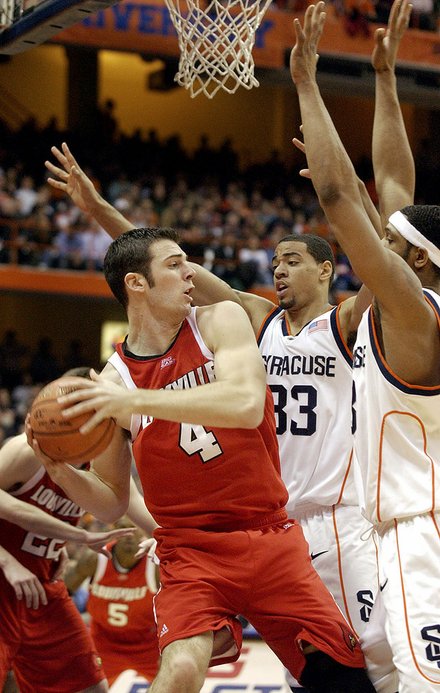 You can't really see him in this picture but the guy helping defend David Padgett is one Darryl Watkins and he'll be taking on the Cats tomorrow as well. Watkins started two seasons at Cuse where he made his presence known as a shot blocker. Since then he's been a professional journeyman with stints in the NBA and Europe's top leagues. Other Americans for CCRB include Lionel Chalmers who went to Xavier and Mark Payne, who's hair will give Robic a run for his money.
Can the Cats Win?
Chances are low for tomorrow's game. CCRB features a bunch of grown men who have been playing professional basketball for a long time. Since they just made the move up to ProA their new roster has yet to really play together so there is a chance Kentucky plays as the better team. I think we can keep things close but in the end CCRB's experience proves to be the deciding factor.
Do you think Kentucky will pull off the W tomorrow?