Listen to Derek Willis and Dominique Hawkins on today's podcast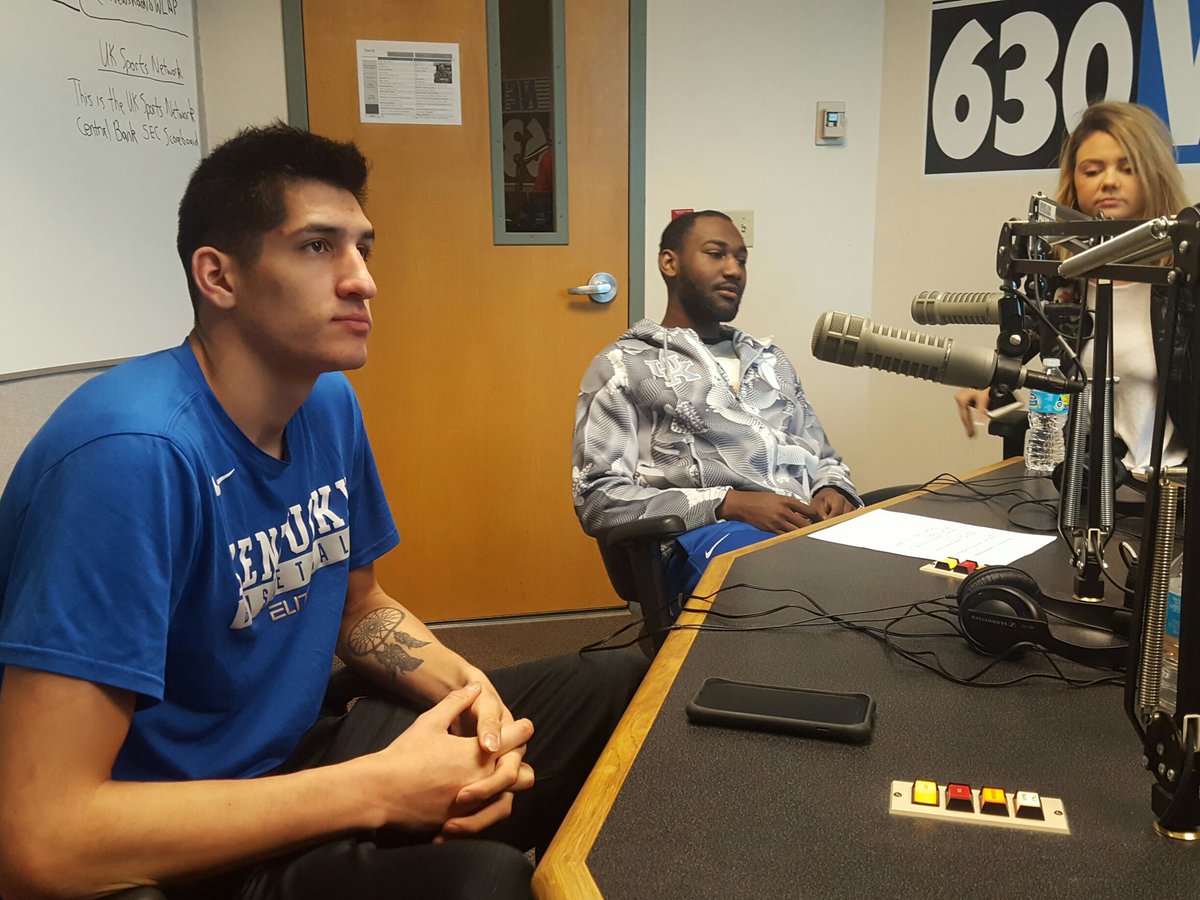 If you missed the show this morning, Derek Willis and Dominique Hawkins were in studio for the second hour to tell stories from their four years in Lexington. As you might imagine, they had quite a few to share. The podcast is now available for your listening pleasure, but here's a quick rundown of my favorite parts…
Dominique confirmed the Russ Smith trash talking story
Dominique first made a name for himself as a lockdown defender in the 2014 tournament, and today, he confirmed the story we've heard for years: he told Russ Smith he was going to take his girlfriend when he went in to guard him during the Sweet 16 showdown with Louisville.
"I just told him I was going to take his girl," Dom said, laughing. "I didn't look at him. I kind of looked away because I didn't want to see his reaction. I thought he was going to put 30 on me, to be honest."
Dom said he's not much of a trash talker, but John Calipari told him to have something ready to say to Smith to throw him off, so he came ready.
"I did not know how to talk trash, but coach said to go in there and talk trash to him. I had this in my head the whole day just ready to say to him. I didn't know how he was going to react or anything."
Hilarious.
Derek Willis embraces his Bullitt County persona
For years, we've made jokes about Derek being "So Bullitt County," and today, Derek said he embraces his Mt. Washington background.
"I loved it," Willis said of the 'That's So Bullitt County' jokes. "There were people — I'd have fake Twitter profiles made of me about how I drink Mt. Dew. I used to drink it, actually. I used to spit dips and stuff and all that in high school."
LOL.
Derek's favorite game at UK is the South Carolina game
…"Because I 'yammed' on that one kid."
Derek Willis… HAVE MERCY! pic.twitter.com/tsFY29Py8K

— SEC Network (@SECNetwork) January 22, 2017
"That felt so good," Derek added.
Of all their former teammates, both would pick Karl Towns to be president
We ask the departing guys every year to pick one of their former teammates to be president, and Karl is by far the most popular choice. Because he's Karl.
"He doesn't ever get mad," Dominique said of Karl. "He's just always nice no matter what."
Isaiah Briscoe has the best Calipari impression on the team
Assuming Isaiah declares for the draft, I can't wait to hear him do some on the show.
Both are looking forward to playing professionally
Both Derek and Dom want to continue their playing careers, whether it be in the NBA, D-League, or overseas. Derek's playing in the Portsmouth Invitational Tournament, a postseason NBA draft camp, next weekend in Virginia, and Dominique's on the waiting list, so both have opportunities to make it on the next level. We know they've got the drive.
Thanks again to both of them for coming on the show. Do yourself a favor and check out the complete podcast:
If you'd like to thank them for representing Kentucky so well during their four years, here's a list of the autograph tour stops: