Let's meet the Kentucky State Thorobreds
Tonight, the Kentucky State Thorobreds will make the 45-minute drive to Rupp Arena to face your Kentucky Wildcats, only the second meeting between the two schools. Kentucky won the first meeting back in 2001, but quite a few things have changed since then. Let's get to know the starting lineup…
#0 DORIAN JORDAN
G, 5'8″, Sophomore; 3 ppg, 1.6 rpg, 4.3 apg
Jordan is a redshirt sophomore from Cincinnati. He led the team in assists and steals last season.
#3 TRYSTON FORD
G, 5'9″, Senior; 7.1 ppg, 2.6 rpg, 0.9 apg
Ford is a Danville native, a two-sport star for the Admirals and the latest in a line of really talented athletes in the Ford family. For that reason, he will be my favorite player on the court not in a UK jersey.
Be honest: if you had the chance, wouldn't you pose for a photo on the Rupp floor too?
— triz (@TrystonFord) November 6, 2015
#4 MALCOLM SMITH
G, 6'2″, Sophomore; 12.5 ppg, 2.8 rpg, 0.9 apg
Smith is the Thorobreds' leading scorer after averaging 12.5 points per game last season. He was selected to the preseason All-SIAC Team this year and, when he's not playing against guys 6'9″, 6'8″, etc., can be a scoring threat down low as well as from the outside. If you're looking to shut a guy down, this is it.
#12 JULIUS BARTON
C, 6'8″, Junior; 4.8 ppg, 3.1 rpg, 0.2 apg
At 6'8″, Barton is the only player on the team taller than 6'4″, which isn't saying a lot when you consider who they're playing. A preview of tonight's battle in the paint: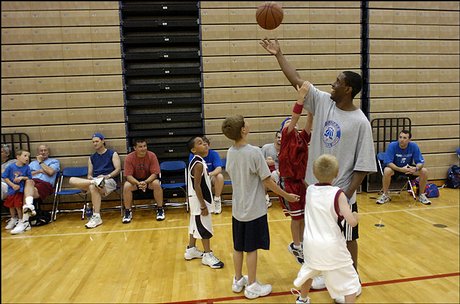 #32 WILLIAM BRYANT
F, 6'4″, Sophomore; No stats available
Bryant is a redshirt sophomore that hails from Kaskaskia (bless you!) Community College in Illinois. He's a Louisville native that, in his short time at Kentucky State, has grown an impressive beard:
He was elected Principal Chief of the Choctaw Tribe in 1870 and—oh wait. Wrong William Bryant.
HEAD COACH: Darnell Williams
Williams was an assistant coach at Kentucky State for three years before getting promoted to the head honcho before this season. He'll make his head coaching debut tonight, and what a place to make it:
At Rupp getting prepared for our first game of the year. pic.twitter.com/vMEqwMlGO6

— Darnell Williams (@coachdwill) November 6, 2015
He and his boys are making the most of a very cool experience:
#KSUMBB AT RUPP GETTING READY FOR TOMORROW pic.twitter.com/RqjKw28jQz

— Darnell Williams (@coachdwill) November 6, 2015
Can you blame them? Still, Cats by 50.