Let's meet Ohio State's starting lineup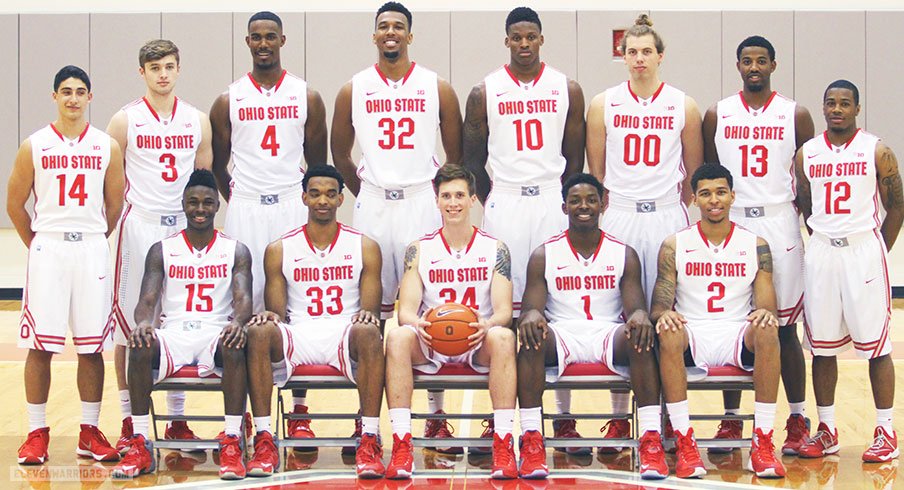 We've got about three and a half hours to kill before tip-off, so let's spend them getting to know the Ohio State Buckeyes. (Before you get too excited about making fun of the man bun on #00 Mickey Mitchell, unfortunately, he cut it off a few weeks ago.)
Let's meet the starting lineup…
#13 JAQUAN LYLE
Guard, 6-5, 210, Freshman; 8.9 ppg, 4.8 apg
You may remember Lyle as a former UK recruit. You also might remember him as the recruit who confirmed the allegations in the Louisville sex scandal. Lyle committed to Louisville in June of 2013, then decommitted two and a half months later. In October, he confirmed Katina Powell's story about the Cards and also talked to the NCAA about it. Is it wrong if I actually cheer for him a little today?
---
#2 MARC LOVING
Forward, 6-8, 220, Junior; 15.9 ppg, 6.3 rpg
Loving is the Buckeyes' leading scorer, averaging 35 minutes per game. The 6'8″ forward takes 25.9% of the team's shots and leads Ohio State in three-pointers made with 18.
He really wants a Netflix subscription for Christmas:
I need a Netflix account ASAP

— Marc Loving (@lovingthegame32) December 3, 2015
---
#32 TREVOR THOMPSON
Center, 6-11, 250, Redshirt Sophomore; 5.4 ppg, 4 rpg
In addition to have awesome initials, Trevor Thompson started the season but lost his spot to freshman Daniel Giddens after three games. After battling the flu, he worked his way back into the lineup and put up 10 points in Ohio State's win over Northern Illinois on Wednesday. At 6'11", 250 lbs., he'll present a good test for Skal on the inside.
---
#1 JAE'SEAN TATE
Forward, 6-4, 225, Sophomore; 12.5 ppg, 6.7 rpg
Tate is Ohio State's second leading scorer. At 6-4, he's somewhere between a guard and a small forward, and put up 17 points and 10 rebounds against Northern Illinois on Wednesday, only his second career double-double.
---
#33 KEITA BATES-DIOP
Forward, 6-7, 235, Sophomore; 11.9 ppg, 5.7 rpg
Pronounced Kay-tah Bates Dee-opp, the sophomore forward also had a double-double on Wednesday. He had this block and slam vs. Air Force:
---
OFF THE BENCH…
#15 Kam Williams
The backup guard scored 22 points in Ohio State's win over Grambling State earlier this year. He's averaging 5.4 points per game.
#04 Daniel Giddens
The 6'10" freshman gives the Buckeyes another look inside and actually started three games in place of Trevor Thompson. He's averaging 5 points and 5 rebounds per game.
#00 Mickey Mitchell
Yesterday, the NCAA ruled Mitchell eligible, so today is the first game he's available for the Buckeyes. Who knows if he'll play, but he's worth mentioning because he was also a Calipari recruit once upon a time and played on the same high school team as Julius Randle.