KSR's End of Summer Awards
Fall camp starts tomorrow for the football team, signaling the unofficial end of the sports summer. (Thank goodness.) Before we say goodbye to the dry spell that was May, June, and July, let's hand out some end-of-summer awards to our favorite Kentucky Wildcats.
Best Bromance: Tyler Ulis and Isaiah Briscoe
Watch out, Devin Booker, Tyler Ulis has a new BFF. Freshman Isaiah Briscoe arrived on campus in late June, and ever since, he and Ulis have been doing some major bonding:
Everyday Thing @tulis3 🙏🏻 pic.twitter.com/edBkSEp3zm

– Young Jefe (@ZayBriscoe) August 2, 2015
No word on whether or not Ulis makes Briscoe pancakes like he did for Devin.
Best Odell Beckham impression: Alexander Montgomery
Ever since Odell Beckham, Jr. made that ridiculous catch against the Cowboys last November, every wide receiver in the country has been trying to replicate it and show off their moves on camera. Alexander Montgomery gave it his best shot in July.
Best Football Drama (tie): Will Miggins and Bell get on campus???
The biggest question plaguing our football craziest fans this summer was if/when JucCo defensive linemen Alvonte Bell and Courtney Miggins would make their way from Pearl River Community College to Lexington. We finally got our answer on Sunday, when 247 Sports reported that the two completed their coursework and are expected to enroll this week, a huge relief for the team, who definitely needs some depth on the defensive line.
Best Football Drama (tie): Will the stadium be done???
A few weeks back, UK invited the media on a tour of the renovations at Commonwealth Stadium, and, well, maybe it would have been best if they had waited a few more weeks. The amount of work left to do was substantial, and Drew Franklin was pretty skeptical the crews will be able to get it done. Since then, they've been working around the clock. The media will get another look at the progress on Friday, so stay tuned.
Best Surprise: Jamal Murray
At the end of the season, I doubt any fans knew who Jamal Murray was. Murray exploded on to the scene during the Nike Hoop Summit, and once seven Cats declared for the draft, became an immediate target for Calipari. His recruitment was fast and extremely mysterious, and on the day of his announcement, I don't think many of us thought he'd pick Kentucky, which made it that much sweeter when he did. Add in an extremely impressive performance in for Team Canada in the Pan Am Games and suddenly next season looks much brighter.
Buzziest word: "Positionless"
John Calipari trotted out his new pet phrase before the draft in June, and it's not hard to see why. At the time, he was going after Jamal Murray, and with two point guards already on the roster, he had to hone his sales pitch to convince Murray to come into the fold. Hence, "positionless" basketball was born, or rather, borrowed from the NBA, specifically the Warriors, who put on a "positionless" showcase in the playoffs. Several of the Cats who were drafted this summer parroted the phrase when talking about Cal and the program, and earlier today, Skal Labissiere mentioned the concept in his CoachCal.com profile.
Positionless is the new platooning. Get ready to be sick of hearing it.
Best Homecoming: Rich Brooks
Brooks took a break from Lifestyles of the Retired and Famous to visit his old Kentucky home and I'm not sure I've seen a happier homecoming. Brooks attended several UK football functions and seemed to truly connect with the new staff, even making an appearance at the UK football Women's Clinic to greet fans. Brooks was his typical awesome self, tweeting about tomatoes at the Lexington Farmers Market and letting loose at the Bourbon and Cigars event. Hopefully this visit is one of many to come in the future.
Best Comeback: Aaron Harrison, Charlotte Hornets
I think everyone's heart broke a little bit when Aaron Harrison's name wasn't called on Draft Night. Aaron was the only Cat that declared that didn't get drafted, but instead of wallowing, he went to work. Aaron quickly signed on with the Charlotte Hornets for the NBA Summer League and made the most of the opportunity, earning a contract that will guarantee him a spot at training camp; however, the real work begins in September. Aaron will have to beat out Brian Roberts to be the team's third-string point guard. Given the way he embraced the challenge this summer, I wouldn't bet against him.
Best Quote: Chad Scott, "Ladies, we're going bowling"
UK's running backs coach literally dropped the mic after telling the women at the UK Football Women's Clinic the team was going bowling this season, earning plenty of whoops and hollers. I'm still kicking myself for not getting video.
Best Makeover: Karlito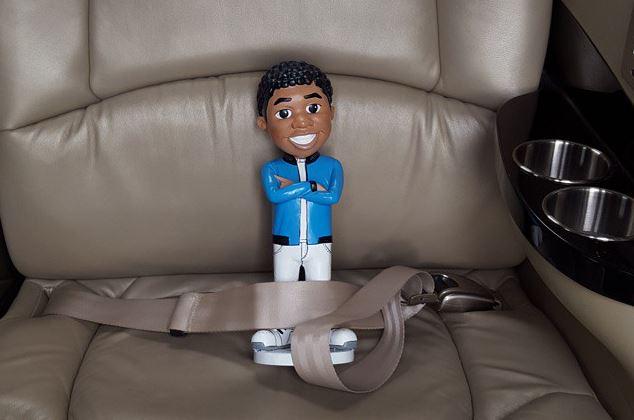 Karl Towns' imaginary friend came to life this summer with the help of artist Nathan Walker, and ever since, he's been living the good life, attending the draft, riding in private jets and hanging around the pool in Vegas while Karl played in the Summer League. Karlito is now an integral part of Karl's brand, hopefully following in the footsteps of Penny Hardaway's Lil' Penny. Now, if only fans could buy their own Karlito, we'd be set.
Best Week: July 27-August 3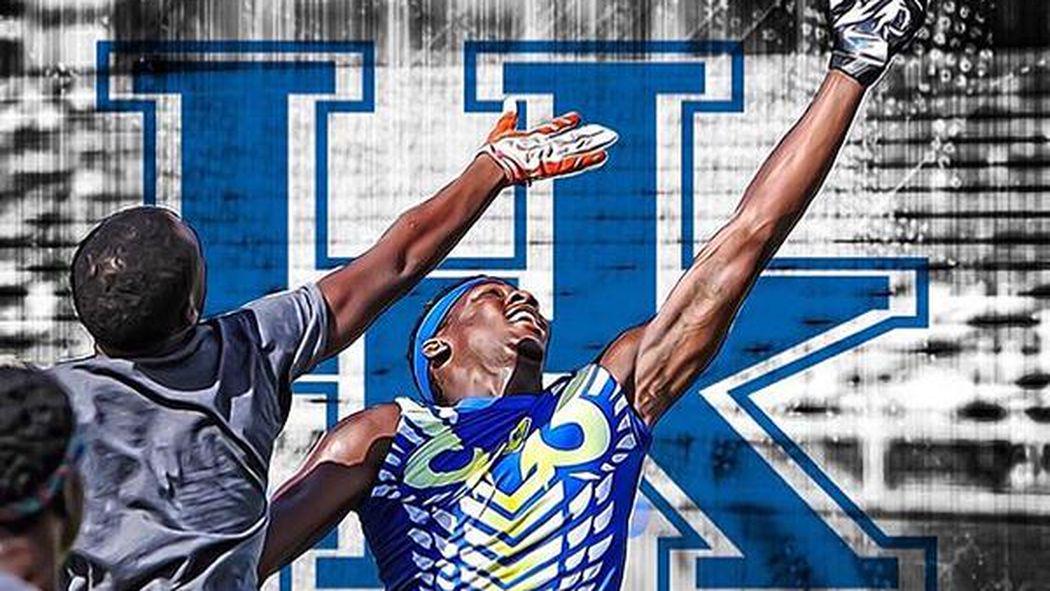 In one week, Kentucky landed six commitments in the 2016, 2017, and 2018 classes, four within a 24-hour span:
July 27: 3-star QB Mac Jones (2017)
July 28: 4-star SDE James Hudson (2017), 4-star RB Michael Warren, and 4-star WR Russ Yeast
July 30: 5-star ATH Jermaine Eskridge (2018)
August 3: 3-star OLB Jamar "Boogie" Watson (2016)
Pretty impressive, and the momentum's still rolling.