KSR's 2015 Big Blue Madness LIVE DIARY
Good evening, folks. Believe it or not, it's time for Big Blue Madness, the unofficial tip-off to basketball season. Although it's kind of snuck up on us, I'm hearing UK has a HUGE show in store for the fans, and I'm settled in the rafters to capture it all for you.
Turn your TV to the SEC Network or your computer to WatchESPN.com, and let me share the behind-the-scenes scoop. Make sure you're rocking your Kentucky Blue, too. That'll be important tonight.
🏀🏀🏀🏀🏀🏀
6:55 PM: Hello friends. The show's about to begin, and there is finally a basketball buzz in the air. Among tonight's events appears to be the unveiling of the 2015 Final Four banner: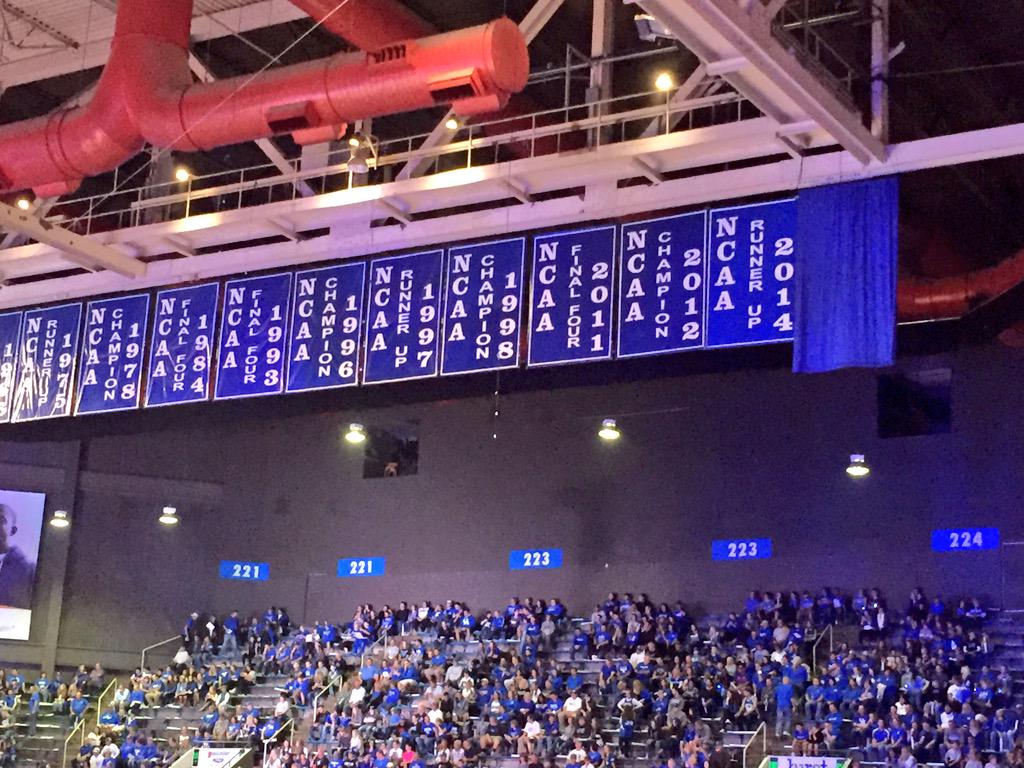 Okay. Maybe this will help us all move on.
6:59 PM: It looks like the court will be used as a screen again, which gets a big ole HALLELUJAH from this gal: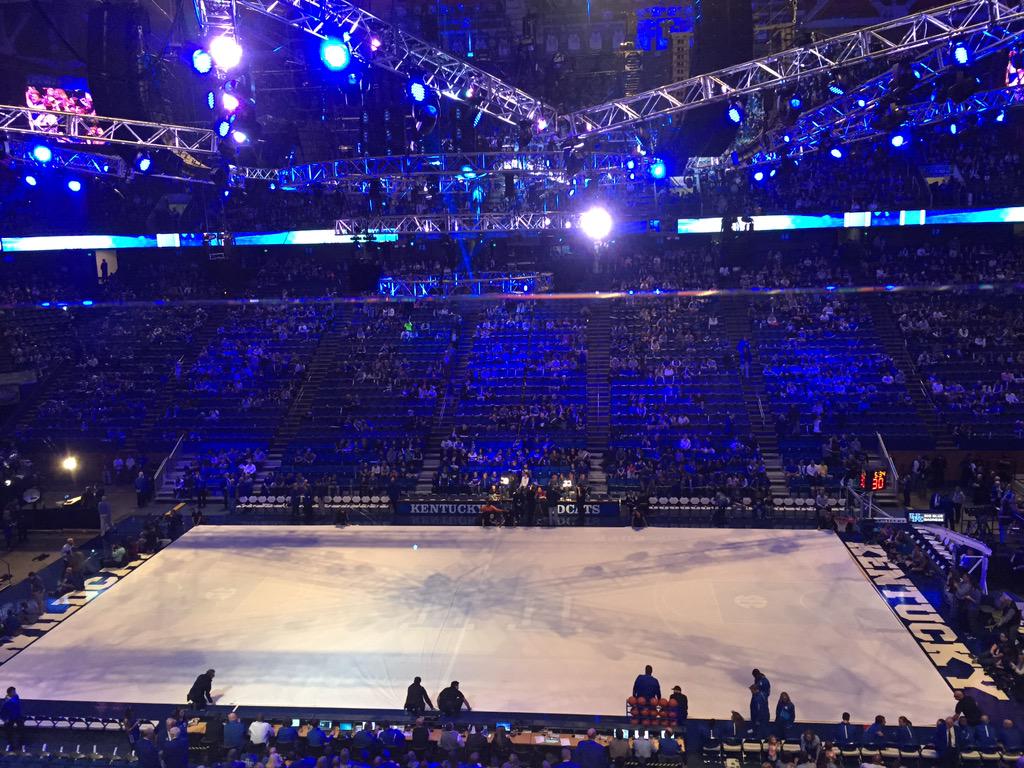 7:04 PM: Yep, they're using the court as a screen for intros. Ladies up first. I took a video, hopefully it'll upload here in a bit.
7:08 PM: Marlana VanHoose just introduced Matthew Mitchell, who claimed he wasn't performing. Of course, it was a ruse! Mitch Barnhart came out and gave Mitchell hell for "retiring" and as if on cue (these guys!), two kids came out to do the whip and the nae nae with him. The entire UK Hoops team joined in for a big, if predictable, performance.
7:15 PM: UK Hoops scrimmage time. Interestingly, Makayla Epps is not part of the festivities. Apparently on the SEC Network broadcast, the announcers said she will also miss the first game of the season.
7:19 PM: Just when I was getting a little bored, here come the FREE T-SHIRTS!!!!!! THROW IT UP HERE, GIRLS!!!!!!
7:23 PM: Here's video of Matthew Mitchell doing the Nae Nae:
7:34 PM: That'll do it for the ladies, who stopped their scrimmage for an impromptu dance break. For you kiddos, they "hit the quan":
After practice, they dance. Great to meet our 2015-16 @UKHoopCats! #BBM15 pic.twitter.com/Ej49oExw7N

— UKRadioNetwork (@UKRadioNetwork) October 16, 2015
God, I feel old. Cheerleaders up next, then the guys. Anthony Davis is apparently in the house…
7:41 PM: The cheerleaders are doing their thing, and the guys are getting ready in the back:
In the locker room so ready for #BBM15 pic.twitter.com/zDaWHkNuAb

— Kentucky Basketball (@KentuckyMBB) October 16, 2015
Soon.
7:44 PM: Boogie photobombed Matthew Mitchell's interview with our pals from cn|2:
This just happen in our interview with Coach Mitchell. #BBN pic.twitter.com/GJEGtlqavS

— Bradley McKee (@Bradley_Cn2) October 16, 2015
7:46 PM: I hear the SEC Network cut off part of the cheerleaders' routine, but thanks to @UKRadioNetwork, you can watch it here:
UK. Where are cheerleaders are amazing #BBM15 pic.twitter.com/NOQ8opMx3j – UKRadioNetwork (@UKRadioNetwork) October 16, 2015
7:53 PM: They're showing a highlight reel from last year, but more interesting is the kid dipping behind the announcers: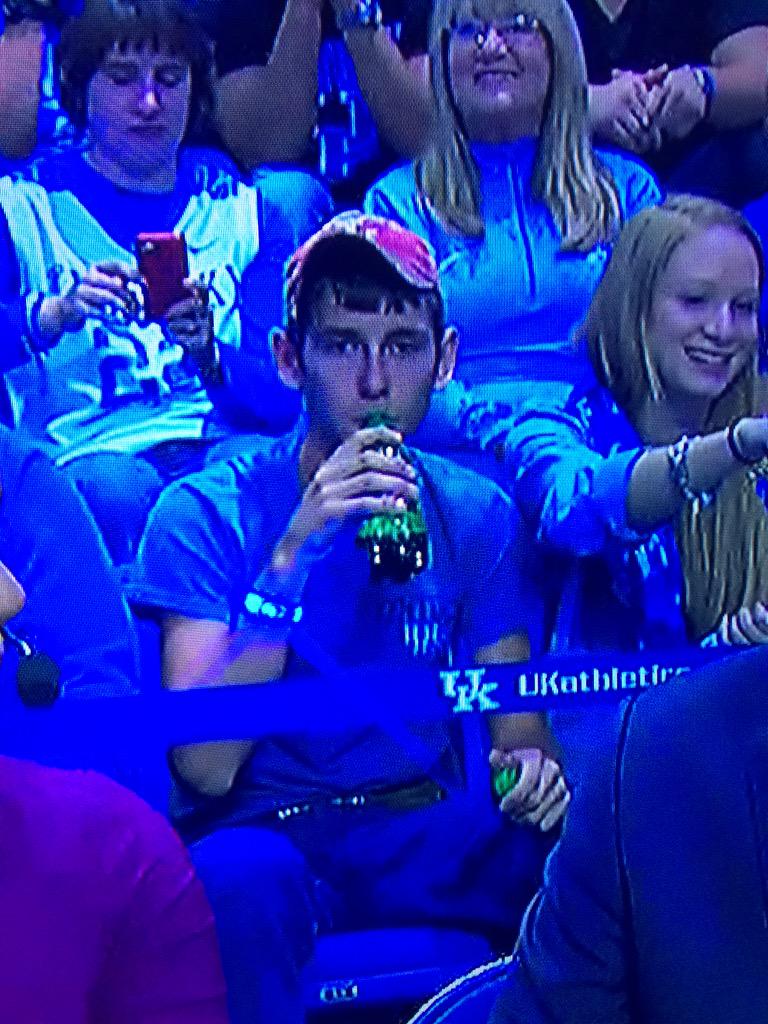 This is Kentucky basketball.
8:03 PM: They just showed the coolest intro video known to man on the court. Here's the video:
8:04 PM: The players came out to mostly Drake songs, largest ovations for Skal, Tyler, and Alex: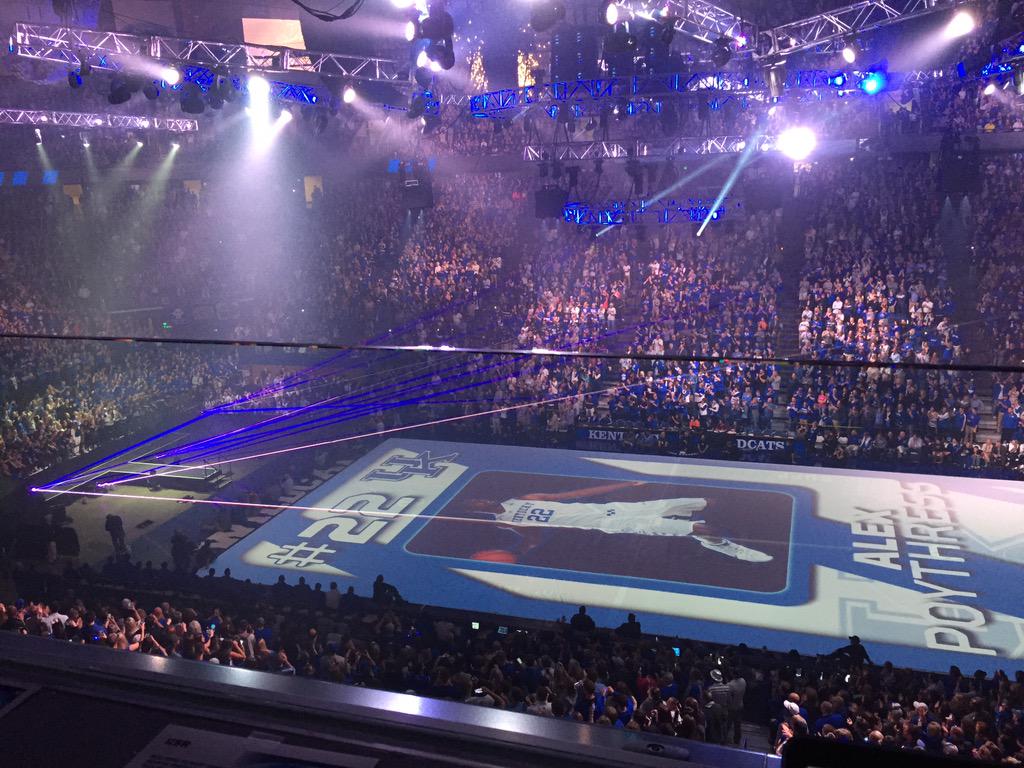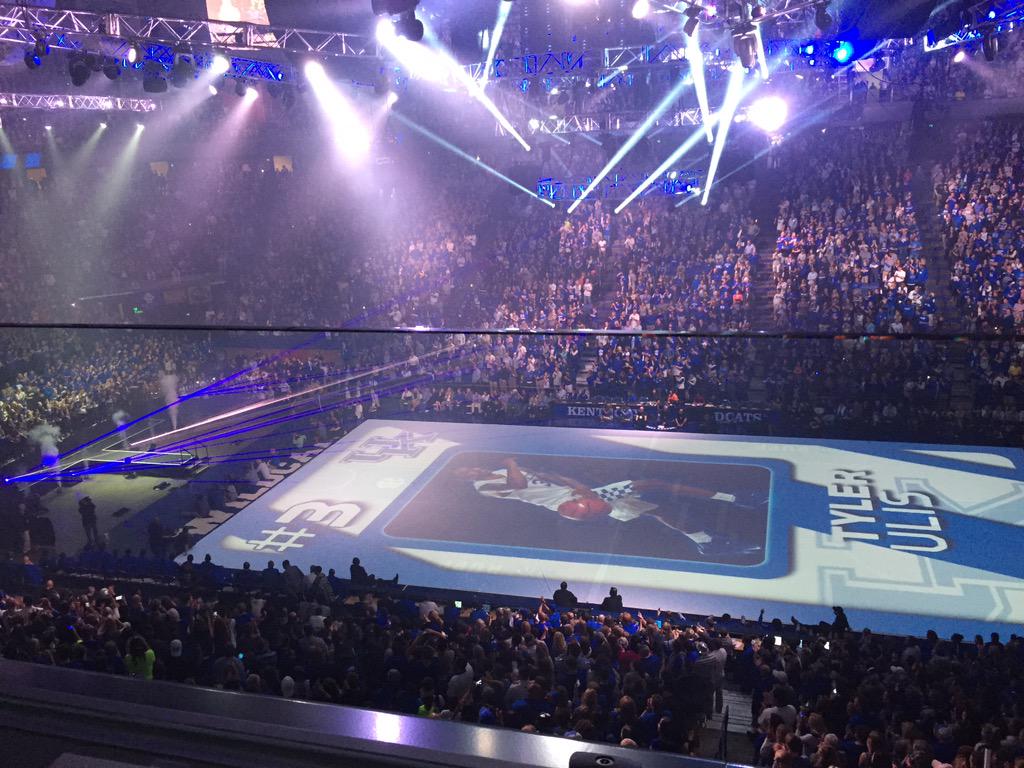 8:11 PM: Drake was shown on a video on the court drinking wine to sexy music. He called Calipari "the silver fox" and "most luxurious coach in college basketball." The video was played to the other side of the arena, but here's a flipped pic: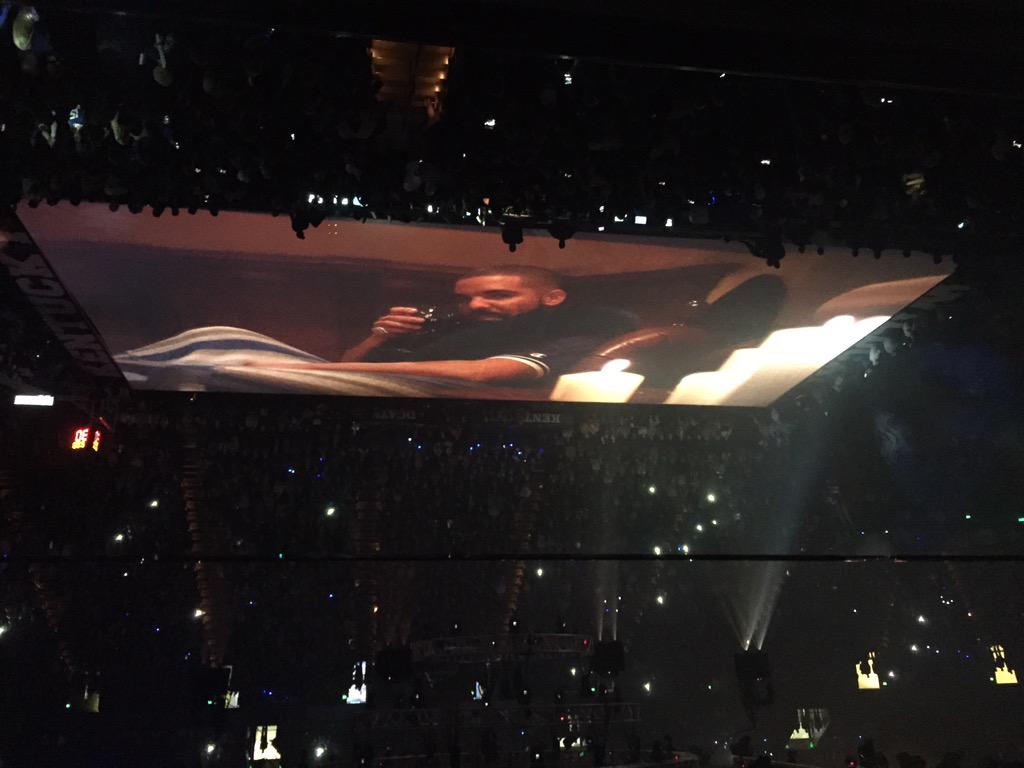 "The most luxurious coach in NCAA basketball" – @Drake pic.twitter.com/IlCteGjNnp

— Kentucky Basketball (@KentuckyMBB) October 17, 2015
8:17 PM: Cal just wrapped up his speech, which was actually pretty short and to the point. During it, he trotted out all the Cal-isms you would expect, and honored all of the UK greats. At one point, Anthony Davis walked around the perimeter of the court, allowing Cal to shout "Hey Anthony, I'm giving a speech here!" Notice that, recruits?
Cal finished with: "Who wants to be next? This teams wants to be next. And hopefully some other people in this building."
GET IT RECRUITS? He means you!
8:19 PM: Funny Drake video showing now. He's trying to redeem himself for the airball he shot last year. I'm sure KyWildcatsTV will have that one soon.
8:22 PM: Willie and Boogie escort Ellen Calipari to the court, where they are joined by Anthony Davis and Louie Dampier. Cal and the players present Louie with a HOF plaque:
8:23 PM: Here's the transcript of Cal's speech:
Tonight, we stand in a place of history as we celebrate the beginning of this program's 113th season.

Eight national titles and the jerseys of 43 Kentucky basketball legends hang in these rafters. It's a building named after Mr. Kentucky Basketball, Adolph Rupp. I am honored and proud to be in the seat he created.

We're the winningest program in the history of college basketball. We've won more NCAA Tournament games than any school in the country. We have been and will continue to be the gold standard in college basketball.

You all know that playing at Kentucky is about being on the biggest of big stages. Playing here is like performing at Carnegie Hall. If you can make it here, you can make it anywhere.

Because of our national following, everything we do is on national television. From practices to scrimmages and exhibition games, even pro day. The Big Blue Nation fills opposing gyms, whether we're in Tennessee, California, Hawaii or the Bahamas. You fans give us an advantage in every game.

Like you, I want to win every single game I coach. In six years, we've won more games than any other team in the country, we've been to more Final Fours than any other program, and in the SEC the last six years, we've won more games and more titles than any other school. And let's not forget that 2012 national championship.

But my goal … our goal … is to help these kids chase their dreams. They are the reason we hang those national championship banners. They are the individuals we retire jerseys for. They are the reason why thousands of you camp out for a week each year to celebrate them on this night.

If we continue to focus on their dreams, our program and school will prosper like no other. If we make sure these kids eat first, we'll have more than we can ever eat.

Let's stay focused on who we are and be proud of it.

Kentucky encourages players to chase their genius. We want them to explore the outer limits of their talents and abilities, and leave us without regrets.

What does the future hold for Kentucky basketball? You're looking at it right here with this team.

This season will be a process. Nothing happens overnight.

I want these guys to worry about pleasing each other, not worry about pleasing me. They also have to play with a curious mind so they can improve even more than they thought they could.

Most importantly, they have to have more fun than any other team in the country, playing together and growing together, IF they want to be the last team standing. I believe in this group.

From Pat Riley, Louie Dampier, Dan Issel and Kenny "Sky" Walker. Jamal Mashburn, Tony Delk, Tayshaun Prince and Rajon Rondo. John Wall, DeMarcus Cousins, MKG and Anthony Davis. Karl-Anthony Towns, Willie Cauley-Stein.

Who wants to be next?

This team wants to be next!

And hopefully some other people in this building.
That's 505 words, but who's counting?
8:34 PM: The team just finished warmups and a few things already pop out:
Jamal Murray is scary good on the perimeter, sinking a three at the start of warm-ups. Matt went as far to call him the best perimeter player at UK since John Wall. Not sure I'm ready to go there yet, but he's good.
Skal had a nice dunk and an even nicer turn around jump shot, and an "ooooh" three to close warmups. Hello versatility
Cal spent some time visiting with Harry Giles court side. Here's hoping Giles likes what he sees tonight.
8:43 PM: There's a bit of a break in the action, which means we should all watch Dominique Hawkins' awesome dance:
We see you @Dhawk_25 #BBM15 pic.twitter.com/NVkub3I7Mc

— UKRadioNetwork (@UKRadioNetwork) October 17, 2015
8:51 PM: Here's KyWildcatTV's feed of the intro video. It was awesome:
Chills. 2nd half of the scrimmage coming up…
8:59 PM: That'll do it, folks. The second half of the scrimmage was pretty sloppy, but featured a sick pass from Ulis to Poythress. Alex still looks tentative on that knee (can you blame him?), but he got one huge rebound that was good to see.
Skal hit another three to close the scrimmage. That kid's something special, folks.
A wrap-up coming soon…