KSR NCAA Tournament Preview: East Region
It's the most wonderful time of the year, and KSR is celebrating by previewing each region of the NCAA Tournament in the most ridiculous manner possible. Let's start with the East Region.
The Bracket ---
Viewing Schedule
| | | | |
| --- | --- | --- | --- |
| THURSDAY | | | |
| 6:50 PM | (1) Villanova | (16) LIU Brooklyn/Radford | TNT |
| 9:20 PM | (8) Virginia Tech | (9) Alabama | TNT |
| 9:27 PM | (3) Texas Tech | (14) Stephen F. Austin | TruTV |
| 9:57 PM | (6) Florida | (11) St. Bonaventure/UCLA | TruTV |
| FRIDAY | | | |
| 12:40 PM | (2) Purdue | (15) CS Fullerton | TruTV |
| 1:30 PM | (4) Wichita State | (13) Marshall | TNT |
| 3:10 PM | (7) Arkansas | (10) Butler | TruTV |
| 4:00 PM | (5) West Virginia | (12) Murray State | TNT |
---
Best Stars
Collin Sexton, Alabama
Sexton is the reason Alabama's in the tournament after a phenomenal showing in St. Louis. He was worn out by the time the Crimson Tide played Kentucky, but his game-winner vs. Texas A&M and 31-point showing vs. Auburn impressed the hell out of me. He's a star and if he stays hot, will lead Alabama to some upsets.
Jalen Brunson, Villanova
Villanova's junior guard is up for all the national player of the year awards, and for good reason. He's the main reason Villanova's offense ranks No. 1 in KenPom's efficiency ratings. He's even stronger when paired with wing Mikal Bridges, making for one of the best backcourts in the country.
Carsen Edwards, Purdue
Caleb Swanigan may be gone, but sophomore guard Carsen Edwards is the Boilermakers' new star. Edwards looks like a football player, but is fast and hits 41.2% of his threes. He's been especially hot in the past month.
---
Best Mascot: Butler Bulldog
Sadly, live mascots are not permitted in the first, second, or regional rounds of the NCAA Tournament, which is a crying shame because Butler's Blue is just about the cutest thing you've ever seen. He and Arkansas' live razorback Tusk even have a little Twitter trash talk going on:
Watch out Butler, we're coming for ya. ??? #Fastest40 #MarchMaddness #SelectionSunday pic.twitter.com/RQbv1YGSai

— TUSK Arkansas Mascot (@Tusk_UA) March 11, 2018
Getting that bacon tenderized I see. #MarchMadness #GoDawgs https://t.co/MYTIUMENqA

— Butler Blue III (@ButlerBlue3) March 13, 2018
Runner up: the Stephen F. Austin Lumberjack
He would fit right in in my neighborhood.
---
Upset picks
(9) Alabama over (8) Virginia Tech
This is one of the most intriguing matchups of the first round. Virginia Tech beat North Carolina, Virginia, Clemson, and Duke this year, but they don't have Collin Sexton. As I said earlier, if Sexton gets hot, Bama gets the win, and I think will upset Villanova to go to the Sweet 16.
(10) Butler over (7) Arkansas
I wasn't terribly impressed by Arkansas in the SEC Tournament. Yes, they beat Florida, but they only beat South Carolina by five the day before and got pummeled by Tennessee in the semis. Besides, I'm not going to take any team that got swept by LSU seriously. Butler is actually favored by 1.5 points right now in Vegas, so this isn't really even an upset. Sorry, Mike Anderson.
Longshot: (14) Stephen F. Austin over (3) Texas Tech
Texas Tech star Keenan Evans has battled turf toe in recent weeks, and although he played well in the Big 12 Tournament, if he's not 100%, Stephen F. Austin could bust another bracket.
---
All-Name Team
Dhamir Cosby-Roundtree, Villanova
Ty Outlaw, Virginia Tech
Brion Sanchious, Murray State
Gorjok Gak, Florida
Sasha Stefanovic, Purdue
---
Dark Horse: (9) Alabama
Players like Collin Sexton are made for March. I have the Crimson Tide upsetting No. 1 Villanova. From there, can they handle Press Virginia?
---
Ugliest Uniform: Stephen F. Austin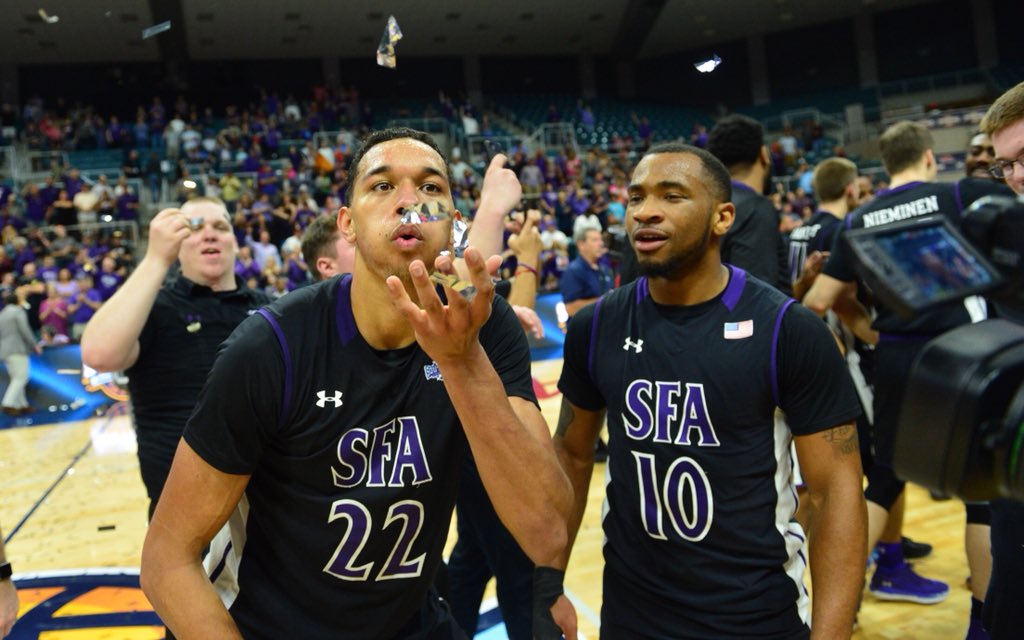 Anything is better than UK's checkerboard, but these feel a little too simple to me. I realize "Stephen F. Austin" is a lot to spell out, but the "SFA" being so close in size to the numbers throws me off.
---
Pick: (5) West Virginia

No, this is not just an excuse to use my "Huggy Bear as Norm" photoshop again. If West Virginia can get past Wichita State to the Sweet 16, I like their chances against Villanova or Alabama. That press can make even the best offense panic in March.
Besides, Kentucky and West Virginia are destined to play each other in the NCAA Tournament, and the only way that can happen is in the national championship, right?
[mobile_ad]