Kevin Knox's competitiveness sealed the deal with the Knicks
By the time the ninth pick rolled around, it seemed like a foregone conclusion the New York Knicks were going to draft Kevin Knox. In Knox's introductory press conference today, Knicks president Steve Mills confirmed that Knox's competitiveness in workouts sealed the deal to bring him to New York.
"We wanted Kevin at the ninth pick," Mills said. "We spent a lot of time with him, we spoke with the coaches down at Kentucky and watched him throughout the course of his career. We knew there was something special, not just about his basketball abilities — the length, the athleticism, his ability to play the game the way Coach [David] Fizdale wants to coach and the way the current NBA is going — but there's also a competitiveness inside this kid that doesn't show up all the time in his demeanor. We sat and talked to him and listened to how he interacted with five other players through dinner and different conversations and there's a competitive sense that we knew was the right fit here in New York. That's how we decided he was the right guy to go with."
Unlike most top prospects, Knox was fine doing group workouts, which allowed the Knicks to put him head-to-head vs. Michigan State's Miles Bridges, whom New York was also considering. According to those inside the workout facility, Knox "kicked [Bridges] around" in the workout, quelling any concerns the Knicks had about his toughness.
"I think it helped me out a lot," Knox said. "You see a lot of top guys in the top ten, lottery do solo workouts, but I decided I wanted to do group workouts. I wanted to compete. I wanted to go at people. I wanted to show what I've really been working on…I think that helped my stock."
"While we don't place a tremendous amount of our decision making on what happens in a workout, we do look at it from a competitive standpoint," Mills said. "The fact that he chose to come and do a 3-on-3, a six-person workout said something about what he was willing to do in terms of competing and being a competitor. I give him credit and that's something that stood out to us."
That competitive fire was on display even today. When asked if he wants to start this season, Knox started his answer before the reporter even finished the question.
"Yes. That should be a goal for every rookie, but it's not going to be easy. I'm going to work my way all the way up. There's nothing guaranteed in this league. There's going to be guys fighting every day to get the same spot I'm going for. I know it's not going to be easy and I'm going to have to work really hard every day in practice. I'm going to compete for that starting role."
In a quote that will surely find its way to a wall at the Joe Craft Center soon, Mills said that Knox's experience at Kentucky uniquely prepared him for the pressure he'll face as a member of the New York Knicks.
"That actually is going to be up to Kevin," Mills said of the learning curve Knox will face in his rookie season. "What the learning curve is and how long the adjustment takes, but what I will say is that while all college basketball programs prepare guys to play in the NBA, the pressure and the limelight and the spotlight you're under when make the decision to play at Kentucky does prepare you in a different way to play in a place like New York. I think some of the things that are tougher for rookies to adjust to are some things he's already been through."
As for those boos from Knicks fans last night? Knox reiterated that they didn't get to him.
"It was cool. I'm not going to be upset. I'm not going to cry about it. The only thing that was going through my head was I was drafted by the New York Knicks and how happy I am for myself and my family. I wasn't really paying attention to the boos or anything like that. It's fun to see all that. Like I said, it motivates me. Adds fuel to the fire."
In fact, he joked about it with Knicks star Kristaps Porzingis, was also booed when the Knicks drafted him in 2015.
"Actually, we did talk about it. He asked me how the fans reacted and I told him I got the same amount of boos he got. It was fun, he just laughed and said it's all motivation, just fuel to the fire. And he said, 'Good work. Sooner or later they'll be cheering for you.'"
New York newspaper editors certainly are: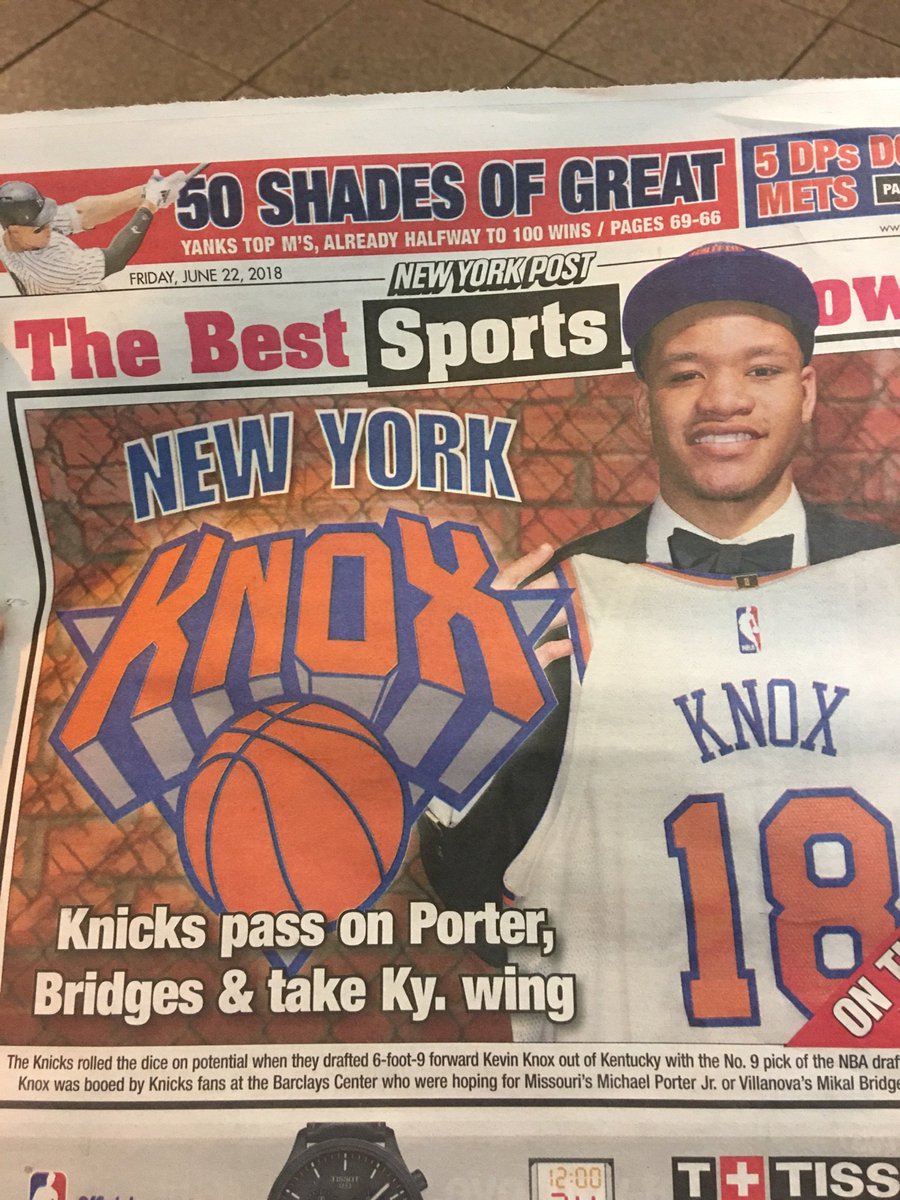 [mobile_ad]