Kentucky: They're not who we thought they were (yet)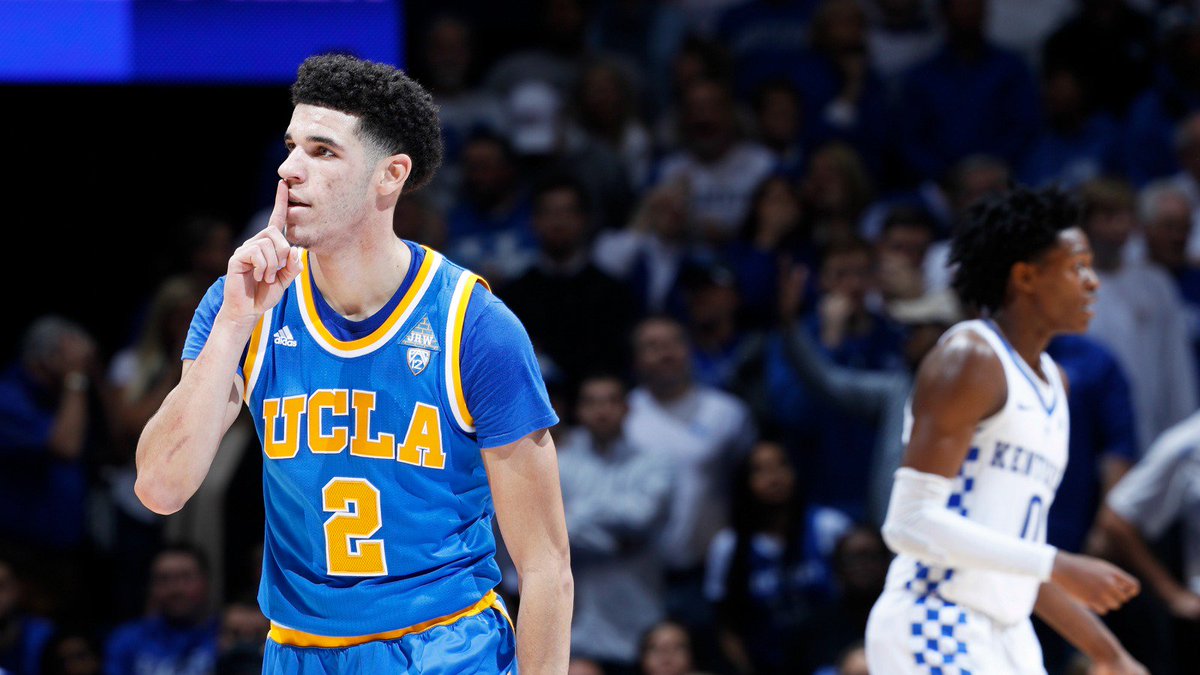 Admit it: at some point in the past week, you thought about 40-0. No one wanted to say it out loud, but as Kentucky poured the points on Arizona State, it was there, like a little worm dancing in the back of your mind. Well, put that worm back in the tequila because the Cats got served a big piece of humble pie this afternoon in Rupp, losing to UCLA 97-92. Sadly, it wasn't even that close.
Let's break it down because I guess we have to.
1. Lots of firsts today, and not in a good way
Today's loss was the first for the Cats in Rupp Arena since February 27, 2014. That's a 42-game winning streak gone. It's only Calipari's fifth loss at Rupp Arena as UK's head coach. Today was also the first time a team's scored 97 points on Kentucky in the Calipari era. Simply put, it was not a good day. UCLA beat Kentucky in every facet of the game: points, obviously; rebounding (UCLA 41 UK 38); shooting (UCLA 53% UK 41%); and assists (UCLA 18 UK 16). Kentucky actually had fewer turnovers than UCLA (18-9), but didn't capitalize on them enough.
2. UCLA wanted it more
One of the more upsetting parts about today's game was that it looked like UCLA just wanted it more. After hearing how this team hadn't turned in a bad practice yet, that's what bothered me the most. Same for Cal.
"To come in and do what they did to us, and they manhandled us, they physically manhandled us," Calipari said. "You don't see that very often, especially in this building."
It felt off from the start. Despite the early start and time zone difference, UCLA sprinted out to a 4-0 lead, prompting Calipari to take a timeout about a minute in, which rarely happens.
"This is a lesson for us," Cal said. "We didn't have the energy. I had to call a timeout a minute into the game. I mean, just wasn't the same team."
Get ready, because "lesson" is the word of the day.
3. Where was the defense?
As mentioned, UCLA shot 53% from the floor, 43.5% from behind the three-point line. Give all the credit to UCLA, they came in with a game plan and stuck to it, doing everything well that Kentucky did poorly. The Bruins had better shot selection, poise, and execution. UCLA came into this game averaging 97 points, the third most in the country, and hit that mark exactly today; sadly, Kentucky didn't do a lot to stop them.
"For us, this wasn't about offensively, it was, we gave up ten threes and I'm guessing six of them, we left a shooter," Cal said after. "We didn't have discipline defensively. We just didn't."
4. TJ Leaf, man
All the talk heading into the game centered around Lonzo Ball, and he's good, but it was TJ Leaf that tore the Cats apart today. Leaf finished with 17 points, 13 rebounds, and 5 assists. The Cats had no answer for him.
"I mean, what Leaf did, basically dominated the game," Cal said.
Add in 19 from Isaac Hamilton and 14 from Lonzo Ball and that Welsh Feathers kid and it was not good.
5. Calipari decided not to have a shootaround today
Count Calipari among those that thought Kentucky could handle the big stage today. Cal admitted that he decided not to have a shoot-around this morning, a decision that in retrospect, he wished he hadn't made.
"I decided not to have a shootaround. I'm not making an excuse. That was my choice. Now that I see the result, I would have had a shootaround this morning. I just felt maybe they were mature enough to do this. I'm learning about this team."
6. No finishing around the rim
How many times today did Kentucky have an easy shot and missed it? Probably as many cuss words that flew across my living room, because that was infuriating. The Cats missed WAY too many gimmes, our post players especially (looking at you, Bam). Equally as infuriating was the shot selection. Why pull up and take an 18-footer when you can drive to the rim and get the layup? Isaiah Briscoe was 0-5 from the three-point line. Why are you shooting so many threes, Isaiah? I feel like each member of the team needed to be reminded of what they do well. I'm sure they'll be reminded plenty this week.
"Dunk the ball, Bam. Why are you laying it?" Calipari lamented on the postgame show. "He missed a lot of one-foot shots. It's demoralizing. Go dunk the ball."
7. Five to six players were under the weather
It's no excuse, but Derek Willis said in his postgame interview that five to six Kentucky players were under the weather, including himself. Derek said he didn't get much sleep and was nauseous overnight. So, if you're looking for an excuse, there's one; however, Calipari's not buying it.
"No. No, no no. Had nothing to do with anything. The factor in the game is they played better than us and they played harder than us and they had more fight than we had."
8. Gotta hit free throws
UCLA connected on 17-21 from the charity stripe, whereas Kentucky went 18-27. Gotta hit those free throws. They're free, you know.
9. Were the Cats too full of themselves?
I'll be honest, I was very, very confident coming in to this game. Big lights, national television, CBS Sports trumpet fanfare, etc. According to Cal, the players may have felt a little too confident as well.
"This is the first time on this stage with a team like this, with national television, starting four freshmen. Kind of showed at times."
It really showed when it comes to passing. Kentucky had 33 assists vs. Arizona State on Monday and only 16 assists today.
"It wasn't the same team. We had 16 assists. Why didn't we pass it today? Because it was national television, because it was my time? Now we all look bad," Cal said. "I mean, there were a bunch of opportunities for us to pass that we didn't make. I told them after the game, You can't play that way, you all look bad."
It's cool, I didn't really want a 40-0 shirt anyways.
10. Marlana's anthem was great though
I can't end this on a bad note because it's only December and losing to a good team is definitely not the end of the world, so here's Marlana VanHoose's national anthem, which was beautiful:
Feeling a little down, #BBN?
Marlana VanHoose will lift your spirits.💙 pic.twitter.com/bk86wm4zjZ

– Jennifer Palumbo (@JenNimePalumbo) December 3, 2016