Kentucky fans can't really complain about NBA super teams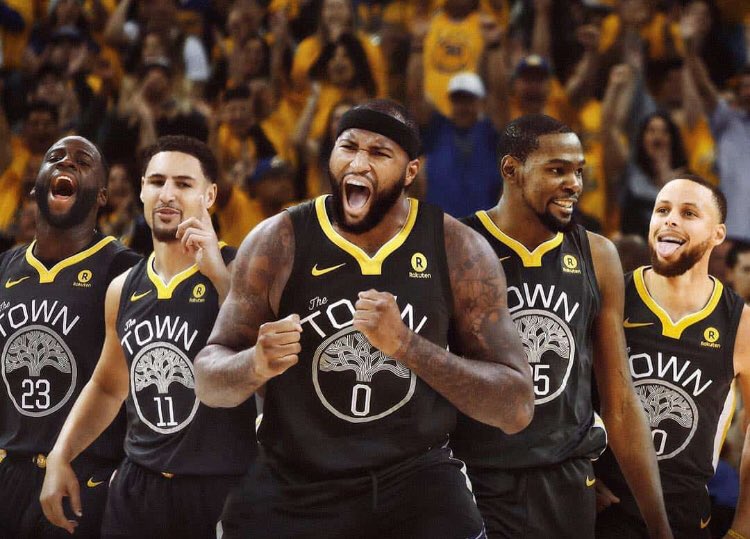 After the news broke that DeMarcus Cousins is joining the Golden State Warriors, NBA Twitter lost its collective mind, criticizing Cousins for chasing a ring and the Warriors for ruining the league. Earlier, Drew outlined the reasons why this move was the right one for Boogie, but I'm more amused by the number of Kentucky fans outraged by the concept of a super team. As one fan tweeted after I shared a funny Warriors GIF, how could I possibly be a fan of such an "evil empire"? Well, it's easy. As a Kentucky fan, I already am.
Leave aside the fact that Boogie is rehabbing from an injury and had zero offers before reaching out to Golden State; even if he was 100 percent healthy and had plenty of offers, what's wrong with him going after a championship? Isn't that exactly what Reid Travis is doing at Kentucky, or for that matter, any one-and-done who comes to Lexington? Travis could have gone to any program as a grad transfer, including defending champ Villanova, but chose Kentucky because he wanted to surround himself with the best talent to have the best chance at winning a national championship and prepare for the NBA. And he will leave Kentucky after this season, just as Boogie will leave Golden State. Yet, you don't hear Stanford fans claiming Travis "sold out" or is "soft" for coming to Kentucky, in part because most of them don't care enough, but also because they realize it's a win-win situation for him.
After signing Demarcus Cousins, the Warriors now possess all 5 of the infinity stones. #NBA pic.twitter.com/H7Wtypjoc1

— depressed cavs fan (@OtterForThree) July 3, 2018
John Calipari is out here collecting Five Star point guards like Thanos collecting infinity stones. pic.twitter.com/vYnExpepw7

— Big Blue Express (@bigbluexpress) April 30, 2018
As for the fans who claim the Warriors are "ruining the league" by assembling so much talent…what do you expect them to do? Try to lose? Stop making intelligent decisions? Not listen to DeMarcus Cousins when he calls and asks to join their squad for a very low price? The stigma of the evil empire is something Kentucky fans should totally understand because the program's had it forever, going back to the days of Adolph Rupp. Calipari has cemented his legacy by convincing the best of the best to come to Kentucky; the Warriors, the Lakers, the Celtics, and the Rockets are doing the same thing and it's totally legal. Fans of other college programs like to complain all the time that Kentucky gets all the good players; aren't Kentucky fans complaining about Boogie's move doing the same exact thing? Isn't that just jealousy?
The only argument you could make for the two situations being different is that players come to Kentucky primarily to have the best chance of making it to the NBA, and secondarily, to win a title, whereas, NBA superstars are making these moves primarily for rings. Yet, you could argue Cousins' situation is a mixture of both. By going to Golden State, he's got an environment in which he can rehab, return to the court, not have the pressure of being the only star, win a title, and improve his resume for a monster max deal next summer. Until the rules change and prohibit all-stars from teaming up on the same squad, that's perfectly fine. And, as a Kentucky fan who's watched the program thrive off the one-and-done rule, it seems pretty hypocritical to criticize it.
[mobile_ad]