Kansas and NC State included in latest FBI charges
Kansas and NC State, come on down! You've been included in the latest string of FBI charges!
The U.S. Attorney's Office announced additional charges against James Gatto, Merl Code, Christian Dawkins this afternoon, with the Jayhawks and Wolfpack being added to the list of schools involved.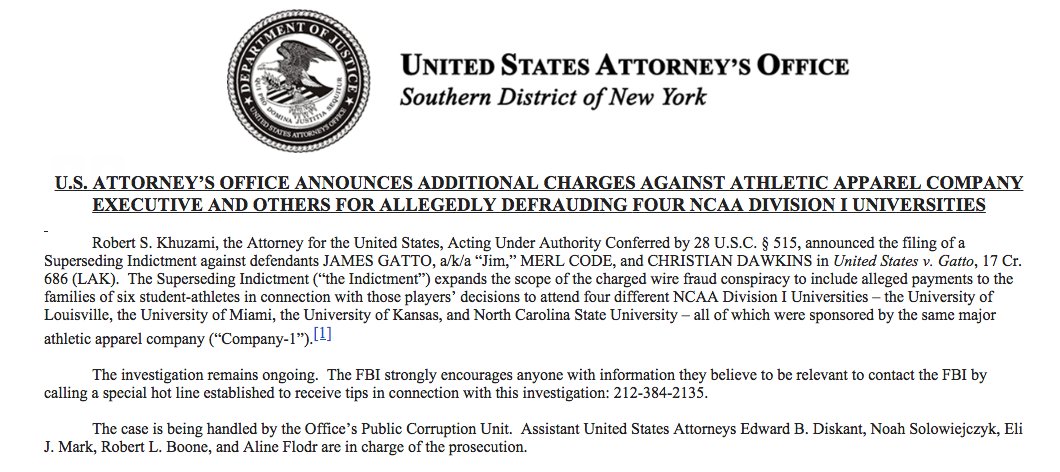 Louisville and Miami were already listed in the original charges, but more have been added for both of those programs, as well.
Gatto, Code, and Dawkins were all found to have direct wire transfers confirming payments to recruits. The Kansas section alone shows a $30,000 bag was dropped off at a hotel room in New York for someone committed in October of 2016.

According to Adam Zagoria, it looks like either Billy Preston or Marcus Garrett are the likely individuals.
Kansas commitments in summer/fall 2016 per https://t.co/W5hp48z6QK:https://t.co/KF9NVJba3M

Marcus Garrett – 8/1/2016
Billy Preston – 11/6/2016

This report references a player who committed "in or around October 2016" to Kansas. pic.twitter.com/azFBiVrX9A

— Adam Zagoria (@AdamZagoria) April 10, 2018
Considering Billy Preston had major controversy surrounding him, left Kansas, and signed with a European team soon thereafter, odds are pretty good we have our winner.
According to another report, that number could be upwards of $90,000 in total.
New indictment in college basketball corruption case includes allegation that adidas exec Jim Gatto alone defrauded the University of Kansas by making $90k in payments to the family of a student-athlete in connection with his commitment to attend the school.

— Darren Heitner (@DarrenHeitner) April 10, 2018
As for NC State, apparently former five-star guard Dennis Smith Jr. was unhappy with his commitment to the school, and a coach gave him $40,000 to keep him on board.
Cont. Authorities allege that Dennis Smith, Jr., was unhappy with his commitment to N.C. State, and that an N.C. State coach arranged, with Adidas, a $40K payment to keep him committed … pic.twitter.com/o7rteU7UYe

— Andrew Carter (@_andrewcarter) April 10, 2018
Yikes.