Julius Randle Reaction Round-Up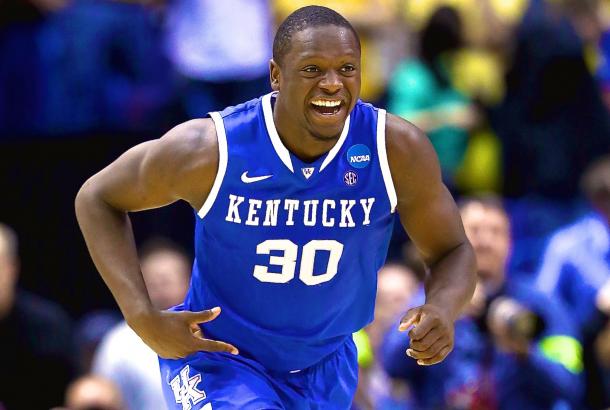 Well today it finally happened. The moment we all knew was coming ever since young Mr. Randle put on a UK hat one year ago in his Dallas press conference. Still, knowing it was coming doesn't make it any easier. As a key part of a run to the title game Randle earned his spot among the legends of Kentucky and will go down as one of the most beloved players of the Cal era. With Julius declaring let's take a look at what the pundits had to say about his decision:
[ESPN Via AP: Julius Randle Enters The NBA Draft]
Forward Julius Randle will leave Kentucky after one season to enter the NBA draft, where he is expected to be among the top five selections.

With five days left before the deadline for underclassmen to declare, the 6-foot-9 Dallas native announced the decision many expected even before he arrived as part of Kentucky's best-ever recruiting class. Projected as a lottery pick from the outset, Randle solidified his draft stock by leading Kentucky (29-11) to the NCAA final behind a string of double-doubles despite being double- and triple-teamed.
[UK Athletic's Guy Ramsey: Quickly as it went by, Randle won't forget time at UK]
The 6-foot-9 forward arrived with a five-star pedigree and delivered. He was a dominant force from the beginning of the season onward in spite of facing double and triple teams after a 27-point, 13-rebound performance against Michigan State. Randle averaged 15.0 points and 10.4 rebounds, garnering Southeastern Conference Freshman of the Year honors in the process.

"I would say my one year here was fantastic because (John Calipari) goes into your home when he recruits you and he says, 'It's going to be the hardest thing you've ever done,' " Randle said. " 'You're going to work the hardest you ever did.' You say OK, but you may not believe it. But once you're in the fire, what he said is true."
[SB Nation: Julius Randle declares, but how good of a pro prospect is he?]
Randle's combination of strength and touch around the rim made him a force in college, but there are concerns about him at the next level. It's mostly because he struggles finishing over length due to a wingspan that will be one of the shortest among starting NBA power forwards.

Another concern for Randle centers on his ability to develop a face-up game. As more and more power forwards are asked to stretch the floor to keep the paint unclogged, Randle is going to have to focus on improving his range if he's going to be an All-Star-caliber player.
Randle is on to the association and I couldn't be happier for the kid. He is making his dream a reality and it's a great thing to see. What was your reaction to Randle's announcement?