John Calipari's Summer of Swag
This morning, the clip of John Calipari calling into Mike Francesa's show as "John in Kentucky" to defend his coaching skills went viral. If you haven't listened to it yet, stop right now and go do so. It's just the latest sign that Swaggy Cal is back, and who can blame him? The Cats look really, really good and it's only August.
Looking back, Cal's been swaggy all summer. I spent the afternoon charting his swaggiest moments since his hip surgery back in May. It probably won't surprise you that there are a lot.
June 30: On the SEC Coaches Summer Teleconference, Calipari took a shot at Jeff Goodman, who put Cal tenth in his rankings of coaches that best develop talent for the NBA:
"Just if you know how I am and what I'm about, if you've really followed, I would rather them say that, after my entire group gets drafted — 'Yeah, I'm not really sure he develops players and he can coach' and all that stuff; 'they were pros' — but they all get drafted. OK, I'm good with that. That doesn't bother me. Say it as long as they keep continuing to get drafted. And then when they go to the league, they're on the all-rookie teams, they're rookie of the year, they're on Olympic teams, one is the MVP of the NBA. They're prepared in that sense, and that's what we're trying to do."
Cal claims he doesn't pay attention to what the national media is saying, but this proves he totally does, and when he's feeling good, he's not afraid to punch back. On that same call, he raved about UK's "unique situation" of having a core group of veterans to go along with another batch of newcomers.
July 1: Calipari posts "20 questions every athlete should ask a prospective coach" on his website, his latest recruiting manifesto. After reading it, recruits will pretty much ask themselves one question: "Why wouldn't I go to Kentucky?".
July 8: Calipari flies back to Lexington after a book signing in Nashville to lead the team in their first skill instruction of the summer. Most people would enjoy a night in Nashville, or simply go to bed once they got back to Lexington after a late flight. Not Cal. As he put it on Twitter, "I am jacked."
July 10: Cal films his practice report for CoachCal.com and raves about how his team "loooooooves" playing basketball. He gave an update on a few of the players and gave the camera this look after saying Andrew Harrison did a 360-degree dunk:
In this report, Cal talked about splitting his team into two lineups for the first time, a hint of the platoon substitutions we saw in the Bahamas. "I had a ball," Cal said of his first workout with the team. We can tell.
July 16: Calipari goes to the ESPYS and can't stop laughing.
He also gets a shoutout from Drake, who called him "one of the best men I've ever met in my life."
July 19: Calipari returned home from a recruiting trip to find his team in the gym late at night putting in some extra work. He was so happy he had them pose for a group picture and tweeted about it:
Got off the road, go to my office & find out I've got a full team doing what it does just about every night: playing pic.twitter.com/bQhunTKe4C

— John Calipari (@UKCoachCalipari) July 20, 2014
July 20: Heading home after a charity gala, Cal tweets he is "absolutely juiced" to work with his team the next day.
July 21: We all know Cal's best teams blend talent and experience. After one of their practices, Cal told the Big Blue Nation how happy he is to have older guys to help the freshmen transition into his system:
When you have older guys who have done this & understand what we're asking of them, it makes the transition for the freshmen so much easier.

— John Calipari (@UKCoachCalipari) July 22, 2014
August 6: In his press conference previewing the Big Blue Bahamas tour, Calipari says that his team "probably shouldn't win any of the games," and gives reporters this smirk:
Looking back at the Cats' 5-1 record, we're smirking too.
August 11: For the second game of the Big Blue Bahamas tour, Calipari let Kenny Payne coach while he watched from the stands. Cal was having such a good time that he took a break to film part of the game for ESPNU.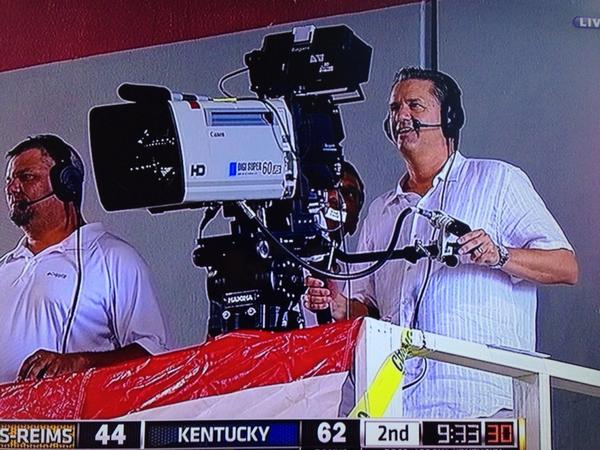 Yeah, I'd say he's having fun.
August 12: During halftime of UK's win over Puerto Rico, Calipari came on the radio with Matt, Tom Leach, and Mike Pratt to share his thoughts on his team's performance. "This could be pretty special," Cal said before warning fans not to let the haters sabotage the squad with concerns about too many players and not enough playing time. "Don't listen to them," Cal said, repeating it again for emphasis. Translation: don't make the same mistake some of you did last season after the South Carolina loss. He's got this.
August 12: In his ESPNU interview during the same game, a Derek Willis dunk got Cal so excited he said "hum ditty ditty" on air. He's giddy too.
August 14: More sappy than swaggy, but still worth mention. John Calipari tweets about seeing footprints of the sand, which reminded him of the poem "Footprints in the Sand."
Walking on the beach this morning, doing a little thinking when I saw footprints in the sand. Reminded me of the poem Footprints in the Sand

— John Calipari (@UKCoachCalipari) August 14, 2014
August 20: After his appearance on the Mike Francesa show in New York, Calipari hears Francesa say he's not a great X's and O's coach, which prompts him to call into the show as "John in Kentucky," and after hilariously disguising his voice for a few seconds, blasts Frencesa for his comments:
Cal: "Are you saying I can't coach? Why didn't you say that while I was sitting next to you? You said 'he's not great at X's and O's.' That's basically saying I can't coach. You know what they call me? A magician. 'Cal the magician.'"

Francesa: "Wait a second. Are there better X's and O's guys than you?"

Cal: "You think I believe that?"

Francesa: "Yes."

Cal: "I will pass a lie detector test and say, 'No.'"

Francesa: "No you won't. No you won't."
Francesa then hung up on him, but Cal had already made his point.
August 21: Cal tweets about his interaction with Francesa: "You can disagree without being disagreeable. Mike Francesa and I are good. Always have been. By the way, once again he's wrong. LOL!"
LOL! Never change, Cal. Never.