John Calipari can't stop thinking about his team
How excited is John Calipari about his team? He can't stop talking about them. Really.
Being the marketing mastermind he is, it's natural for Cal to promote his squad during the offseason, but there's no denying the additions of Ashton Hagans and Reid Travis have him feeling swaggier than usual. Let's go through a timeline of his recent comments.
June 17: Welcome aboard, Ashton
Kentucky already had plenty of guards for next year, but when Ashton Hagans finally reclassified, Calipari hinted that he was the missing piece in Kentucky's backcourt.
"He can do a little bit of everything, but what separates him from his peers is his playmaking ability and leadership. You're talking about someone who other people want to play with. I'm looking forward to seeing him get to work with the rest of our guys."
---
June 18: "Three legitimate point guards"
A day after Hagans made it to Lexington, Calipari couldn't hide his excitement over having a full stable of guards after being shorthanded last season.
"Last year we were short on guards, you guys all know it," Cal said on his NBA Draft teleconference. "This year, you've got with Quade [Green], with Immanuel [Quickley], with Ashton [Hagans], you have three legitimate point guards but being able to handle the ball, Keldon Johnson, he can be a point [guard]. He can be that big guard who starts your offense because of how he plays. You're also skilled with Jemarl [Baker], you're also skilled with Tyler [Herro].
"And the other thing, I'm hoping we'll be more of a three-point shooting team than we have in the past. where it's a true weapon, we can shoot it in transition, we can shoot it off ball screens. We just weren't able to [last year]."
---
June 20: "When it comes to talent and experience, I'm always picking talent, but Reid gives us both."
When Travis announced he was headed to Kentucky, Cal said he's the perfect mixture of talent and experience.
"I felt good about where we stood with next year's team, but when I found out how much Reid wanted to be here, I had to take a look and say, 'OK, can he help us? Can he help our team become even more potent and can we help him reach his dreams?' The answers were absolutely. You're talking about a two-time all-conference player who could have very well entered the NBA Draft with what he's done in his career. He was one of the best big men in the Pac-12 last season, if not the country. Our fans know when it comes to talent and experience, I'm always picking talent, but Reid gives us both."
---
June 21: "We should be okay"
Calipari spent Draft Day making the media rounds to talk up Kentucky's five prospects, but worked in at least a few references to Travis.
"He's going to bring a lot," Cal said of Travis on Sportscenter. "You know I say if it's talent or experience, I'm taking talent, but guess what, we get BOTH with him. He's a talented player and he's experienced. He can help us with leadership. He and PJ [Washington] — I told PJ and Reid that you're both going to help each other. Both going against each other and playing with each other.
"The players we have returning with PJ and Nick [Richards], Jemarl [Baker] who didn't play. Quade Green is WAY better. I looked at him yesterday in the gym, he's lost weight. I'm excited. The new guys coming in, we just added Ashton Hagans to the team. We should be okay."
Then he made this face:
Villanova was reportedly in contention for Travis, making for this great photo opp when Cal and Jay Wright crossed paths on the set of "Get Up":
---
June 22: "This team is as hungry as any team I've coached"
With Draft Day over, Cal couldn't wait to get back in the gym with his squad, which he hinted is already showing the signs of something special.
Now my work begins on next year's team. With the added hours, I'm going to spend more time in the summer than I normally do trying to create something special. This team is as hungry as any team as I've coached, individually and collectively. They inspire me to want to do more.

— John Calipari (@UKCoachCalipari) June 22, 2018
---
June 24: Train Tour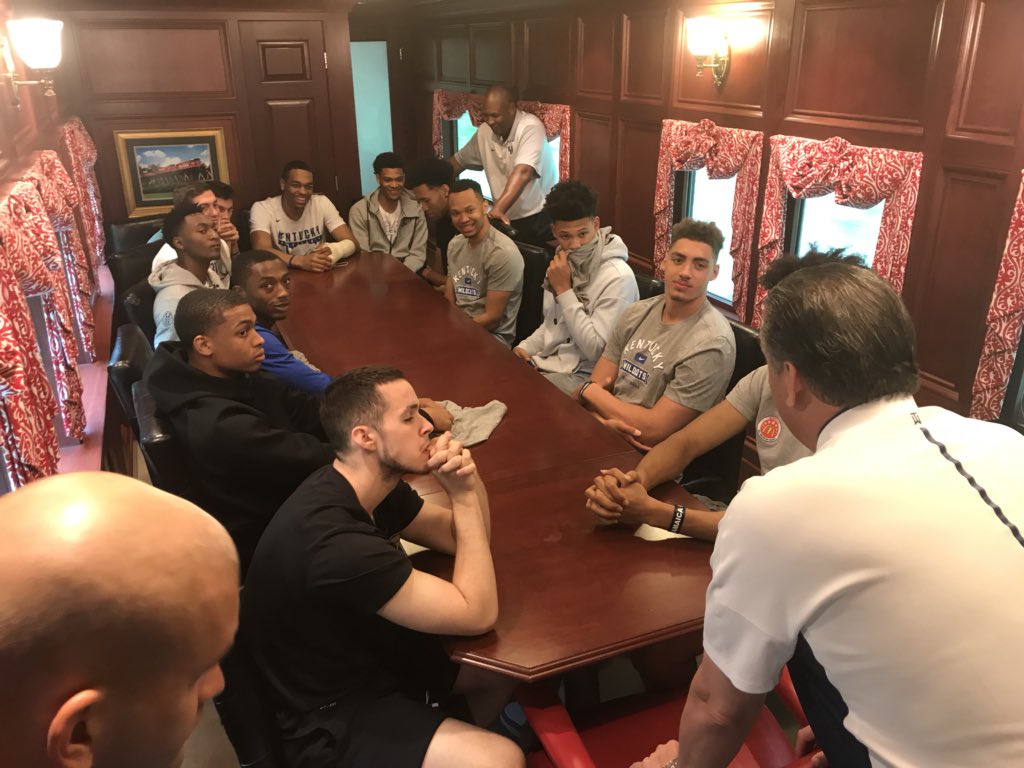 The biggest indicator of Cal's swagginess? He took the team on a train tour across the Bluegrass, which hasn't happened since the 2012 National Championship trophy tour. You don't do that with a team you just feel okay about.
"I'm getting a great vibe from this group. I was in my office last night — I went in at 10 — and they didn't know I was up there and I look out and there are like 10 of them in the gym, but they're not playing. They're just sitting there talking. They had been done playing. And I told them, 'There's a spirit about this group right now.' We talked about how they're going to have to share, be about their teammates and why we play here. This isn't for funsies. We're at Kentucky.
I'm excited. Normally, in the summer, I back up and I get away, but with this group, I told them, I'm kind of excited to be around them. We start practice tomorrow. We have four hours a week with them on the court. I'm going to spend all that time with them at least for a while. And then we've got the Bahamas trip where I'm going to be able to with them. So, we've got a little bit of everything. We should be physically strong. We should be long. We've got some quickness. We've got a bunch of guys that can make shots. It should be interesting."
The group had their first team meeting on the train, and our own Maggie Davis caught a glimpse of their agenda:
---
June 26: Excitement spilling into random tweets
Calipari is now just finding ways to work in references to his squad in random tweets. Example one: Recapping a meeting with Belmont coach Rick Byrd:
Spent some time with @BelmontMBB head coach Rick Byrd and his assistant, @THolloway4, talking movement, spacing and cutting. Really got me thinking. Can't wait to meet with my staff and talk about our team.

— John Calipari (@UKCoachCalipari) June 26, 2018
Example two: Mentioning Quade while thanking the Top Chef crew for an autographed chef's jacket.
Just stopped in my office. @Q_Green1 was working out in a full sweat. And this shows up from @BravoTopChef Nice!! pic.twitter.com/yFsRYBH5Mk

— John Calipari (@UKCoachCalipari) June 27, 2018
As Tom Crean would say, he's been thinking about this team a lot. A whole lot.
[mobile_ad]