Is Kevin Knox the next Jayson Tatum? What do Kevin Knox and Boston Celtics rookie Jayson Tatum have in common? If you ask John Calipari, a lot.
Yesterday, Cal admitted that after watching Tatum in high school and at Duke, he was surprised by his phenomenal performance in the playoffs; however, he believes Kevin Knox can follow the same path as he matures into his body, making him a prospect teams can't afford to pass on Thursday night.
"I look at guys like Jayson Tatum, who I thought was unbelievable in the playoffs. And recruiting him and knowing him and being around watching him, I never knew he had that kind of toughness in him. I watched him. I watched a ton of games, AAU, all summer [circuits]. What I saw, he never showed in college. But what I saw in the NBA, obviously, he's starting to mature, his body is starting to mature and now, you have a skilled, long, tough player who's a future All-Star. People knew he was good, but they didn't know he was that tough.
"Kevin falls into the same mold right now. When that toughness sprouts out, that's when everybody says, how did we pass on this guy. How do you pass on a 6'10" shooter, long, long arms that's a good athlete? How do you pass on that? And that's what will happen. But right now, there's probably guys that have been in college longer that have been more physical, that are more mature physically that he's gotta catch up with that, but he will. They all do. It just takes time. Different times for each kid."
As Draft Express noted, Knox and Tatum are similar in size: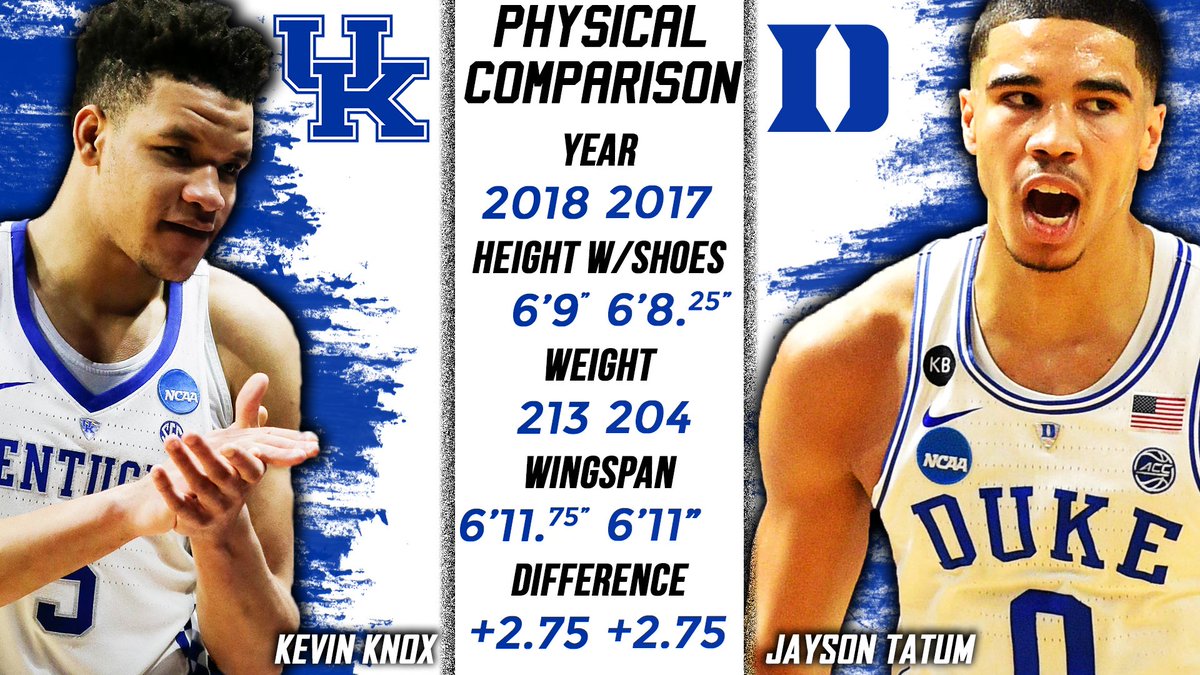 But can Knox develop Tatum's toughness? Based on his performance in pre-draft workouts, he's well on his way. In front of the New York Knicks (pick No. 9), he went one-on-one with Michigan State big man Miles Bridges and reportedly "kicked [him] around," prompting a love fest from the New York papers. Today, he had a second workout with the Philadelphia 76ers, who have pick No. 10. With one day to go until the draft, it sounds like teams will heed Calipari's warning.
"I will tell you that Kevin Knox, there will be teams that pass on him and people are going to say, two years from now, why would we have passed on him?"
[mobile_ad]