If Calipari coaches until he's 73…
Earlier this week, John Calipari told ESPN Radio, "I think I'm going to coach until I'm 72. Maybe 73."
Of course, he wasn't completely serious, but let's say he was for the sake of discussion. What would life be like with a 73-year-old Calipari still roaming the UK sideline?
Let's do the math: Cal is currently 56. That'd be 17 more years to reach 73. We'll call it 2032.
I'll make my predictions and you leave your own in the comments section…
He will be college basketball's all-time winningest coach.
Maybe. Coach K currently holds the record with 1,018 wins and we don't know how much he has left in the tank. If Calipari were to coach another 17 years at Kentucky, with his current pace of 31.6 wins per season, he would retire with 1,120 wins. It'll be close.
Big Blue Nation will hear "You people are crazy" 1,560,785 times.
That, and…
— "Gold standard."
— "It's a process."
— "We can't hide you here."
— "I like my team."
— "Changing families."
— "Orange Leaf."
UK will contend with UCLA for the most titles.
Calipari has one championship in six seasons in Lexington, so simple math tells me he's on pace to have three over the next 18 years. That will tie UCLA for the NCAA record, assuming UCLA doesn't add another one. (And it won't.)
Kentucky will have the most Final Four appearances and it won't be close.
UK currently trails North Carolina by one Final Four and Cal seems to make it every year these days. By the time he calls it quits in 2032, Kentucky should have a strong lead on the field.
LeBron James Jr. will play for Kentucky.
"The King In Waiting" was hanging out in Calipari's office last summer. Cal watched him in the fourth grade national championship in Lexington and then invited him and his old man over to the Joe Craft Center to try on rings.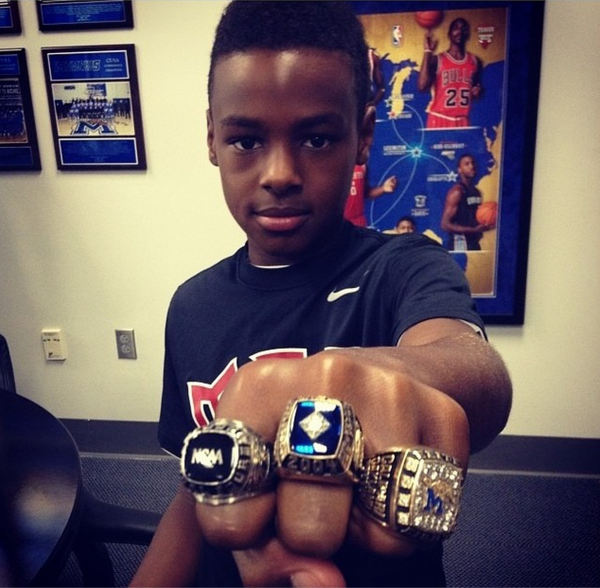 Bronny James will step on campus in 2023 as the No. 1 player in his class. He's got good basketball genes, you know.
Drake will be a season ticket holder.
And not long after, Drake will release "Best I Ever Had Pt. 2," a tribute song to Rupp Arena ice cream.
Pat Forde will jump off a bridge.
While John Calipari makes his bed and lies in it, probably.
Everyone in the state of Kentucky will have his autograph.
I think we're already getting pretty close. By the year 2032, Cal will have signed every basketball, book, poster, t-shirt and baby in the entire state.
A fourth of the NBA will be former Wildcats.
Including eight No. 1 draft picks and Nazr Mohammed playing his 34th NBA season.
Train will perform at at least one Big Blue Madness.
Also, Cal will introduce the rock band at its reunion tour stop in Pittsburgh. Together they will celebrate the 20th anniversary of "Hey, Soul Sister" reaching No. 3 on the Billboard charts.
He will be 26-1 against Rick Pitino.
After promising to coach until he beats Calipari at Kentucky, Rick Pitino will lose his 26th game in the rivalry. He will accept defeat and retire in the postgame press conference.