How to STICK TA SPORTS to avoid catastrophe this Thanksgiving
Ah, Thanksgiving; that wonderful time of year when we gather with our loved ones and eat turkey. And ham. And mashed potatoes. And corn pudding. And casseroles. And rolls. And pie. And everything else on the table, including a dollop of cranberry sauce because you feel guilty because someone brought it and it would be rude not to.
Finding common ground for conversation at Thanksgiving can be hard enough given the range of ages and interests at your table, but in this highly charged political season, it could be especially difficult. Odds are your gathering will include at least one person who has different political views than you, and after this election, they want those views to be known! Red, blue, Trump, or Hillary, few things are divisive as politics, so, in hopes of saving your Thanksgiving from catastrophe, I'm here to help you do what so many of you have you been telling us for years: STICK TA SPORTS!
Should politics — or any controversial topic — come up and you feel the blood pressure at the table rising, either follow the flowchart above or these steps:
Step 1: Use a fun fact to help divert the conversation
Such as, "Did you know…"
Kentucky's going bowling for the first time since 2010?
De'Aaron Fox has the most assists through the first four games (27) since John Wall in 2009-10 (28)?
John Calipari now has the most wins in Rupp Arena as UK's head coach after passing Joe B. Hall with a win over Cleveland State? (If UK doesn't beat Cleveland State tomorrow, you'll have a much bigger topic to discuss.)
With the 34-point win over Duquesne on Sunday, Kentucky has won each of its first four games of a season by at least 21 points for the first time since the 1948-49 season?
For the first time in school history, Kentucky has two 1,000-yard rushers on the same team in Boom Williams and Benny Snell?
Bubble wrap was originally intended to be used as wallpaper?
Bam Adebayo got his nickname because he lifted a coffee table up while watching "The Flintstones" when he was one year old?
(If they didn't know that last one, they clearly haven't watched a game yet this season.)
If that doesn't work…
Step 2: Bring up a fun debate topic
NOT ANYTHING POLITICAL, of course. I'm taking more like:
Rank the best point guards of the Calipari Era
Does Bill Self wear a hairpiece? (Yes)
Who's better: Damien Harris or Benny Snell?
Who would win in an actual fight: Chester or Darryl?
Which is worse: the checkerboard unis or the '96 denim unis?
What's the best bowl destination: Memphis, Shreveport, or Birmingham?
What's really going on with "Westworld"?
What will John Calipari finish with more of during his tenure at Kentucky: #1 draft picks or national championships?
That last one is just the kind of soap box some of the older people at your table have been waiting for.
If that doesn't work…
Step 3: Bring in audio/visual aids
Sometimes, words just aren't enough. Take control of the situation by whipping out your phone or tablet (do yourself a solid and get the wifi password before dinner starts) and cue up one of these videos…
Malik Monk's dunk at the Blue/White game will certainly get everyone's attention:
Need something more soothing? How about Isaac Humphries serenading Shannon Spake?
If things are really bad, shut everyone up with Cawood Ledford's final call:
Or Happy Chandler singing "My Old Kentucky Home":
Everyone at your table should be crying right now because that video gives all the feels, but say there are still one or two stubborn souls going…
Step 4: Make fun of Louisville
We can all agree on that, right? And, it's especially timely with Saturday's game coming up. Even if Lamar Jackson runs all over us, there's plenty to make fun of, including…
Hookers in the dorm! (Cover your ears, Grandma!)
Louisville allegedly stealing Wake Forest's game plan
That loss to Houston!
Rick Pitino's greatest recruiting class ever (which is still ranked behind Kentucky's)
Hookers in the dorm! (Go watch TV in the other room, kids!)
Oh wait, there's a Louisville fan at your Thanksgiving?
Step 5: Drink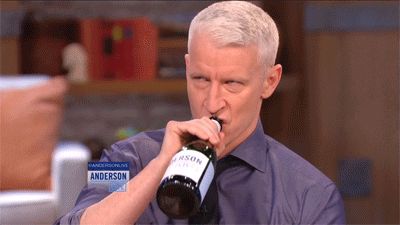 I'm out of ideas. May God have mercy on your table. Have no fear, soon you can get up and go watch real sports on television.