Guadala-Hill's Tuesday Morning Wakeup
Each town has one Mexican restaurant residents favor over the rest. For me and my hometown of Danville, that's Guadalajara — specifically, Guadalajara #2, aka "Guadala-hill." Late Sunday night, Guadala-hill, arguably the best of the three Guadalajaras in town, suffered a major fire after hours. According to LEX18, an employee was driving by the restaurant around midnight, noticed the flames, and called the fire department. Thankfully, firefighters were able to contain the fire to the front part of the building, but there's smoke damage so it could be closed for some time (owners told LEX18 they're hoping to reopen today, but that seems pretty optimistic to this person with no real knowledge of the situation). Hopefully it's up and running by next weekend, when I get to town for Father's Day.
This morning, pour some queso fundido out for our beloved Guadies, where, like any true Mexican restaurant, someone will dress up like a taco and sing "America the Beautiful" to you:
While I try to figure out what the hell is happening in that video, you should read today's agenda…
Get ready for Governor's Cup news
Last night was the cocktail party and reception, but today, the real news starts to leak out from the Governor's Cup. Both Mark Stoops and Bobby Petrino will be available to reporters before the golf tournament around 12:45 p.m., along with Matt Bevin, who will probably take a selfie at some point. Freddie Maggard and Drew Franklin will be on the scene to cover it for us, which means that Drew will definitely take a selfie with him at some point.
So, don't worry! Even though the game is five months away, we're still going to talk about it.
More freshmen arrive on campus
Bam Adebayo and Sacha Killeya-Jones got to Lexington for the summer session over the weekend, and last night, were joined by Brad Calipari and Wenyen Gabriel. According to the Snap Chat, the four freshmen went to Wal-Mart and hooped in the Joe Craft Center well after midnight. Today, De'Aaron Fox will join the bunch. No word on when Malik Monk gets to town; presumably before classes start on Thursday.
Stay tuned for more from the KSR Snap Chat spies.
Lyanna Mormont is my new hero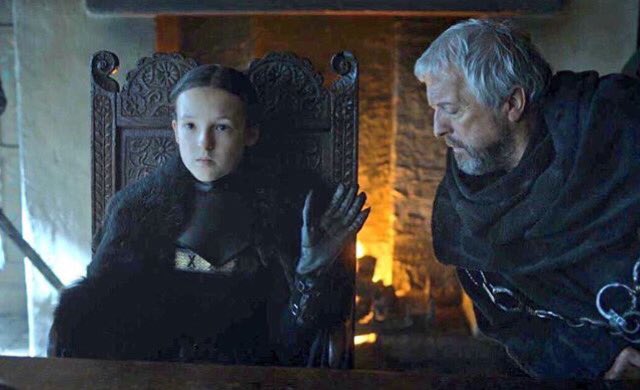 At the risk of spoiling the latest "Game of Thrones," I won't say more. Although, if you haven't seen Sunday's episode by now, you better have a really good reason. Not to get on the soap box, I feel like America needs to re-evaluate when it's okay to discuss the latest episode of a major show, particularly as one as popular as GOT. Tuesday morning seems like a pretty safe cutoff point.
USA vs. Costa Rica tonight
I know watching soccer is like shoving bamboo shoots under your fingernails to some of you, but I'll be cheering for the USMNT as they take on Costa Rica at 8 p.m. at Soldier Field in Chicago. After losing to Columbia 2-0 on Saturday, this game is a must-win for the US, who would likely be eliminated from Group A with a loss.
Sing it with me…
I…
I believe…
OJ Simpson's smiling in his latest mug shot
With ESPN's epic seven-hour documentary about him premiering on Saturday night, OJ Simpson is back in the news. Yesterday, the Nevada Department of Corrections released a new mugshot of OJ, who is currently serving 9-33 years for armed robbery. The mugshot comes on the heels of a report from one of OJ's friends who said he believes OJ may confess to the murders of Nicole Brown Simpson and Ronald Goldman soon.
That'll get people talking.
KSR in an hour
I'm sure Matt, Ryan, and Shannon will talk about some, probably not all, of the topics above.