Great Moments in the History of Kentucky vs. North Carolina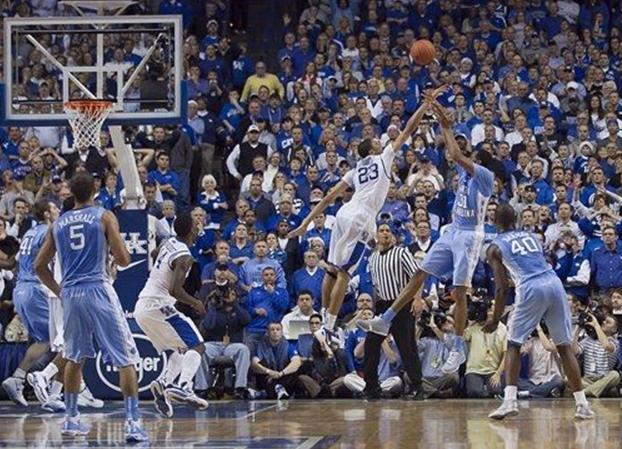 Tayshaun's Five Threes
The shot from the logo is one of the most memorable threes ever made at Rupp Arena.
Kentucky is Back
We knew the Cats were gonna be good with John Wall, DeMarucs Cousins and Co., but we didn't know how good. The one-and-done thing was new. All of the experts insisted it couldn't be done successfully. Then John Wall WOWed the world vs. North Carolina, finishing with 16 points, 7 assists and 5 rebounds in a 2-point win over the tenth-ranked team in the country. Since then, nothing was the same.
Liggins Sends UK to the Final Four
Leading by one with a minute to play, DeAndre Liggins got open in the corner to take a four-point lead and silence the Tar Heels. The 76-69 win got Kentucky to the Final Four for the first time in 13 years.
Anthony Davis Ends It
One of the most hyped games entering the 2011-12 season, Kentucky and North Carolina were preseason 1-2, destined to dominate college basketball all season. Unfortunately, North Carolina lost the week before, knocking them down a few pegs before the game, but the game lived up to the hype. A back-and-forth affair throughout, you could feel the tension in the air until Rupp Arena exploded following Anthony Davis' game-winning block.
Cats Keep Rolling to 38-0
The 2014 matchup at Rupp Arena was the last meeting in the annual home-and-home series. North Carolina hung in there for quite some time, but couldn't handle the two platoons.
All Monk Everything
It wasn't all Monk — De'Aaron Fox had 24 points — but Monk's 47 point-performance is one of the greatest individual performances many fans have ever seen. He was great, but somehow got better every time down the floor until he knocked down the contested game-winner.
One more look at the ONIONS!