Good Morning from Savannah, Georgia
Hello friends.  It is a pleasure to see to you this morning from sunny Savannah, Georgia.  The last of the KSR crew to make it into Jacksonville, young Jack Pilgrim and I will be slaying taxes by noon when the Cats hit the practice field.
As for Savannah, if you've never been here before, believe the hype.  A place known for its historical richness, we were lucky enough to receive food recommendations from Freddie Maggard.  Spoiler: Freddie knows his food just as well as football (except for buttermilk and cornbread; I just can't do it).  We strolled through town and enjoyed the sights with 60-degree weather.  We saw lovely fountains, picturesque squares, ghost tours galore and Malik Monk.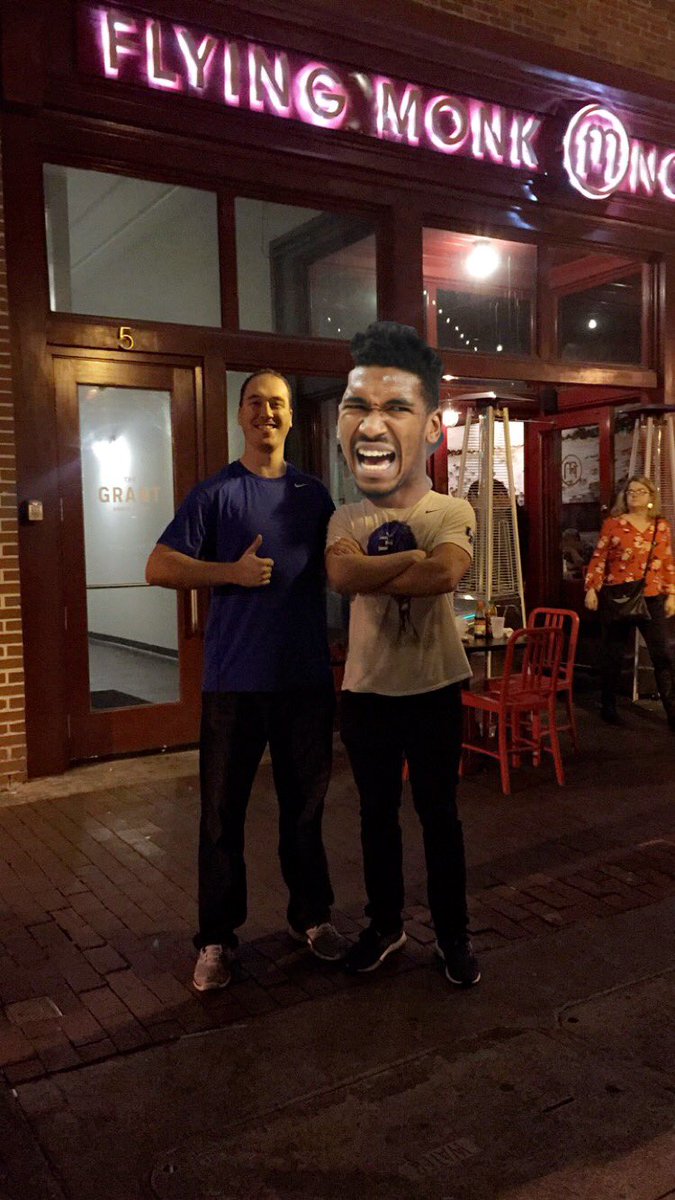 Before too many taxes are slated in Jacksonville, there's a basketball game to be played.
UK vs. Ole Miss
Kentucky opens SEC play on the road in the new Pavilion at Ole Miss.  Expecting a sold out crowd of nearly 10,000, Mychal Mulder is excited to see what lies ahead.
"You know their fans will be packed in that gym," Mulders said.  "It'll be a great opportunity for us to see our first real road test in SEC play. We're all really excited about that. We've been working hard and focusing, really locking in. We'll see how that goes."
The game tips off at 8:00 on ESPN2 with Bob Wischusen (one of my favorite names to say) and Jay Bilas on the call.
In Jacksonville? No Problem
If you're in Oxford, find Mrs. Tyler Thompson.  If you're one of the thousands in Jacksonville, you can find the KSR Crew at the UK Alumni watch party.
The Big Blue Welcome Reception & Game Watch Party is from 7:00 — 10:00 p.m. at the River City Brewing Company (835 Museum Circle, Jacksonville, Florida 32207).  There will be light appetizers before the game starts.  They're also expecting to see a few former Kentucky football players.  KSR will be there; for how long is a good question (somebody's gotta blog) but we hope to see your smiling faces.
An Enriching Excursion
Yesterday the Kentucky football team visited Mayport Naval Station, where they managed to find a few UK fans aboard the USS New York, a ship made from repurposed steel from the World Trade Center.
Today they're taking their talents to Top Golf following practice.
Hear Cats After Practice
If you're more concerned about the business trip aspect of bowl week, this clip from Stephen Johnson, Denzil Ware and Kash Daniel should do the trick.
How to Follow Along is Jacksonville
We'll have #content out the wazoo from a variety of avenues.  Here's how to keep up with everything.
1. "Like" KSR on Facebook for LIVE video: Facebook.com/kysportsradio/
2. Subscribe to the KSR Podcast Feed (I promise no feedback this time): iTunes
3. Download the KSR App: Apple and Android.
If you can't be there, hopefully the Facebook LIVEs will ease your pain.  For those in Jacksonville, don't forget to find Freddie for your chance to win a free TV from Jack Kain Ford.  Here's how:
1. Follow Jack Kain Ford on twitter (@KainFordInc) or Facebook.
2. Take a picture with the #TeamFreddie Ford Flex or with the Depth Chart Podcast Crew wearing a special Jack Kain Ford t-shirt with same hashtag.
3. Tweet or Facebook pic to Jack Kain Ford using #TeamFreddie
Drawing for the television will be at Jack Kain Ford in Versailles on January 6th.
The End of Hamidou Diallo's Visit
The No. 1 shooting guard in the class of 2017 apparently enjoyed his time in Lexington.
Great Official Visit to Kentucky !!!

— Hamidou diallo (@Diallo1Hamidou) December 28, 2016
A Big Women's Basketball Game
UK is ending conference play by traveling to Cameron Indoor.  John Short will be there to see the Cats take down the Dookies tonight at 7:00.  KSR will be covering it from home.  Stick around for a preview of the game from Maggie Davis later today.
KSR is LIVE from TPC
Today's show from TPC Sawgrass is one you do not want to miss.  Get your radio dial ready to roll in one hour.