GAMEDAY: Kentucky Plays Beneath College GameDay Spotlight at Auburn
The Kentucky Wildcats will share a basketball court with Auburn for the first time since the Tigers ended UK's 2019 season in the Elite Eight. Auburn Arena will be the closest thing to an NCAA Tournament atmosphere in their College GameDay debut.
The third consecutive week Kentucky has hit the road to play in front of a sold out crowd, it's business as usual for John Calipari's Cats.
"Every game is the same for us. Can't make one game bigger than the rest, because if I do that, then at some point you're going to start losing games," UK's head coach said Friday afternoon.
"We understand what it is. I mean, every game is sold out. Every game this is their biggest game of the year. 'This the game you got to win this to prove yourself. If you don't win this, you don't—." – And we know. And our job is to go in, do what we do, play how we play. You're going to have to play with great energy every night. Every night because if you don't, you get beat. Doesn't matter who it is."
It should matter a little more to Ashton Hagans and the other three returners who were in Kansas City last March. Immanuel Quickley is downplaying any revenge factor in this matchup.
"I wouldn't say payback. More of just looking forward to a good game," said Quickley. "Auburn's a really good team."
Of course, Quickley wisely did not inject extra motivation with bulletin board material. That is all thrown out the window after the game. I can already foresee Ashton Hagans' postgame press conference after a dominant performance. "I remembered those seven turnovers in the tournament and I wasn't going to let that happen again."
Am I counting my chickens before they hatch? Possibly. It's also possible that I am still perplexed by that loss and want to see this Kentucky team force sweaty, screaming Bruce Pearl to sit silently on the bench. If this team doesn't have revenge on their mind, the fans certainly will when the ball is tipped at 6 p.m. ET on ESPN.
Headed into a hostile environment …

Or as we call it: just another Saturday ?? | #BBN #TGT pic.twitter.com/QlqpyNjmTh

— Kentucky Basketball (@KentuckyMBB) February 1, 2020
It's a White Out (of course)
The first time Auburn has ever been the featured team in a basketball edition of College GameDay, the arena will be packed when the production begins at 11 a.m. ET. on ESPN. Students that fill "The Jungle" will all receive white t-shirts. After seeing how Texas Tech's black out went, they had to change up the mojo against the Cats.
Vegas, TV, Radio
The Wildcats are 3-point underdogs in Vegas with a total of 143. UK has a 6-1 record in conference play but just 3-4 ATS. If you need more optimism to lay coin on the Cats, they're 3-1 ATS on the road this season.
ESPN's A-team will be at Auburn Arena. Dan Shulman, Jay Bilas and Holly Rowe are on the call for tonight's 6 p.m. ET tip-off. On Friday we learned Rowe is a big Nick Richards fan.
Big man @iamnickrichards for @KentuckyMBB is playing BIG averaging 22 points 11 rebounds in last 2 games. I think #BBN [email protected] why he says he is playing great. #team pic.twitter.com/E1pM9ofxg5

— Holly Rowe (@sportsiren) February 1, 2020
If you would rather listen to The Voice of the Wildcats, you have multiple options.
AM: 840 WHAS, 630 WLAP
FM: 98.1 WBUL
Satellite: XM-190 and Sirius-134
Online: iHeart Radio
College Basketball on TV
11:00: Xavier at #10 Seton Hall on Fox
Noon: Creighton at #8 Villanova on FS1
Noon: Ole Miss at #22 LSU on ESPN2
Noon: Indiana at Ohio State on ESPN
1:00: #14 Michigan State at Wisconsin on Fox
1:00: UConn at Memphis on CBS
2:00: #6 Louisville at N.C. State on ESPN
2:00: Kansas State at #12 West Virginia on ESPN2
2:00: Providence at #16 Butler on FS1
3:00: Oklahoma State at Oklahoma on ABC
4:00: TCU at #1 Baylor on ESPN2
4:00: Texas Tech at #3 Kansas on ESPN
8:00: #9 Duke at Syracuse on ESPN
10:00: Utah State at #4 San Diego State on CBSSN
10:30: #20 Colorado at USC on FS1
Vince Marrow is Staying at UK
After a week of anxiety, Kentucky football fans received reassurance from Vince Marrow Friday night when the Big Dog Tweeted that he will not return to his hometown to become Youngstown State's next head football coach.
"Hey BBN I love and appreciate you guys more than you know! It's been a pleasure working for UK fans across the country. That said my desire to stay in the Commonwealth is greater than my desire to return to Youngstown and be Head Coach. Thanks for the respect & consideration"
Mark Stoops is keeping his righthand man. I don't think I need to tell you that it's a big deal. It will be an even bigger deal if Kentucky can hold off a late push by USC to land Michael Drennen, a four-star do-it-all athlete that is announcing his decision Wednesday.
Kash Daniel is on the Road
You can find the UK linebacker at multiple stops this afternoon around Eastern Kentucky. He's taking his talents to the other side of the state next weekend.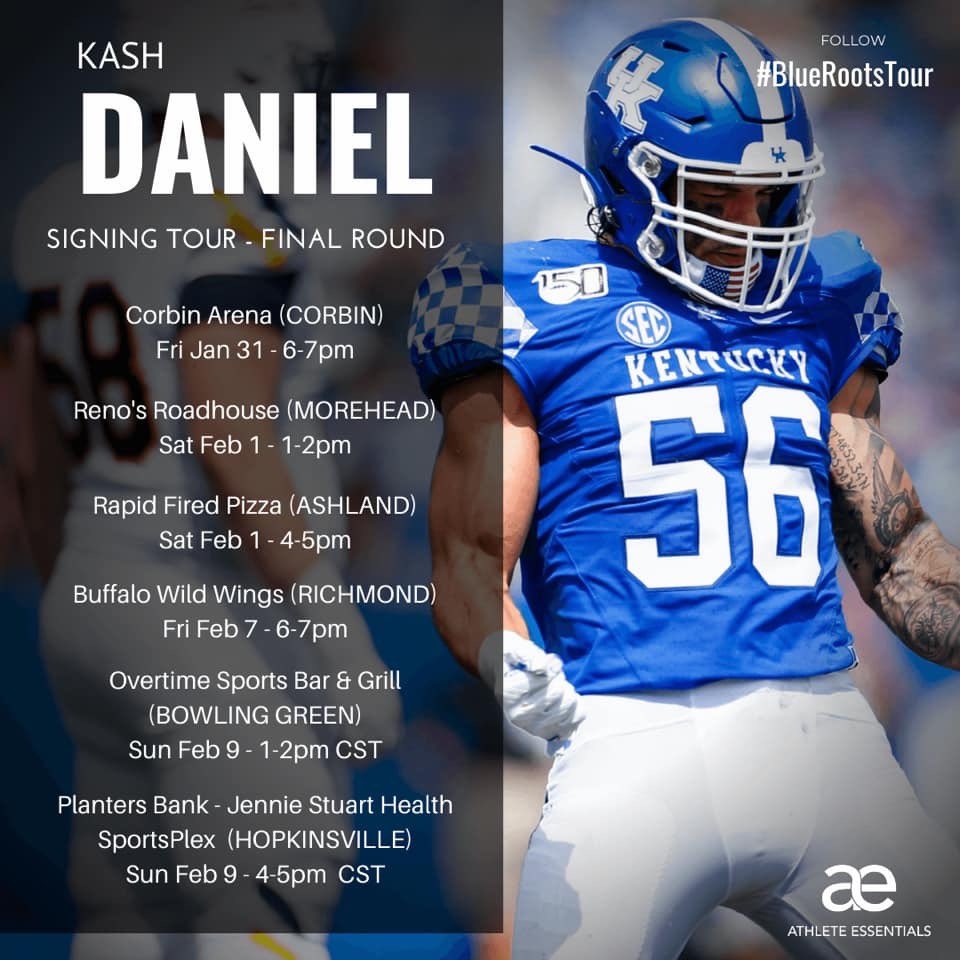 Shout Out to Wenyen Gabriel
Few believed the big man would succeed in the NBA when he declared for the draft after just two seasons. Last night he started for the Portland Trail Blazers in the Lakers' first game since Kobe Bryant's tragic death. An emotional atmosphere at the Staples Center for everyone in attendance, in the midst of the all sadness I smiled when I saw Gabriel take the court. He did not stuff the stat sheet, but I'm proud of his persistence. He is just getting started.
Catch Up on Iowa Podcasts
The KSR crew's excursion through Iowa was cut a little short. Bernie Sanders left Iowa for an obligation in Washington (I don't know what could be more important), leaving Shannon the Dude with an incomplete final scorecard. As they make their way back to the Bluegrass, catch up on all of the Iowa podcasts. Then at 3:30 p.m. ET flip on the KSR Pregame Show.