Friday's Top 10: Kentucky takes over the NBA Combine
Shoutout to these fine fellas, who repped the Cats on a recent golf outing. Talk about a scenic spot. It's been a really long week, so why don't we all just give up on this work thing and hit the links? Yeah? Nah? Okay, fine. Read over today's top 10 instead, because it's a busy day here in the land of UK sports.
1. A LOT of stuff happened at the NBA Combine yesterday
You know, there was actually a point early on yesterday in which I was searching for news to post. And then ESPN2's coverage of the Combine began. First, the measurements were released, and we saw that Hamidou Diallo's 6'10" wingspan has grown to 6'11.25″, making the 6'4″ guard even more of an athletic specimen. Then, Diallo recorded a 44.5″ vertical jump, the second highest in NBA Combine history, and if you look at stats beyond the Combine, the eighth highest in league history:
With a 44.5-inch vertical, @Diallo1Hamidou is making noise at the #NBACombine! pic.twitter.com/cAHADGauIy

– NBA Draft (@NBADraft) May 12, 2017
While we knew Hami was a great athlete going into the Combine, that measurement is eye-opening, passing Andrew Wiggins' 44″ vertical we all drooled over a few years back.
2. At some point, Calipari showed up
Since Diallo declared, we haven't heard much from him or Calipari on the matter, so Cal did as Cal does and got ahead of the situation by coming to the Combine to support his guys and address reporters. How would Cal deal with a none-and-done? Basically, he said if Hami is projected to go in the first round, particularly before pick 22, it would be hard to tell him to come back to school. If Hami's projected to go in the lottery? Cal joked he might as well retire.
"Hami, he practiced with us. The last guy to do that was Enes Kanter. He practiced for the year and he was the fourth pick in the draft. Hami practiced four months. If he's a lottery pick, I'm retiring, I'm done. There's nothing more I can do. He has a chance of being drafted and doing all this stuff. That's what we're supposed to be doing. People are mad, 'He didn't play!' This is what this is for. And if at the end of the day, if someone going to draft him in the first round, 21, 25, lottery pick, it's hard for me to tell him to come back."
3. Hami said both doors are still open
We finally got to hear from Hami, both on ESPN and in an interview session attended by reporters in Chicago. In both settings, Diallo insisted he hasn't made his mind up and is keeping his options open. He spoke a lot about his close ties with Kentucky's 2017 class, a "brotherhood," but "if now is the time, then so be it."
With more meetings with teams coming up next week, Hami's decision probably won't come soon. We'll know for sure on May 24, the withdrawal deadline.
4. Here are all the Combine Measurements
| | | | | | | | |
| --- | --- | --- | --- | --- | --- | --- | --- |
| Full name | Height | Height w/shoes | Weight | Wingspan | Body Fat % | Hand Length | Hand Width |
| Bam Adebayo | 6'8.75″ | 6'9.75" | 242.6 | 7'2.75" | 5.2 | 9.5" | 8.75" |
| Isaiah Briscoe | 6'1.25" | 6'2.75" | 222.4 | 6'9" | 11 | 9" | 9.25" |
| Hamidou Diallo | 6'3.75" | 6'5" | 197.4 | 6'11.25" | 5.2 | 8.5" | 9.5" |
| De'Aaron Fox | 6'2" | 6'3.25" | 169.6 | 6'6.5" | 4.5 | 8.5" | 8.5" |
Basically, Fox and Bam lost weight, and Briscoe gained.
5. Speaking of Briscoe, he did well yesterday
Hami stole the headlines, but Isaiah Briscoe turned in a great performance in both the shuttle drill and the 5-on-5 scrimmages. Briscoe ran the fastest shuttle at 2.85 seconds and in the scrimmage, scored 15 points on 6-of-10 shooting, while leading all players with 7 assists. All in all, it was a good day for Briscoe, who needs momentum to boost him into the second round.
6. Today, we'll hear from Bam and Briscoe
Diallo spoke to reporters yesterday, and today, we'll hear from Isaiah Briscoe and Bam Adebayo. (De'Aaron Fox was scheduled to speak to reporters Thursday, but declined.) Last night, Calipari took Bam (and probably all of his guys) out to dinner and posted a tweet saying how proud he was of the big man:
So proud. @Bam1of1 is getting it done. With him in Chicago at the #NBACombine. pic.twitter.com/AOV9Rx0AzP

— John Calipari (@UKCoachCalipari) May 12, 2017
It appears they're at Rosebud on Rush, which makes me very jealous because it's one of my favorite restaurants in Chicago.
7. UK Baseball hosts Tennessee
It's a big weekend for Nick Mingione's squad, who will host Tennessee for a three game series. It's Senior Weekend for the Cats, and senior outfielder Storm Wilson admitted that the fact that they're playing Tennessee has special meaning.
"That rivalry kind of hits home with me," Wilson said of the Kentucky-Tennessee rivalry. "I was a Tennessee fan growing up (because of) my dad."
Do Wilson and his fellow Bat Cats a favor and get on down to The Cliff this weekend. Tonight's game starts at 6:30 p.m., tomorrow's at 2 p.m. and Sunday's finale at 1 p.m.
8. UK Softball lost to Auburn
Unfortunately, UK's run in the SEC Softball Tournament ended with a 2-0 loss to Auburn in the quarterfinals last night. With a 36-17 overall record, all the Cats can do now is await their fate on the 2017 NCAA Softball Selection Show, which airs Sunday night at 10 p.m. ET on ESPN2
9. It's Game 1 for Preds/Ducks, Game 6 for Wizards/Celtics
Yes, more hockey! Tonight, the Preds take on the Anaheim Ducks in the Western Conference Finals, which means any spare time I have today will be spent honing my skills in Duck Hunt: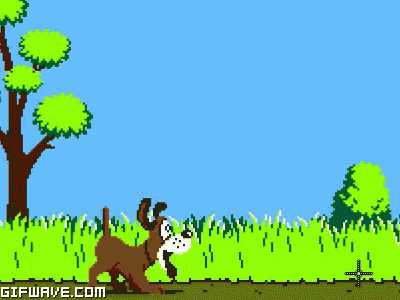 In the NBA playoffs, it's do or die for John Wall and the Wizards, who will host the Celtics tonight in Game 6 of the Eastern Conference Semifinals. The Celtics lead the series 3-2. Cheer on Wall at 8 p.m. ET on ESPN.
10. Seth Davis out at Sports Illustrated
After the massive layoffs at ESPN, it appears no one is safe in sports media, not even Seth Davis, who was laid off by Sports Illustrated yesterday. Davis, who is also an analyst for CBS Sports, has worked for SI since 1995. Judging by his tweets, he'd rather have a job in politics anyways:
Really nice to hear from so many friends and colleagues today. So excited to find out what's next. I hear there's an opening at the FBI!

— Seth Davis (@SethDavisHoops) May 12, 2017
Radio in an hour…