Friday's Top 10: Happy Oaks Day!
Happy Friday, everyone, or, rather, Happy Oaks Day. The Kentucky Oaks, aka the locals' day to play (or is that now Thurby?), is upon us, and a few minutes after 6:12 p.m. ET, we'll find out which filly gets the lilies. Unfortunately, the forecast looks awful, with highs barely reaching the 50's and rain all day long, so take a poncho to protect all that pink you're wearing. Here's the hourly forecast for Louisville from weather.com:
So, wear rain boots. Or, stay inside, read KSR, and watch the Oaks on NBC Sports Network. Your choice. Let's roll through today's top 10, shall we?
1. Here's the Oaks field
Paradise Woods is currently the favorite at 5-2, followed by Miss Sky Warrior at 9-2:
| | | |
| --- | --- | --- |
| # | HORSE | ODDS |
| 1 | Ever So Clever | 20-1 |
| 2 | Lockdown | 20-1 |
| 3 | Mopotism | 20-1 |
| 4 | Paradise Woods | 5-2 |
| 5 | Jordan's Henny | 30-1 |
| 6 | Vexatious | 20-1 |
| 7 | Farrell | 5-1 |
| 8 | Sailor's Valentine | 30-1 |
| 9 | Wicked Lick | 30-1 |
| 10 | Miss Sky Warrior | 9-2 |
| 11 | Tequilita | 20-1 |
| 12 | Daddys Lil Darling | 20-1 |
| 13 | Abel Tasman | 5-1 |
| 14 | Salty | 6-1 |
| 15 | Summer Luck | 30-1 |
2. Keep an eye out for Matt's purple suit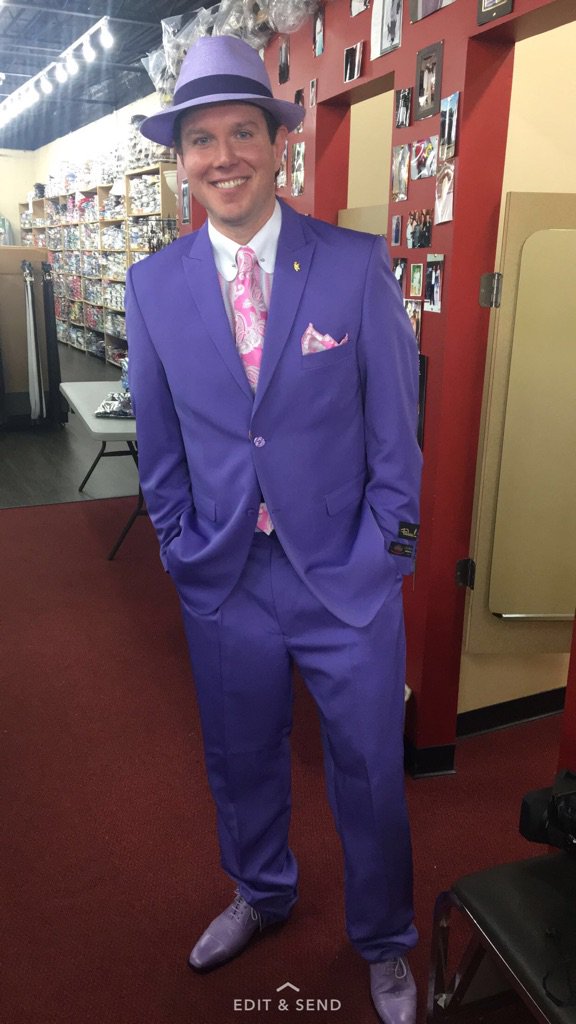 If you missed "Hey Kentucky!" last night, Derby suit expert Chip Cosby took Matt shopping for a suit to wear to the Oaks, and they came up with this purple number. When you think about it, this suit is a pretty wise investment because by day, Matt can attend the Oaks and by night, he can play the Joker in his community theater's production of Batman.
Here's the whole clip from last night:
Switching gears to basketball…
3. Kevin Knox is (probably) announcing tomorrow
It looks like there may finally be an end in sight for Kevin Knox's recruitment. According to Jake Perper of Prep Sports Scouting, Knox will announce his final decision on Saturday. No word on the time yet, but knowing how this always happens, it'll probably come out right as the Derby begins. Knox is down to Duke, North Carolina, Florida State, Kentucky and Missouri, with Duke continuing to surge as the heavy favorite. Thankfully (hopefully), we'll know for certain tomorrow.
4. Cam Johnson lists Kentucky as his early favorite
One person who will probably be very interested in Knox's decision is Cam Johnson, the Pitt grad transfer that visited Kentucky last week. Yesterday, Johnson told Evan Daniels that Kentucky is his early favorite, although that's mostly because he hasn't taken many visits yet. This weekend, he visits Arizona, and next week, he'll go to UCLA and Oregon. TCU and Ohio State are also in the mix. Here's what he said about Calipari's pitch:
"His pitch to me was pretty much the fact that the team is young and they need some experience and some age," Johnson said. "They have a need for a player that can shoot like myself, along with the fact that it's Kentucky. There are pro scouts at every practice. They compete every day. It's just a competitive environment to get better in."
Johnson also said he loved UK's campus and the few remaining players that will be on next year's squad. If Knox heads elsewhere (and it's looking like he will), hopefully Johnson will decide to take advantage of the rare opportunity to be an immediate impact player on a perennial title contender.
5. Vince Marrow and Darin Hinshaw visited Jarren Williams yesterday
The talented dual threat quarterback decommitted from Kentucky last week, but this week, there have been rumblings he may come back on board. Last night, Vince Marrow and Darin Hinshaw traveled to Lawrenceville, Georgia last night to make Kentucky's case, only hours after Williams picked up an offer from his home state Georgia Bulldogs. No word yet on how that visit went, but interpret this tweet from Williams how you'd like:
Some things are just meant to be🙏🏽👀

— J D U B💰 (@Jarren2Williams) May 5, 2017
6. The baseball team starts its series with Georgia
The Bat Cats got a bit of bad news yesterday when Nick Mingione announced that reliever Zach Pop will miss at least two weeks with a forearm injury, but they're poised to continue their impressive rise this weekend with a three-game series against the struggling Georgia Bulldogs. Today's game will start at 2 p.m. (in anticipation of the bad weather tonight), tomorrow's at 6:30 p.m., and Sunday's finale begins at 1 p.m. All games will be broadcast on SEC Network+ (streaming), or you can listen on 630 WLAP.
If you go out to the ballpark, you'll see this new wrap on "Big Blue Wall" in right field:
New look in right field at Cliff Hagan Stadium. pic.twitter.com/V7zXtjV5ST

— Derek Terry (@DerekSTerry) May 4, 2017
The wall now features the names of lettermen, coaches and season ticket holders. Neat.
7. You've gotta love Dickie V's response to Lonzo Ball's new shoe
If you somehow missed it on social media, Lonzo Ball and his dad revealed their new shoe, the ZO2, which retails for a ridiculous $495/pair. By now, everyone's had a chance to weigh in on the shoe, a blatant ripoff of Kobes and Adidas Boosts, but Dick Vitale may have had the best response:
Lonzo Ball's shoes r $495/if he plays in the @NBA like he did vs BBN De'Aaron Fox they'll go for $4.95 @darrenrovell https://t.co/hz6em0rqu1

— Dick Vitale (@DickieV) May 5, 2017
Get 'em, Dickie V!
8. John Wall went nuts last night
Wall's stats may not seem that flashy, but he was absolutely incredible last night, scoring 24 points and dishing 8 assists to lead the Wizards to a crucial 116-89 win over the Celtics in Game 3:
Want to see all of @JohnWall's highlights from a crucial Game 3 win?

Us too. 👀#WizCeltics #DCFamily pic.twitter.com/xs0sFjSjjq

– Washington Wizards (@WashWizards) May 5, 2017
Wall was great, but did you see Kelly Oubre???
Wizards' Kelly Oubre blasts Celtics' Kelly Olynyk after getting hit with pick (all angles) pic.twitter.com/Q9byNAFt0a

– Ben Golliver (@BenGolliver) May 5, 2017
As you might expect, he got kicked out for that.
9. Congrats to everyone graduating from UK today
Not only is today Oaks and Cinco de Mayo, it's day one of graduation at UK (the ceremonies continue through Sunday). Congrats to everyone who's making the walk. Enjoy today and relish in the fact that most of you accomplished something in four years that took Nick Roush seven. (Or was it eight? I lost track.)
If you know someone who's graduating but can't make it to Rupp (or if you're just really bored), you can watch the ceremony on the live stream below:
10. The winner of the KSR Movie Bracket will be crowned
The show will be live from the Oaks today, where the gang will decide the winner of the KSR Movie Bracket, which is down to Pulp Fiction and Forrest Gump. Who ya got??
Finally, what do you do when the betting machines at Churchill Downs break down? Dance it out, of course:
Can't top that on a Friday morning.