Five impressions from Big Blue Madness: the Scrimmage

Basketball season has officially begun, as we saw our first five-on-five action from your 2017-18 Kentucky Wildcats.
There wasn't much actual game time, but from what we did see, it was easy to realize this team is going to be a lot of fun.
Here are five impressions from the scrimmage portion of Big Blue Madness:
Drake didn't participate
We all knew Drake was coming, but the big question was whether or not he would redeem himself from his airball that went viral a few years back.
Instead of risking it, Drake sat on the sideline and talked with Coach Cal the entire time, along with trying on the official Drake X Calipari OVO 8 sneaker.
Mrs. Tyler Thompson asked the players yesterday who they'd rather take on a last-second shot, Drake or Coach Cal. Many of the players chose Cal because of the airball, and unfortunately, that's all we have to go off of for at least another year.
Oh well.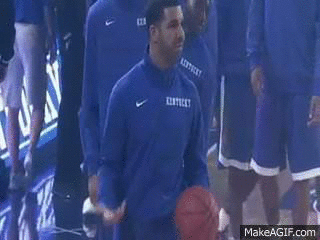 Hamidou Diallo almost tore the rim off
Easily the biggest story of the actual scrimmage was Diallo's effort to tear the rim down every time he took flight. My goodness.
Throughout the scrimmage, Hami threw down four or five jaw-dropping dunks, sparking "ooh's" and "ahh's" from the crowd, with each attempt better than the last.
We knew this kid was athletic, but finally seeing it in person was fun to watch. I pray for the poor defender that tries to contest one of his dunks.
This team is LONG
Alley-oops, vicious slams, tipped passes, blocked shots, etc. This team did it all on both ends of the floor.
Even without Jarred Vanderbilt, having Kevin Knox, PJ Washington, Nick Richards, Wenyen Gabriel, and Diallo will create nightmares for opponents this season. They are all just so long and lanky, I find it hard to believe anyone will be comfortable on the floor with us.
Calipari is in love with the word "positionless," and we all understood why tonight. These guys are all interchangeable at different positions, with just about everyone having the ability to grab a rebound and just go.
If there is a record for most different lineup changes in a year, I promise you this team is going to break it.
It ended in a three-pointer by Sacha Killeya-Jones
In another edition of "things we didn't expect to hear today," SKJ beat the buzzer on a near half-court heave to end the scrimmage.
As a side note, Killeya-Jones looked impressive tonight, active on both ends of the floor and finding his groove. He had one smooth move in the post that made everyone on press row look at each other in disbelief.
After a rough second-half of last year, it's great to see him get his feet under him and find some early success. His veteran leadership both on and off the floor is crucial in making this team a major contender.
Speaking of which…
This is a National Championship squad
Say what you want, but I'm calling my shot now.
No. 9 is coming this season.
I've seen them in high school, closed practice at UK, individual workouts, Pro Day, and now, and each time I came away with the same feeling.
They may not have the big name, "superstar" talent like some of Cal's past teams, but they are absolutely stacked with great players. They're deep, they're competitors, and they all have chips on their shoulders. They just have that "it" factor you look for in title contenders.
Calipari said they were going to look ugly to start the year, and I believe him. But don't tell me this team can't compete for a title.
Let's get to work.
[mobile_ad]