Everything John Calipari said after a Win over Illinois State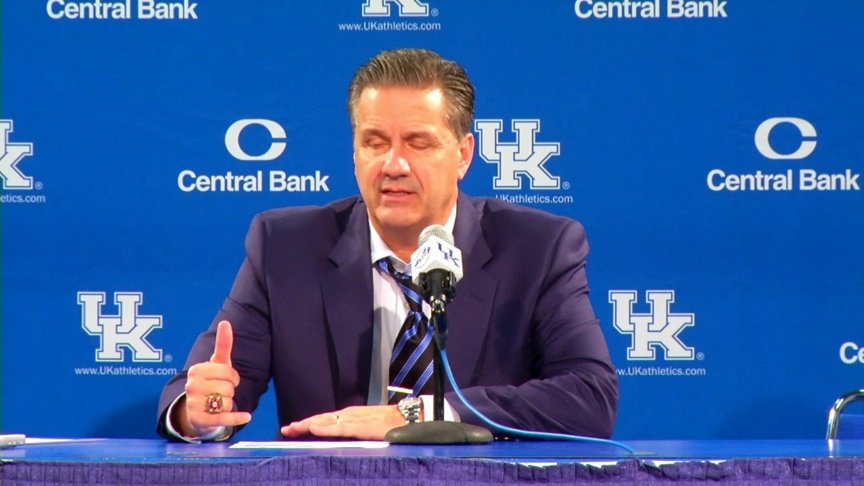 COACH CALIPARI: This was a great game because they spread the court and had all five guys that could drive.
We got three guys that refused to move their feet, they turned sideways, and think it's high school and they're going to block it at the rim. So they're all layups and ones and if they miss it, their weak side rebounder rebounds it. And that's why we needed to play this kind of game.
They also trapped and did some good things. And I'm happy that we got to see Isaiah. The beginning of the game, he just — three turnovers in three minutes. Okay now. It's not an easy position to play.
Jamal didn't play in the first half. Skal really gave us nothing the whole game. But this is a good thing. Because now — Alex gave us nothing in the first half. So, they — you got to take stock.
The thing about elite athletes and world-class athletes, they can evaluate their performance and say, all right, I got to fix this. They self evaluate and that's what this team needs to do.
Without Tyler, it's obvious we're not the same team. I mean, unless you were watching another game. We're not the same team. But it still doesn't mean that we shouldn't play hard and guys shouldn't battle and fight for balls. We got beat to everything in the first half.
Now, this team, they're going to win a lot of games. They had San Diego State and Maryland to the wire. They had us on the ropes. Think about that. Those are the kind of games they played and they have lost them, but they played them. I think Dan has done a great job playing the way they have to play. It was just tougher than us.
We were lucky to out rebound them because they out-rebounded 20-12 at half. They out-rebounded us by eight and it could have been more. A couple of them, the shot went up and we ran from a guy and they jumped over top of us and not fouling, just we didn't want to block out. Just grabbed a couple.
Q. Can you talk about your team as — what were your thoughts when you got guys got off to that slow start?
COACH CALIPARI: It was as much them as it was us. And it was Isaiah, again, the turnovers he had, the reason I was on him, he had the lob the first play. If you've watched this team for the last seven years, that's all we throw. So you can run back and try to get the lob, if you can. Maybe give us a layup, but we're going to lob it. He threw a direct pass. I'm like, what — the very first play. And that's how we come out of the gate, we're down 7, whatever it was, and we were lucky to be in the game at halftime. I even told them, this is the greatest thing for this team right here to have to deal with.
Look, you don't want to go through a season where every game is easy. This stuff is not easy. So, this was a hard game for us. This was, to be honest, the schedule we played to this point has not been easy, for us. We had four freshmen out there today. Come on.
Somebody told me the other day, "Your team, a couple years ago…" we had five freshmen. We're playing five freshmen. "Well, they should execute better." Really? They just got done playing AAU two months ago.
Q. You were obviously not happy with Marcus at South Florida —
COACH CALIPARI: He was great today. Boy was he good. If he does — if Marcus Lee doesn't play, we lose. Because I had to get Skal out and I had to get Alex out.
Tried to play Derek and, again, you see him in that isolation, having to guard the ball, he's struggling.
Again, the guy that changed the game was Dom. Dom did what he did at the Michigan game a couple years ago. He went in and guarded that player and said, I can do it. And then he made some free throws.
See, it is demoralizing when guys go up and miss four front-end one-and-ones in the first half and we miss 10 free throws. Four of them front-end one-and-ones. That's like missing 14 free throws. It is demoralizing.
Now you can miss a couple, but you can't miss them all and expect to be on that court. You just can't. So, again, self-evaluate, I'm going to get to that line, I'm going to want to be at that line, I'm not going to shoot air balls from the foul line. It's not going to be who I am.
Q. What did you have to say to Marcus coming out of that last game and going into this one?
COACH CALIPARI: Obviously you know what I said, Alex started.
Q. Could you update Tyler? And then also, is it getting to the point you are worried about whether you are going to be a good shooting team from the foul line?
COACH CALIPARI: Tyler wasn't there. And there's a couple guys that they just can't be in much at crunch time. It's just, you're not going to be in there.
Because the other team, basically with three minutes to go, is just going to start fouling you and you. So as soon as I see it, then you got to come out of the game. You can't be in. It's obvious you're sitting saying, Cal, they're just going to foul these two guys. I know. And they can't be in. And that's their choice, not any of us.
But these guys are not bad shooters. Right now we're 2-12, Dom was 0-3, Isaiah was 0-2. It's about that. Maybe 1-5. I would have been happier.
But you have Tyler and have you Jamal. You're hoping that Derek can go in and make a three or so. But the reality of it is that you have two. And most teams like us, that's what you have. You have two really good three-point shooters and the other guys for us are good drivers.
Q. (No microphone.)
COACH CALIPARI: I doubt if he practices tomorrow. We're going to travel and practice out in L.A. But I would tell you, he probably needs to practice the next day, Wednesday, before we play on Thursday to see if he can go. If he can't go, we'll go as is. We'll play with what we have.
Q. Coach Muller suggested that you did not go to Skal in the post or mid post as a lesson to, if you want the ball, you got to play tougher and compete harder.
COACH CALIPARI: No, we tried to. He couldn't catch it. We were trying to go to him. As a matter of fact, I told guys, if he's open and you don't throw it to him, you're coming out. Think about that. That's where he is right now and it's okay. I mean, he's not figured some of this stuff out. He's not figured how to play lower than the other guy. He's not figured out that I got to move my feet and quit grabbing people. But that's okay. And he is a really, really good player who is behind.
And the good news is we have Alex and Marcus. And if he's not playing well, we can still win. As we just try to make sure he's getting better and better.
Q. What's the difference between Marcus Lee, Friday and Marcus Lee, today? What makes the difference between those two days?
COACH CALIPARI: One of the things I told him is, if you're not playing with energy, I'm not playing you. You got a player like Marcus Lee, who, if he's to make it, it's going to be on one thing. He's an energy guy who can cover a bunch of positions and flies. And you need that kind of player on your team.
But if he's not playing with energy, you get what you have at South Florida. You have a guy that's just out there and it's like, well what did he do? And he's capable, but it's hard. I mean, to play with that kind of energy, to come out and make that who you are, I mean, it's hard. You have bags under your eyes, you can't do it. You have sleepies in the corners, you can't do it. You got to prepare all day to come out to play with unbelievable energy. I know who I am. No, I'm not a great shooter. No, I'm not a great free throw shooter, but I can dunk balls, I can rebound, I can block, I can guard four positions and I can play with unbelievable energy. But I would rather not because that's really hard.
I mean that's, you know — and it's what I was getting on Alex about. I mean, he got beat to balls again. No way. Skal got beat to balls today. They want it more than you. One time he said "I tried." You what? "I tried." Okay. You're not trying hard enough. Next guy. I mean, that's holding them accountable. And you win by 12 in an easy game or easily a game we could have lost.
Q. A lot of tough venues, obviously, in college basketball. Do you feel like you have the best home-court advantage?
COACH CALIPARI: I don't know. I think we're one of them. I'll tell you what makes a home-court advantage, where you have it. Great fan base is important, but there are other teams that have great fan bases. It's having really good players. Then you got a great home court. So, our home-court advantage has been our players. And our fans. They come every game. But it's been we got great players. You have these fans and they're going nuts and have you a bad team? We have had that here, too. It's hard to win.
Q. Jamal, how do you think he played?
COACH CALIPARI: First half I thought he was non-existent. Second half, what I'm trying to get him to do is get fouled. He's still flipping balls. He's still trying to avoid and do some spectacular "like, did you see that," but you can't win playing that way.
Winning basketball is you get fouled. And again, I thought in the second half — I don't know what he had at half. Did he have any points at half? Two? He has 15 or 16, 14 in the second half? He should be a player that's getting 10 points a half. Easy. And I'm going to guess four of those points should be on free throws. But you got to play that way. You got to want to create the contact. The time he went in and bang and hit it, just go make two, stops the game, we can press. But they're all learning. They're all learning.
Q. Is this a good stretch for your team, not only coming off of competitive game like this, but going straight into your first true road game of the season?
COACH CALIPARI: Well, if Tyler is healthy, yeah. If he's not healthy, no, it's bad, bad timing. But we'll see. He was half coaching on bench, telling me who to take out. "Take him out. Who? You know who."
Q. Playing at Pauley Pavilion, have you done that before and is it a, not thrill, I guess, but does it get your attention to play in an iconic place like that?
COACH CALIPARI: Yeah, I've been on that campus a few times. It's unbelievable. UCLA is just, it's one of those schools that does, has the opportunity to do everything and basketball and football and every — if I'm not mistaken and somebody can check it out other than Jerry — but I think they have won more national titles in all sports than any other program. The campus, which is, you know, it's kind of landlocked, because it's in where it is, and in Westwood, but they redid Pauley, I've seen it, really nice building. The Hall of Fame there, they have John Wooden's office, the way it was encased. The history of that program. And I think us, having an opportunity to go there — and we're going to have a couple days to practice, to see if we get some stuff fixed here — it's going to be neat. A neat trip.
Q. Did you have any relationship with Wooden?
COACH CALIPARI: You know what, I did. And it's funny, I played in his Classic. We were the first team, I was at UMass and they had the John Wooden classic. And I believe it was '95. And the three other teams were Kentucky, Kansas, North Carolina and UCLA. So who was it again?
Q. UMass, Kentucky, Kansas and UCLA.
COACH CALIPARI: Who doesn't belong in that bunch? And I got to spend time with him and I later called him in 2010, he had a great thing he said to me, I said, are you watching my team, he said, yes I am, coach. And I said, what do you think. And he said, well, you may not agree, but I think you're playing too many people. He said, they should earn their minutes in practice and you should play six or seven guys and that's who you should play, because that's how you become a good team. And you know what, Jackie Leaman told me the same thing when I was at UMass, who coached Julius Erving. And they are right. My best teams that I've coached have always been playing five and six guys. By the end of the season, they're unbelievable teams. He said, but I understand why you do it, recruiting and transfers and all the other things you got to do. But understand that the way you're going to build your best team is play less people.
And that was in 2010. I can still remember it. I was in Florida, getting ready to play Florida when I called him. And he had watched. But I had talked to him a couple different times and after that event and so.
Q. Last year you guys got out to that 24-0 run on UCLA. Can you take anything from that game going into this one?
COACH CALIPARI: No. I tell you what, if they watch this game, they're going to post us up. Tony Parker is, every time they throw it, they're going to go at our bigs. So we better have some ideas what have we're going to do. Steve's terrific at what he does. He's figured it out. I've coached against him a couple times. Last year was an outlier. I had a ridiculous team. And they would go into a game like that to smoke somebody, like they did Kansas. They would go in with that mentality. This team is, we don't have that mentality.