EJ Floreal's Wednesday Morning Wakeup
Regardless of how this season ends, when people look back on this team, they'll probably think of Tyler Ulis and Jamal Murray; however, I'd like to take the opportunity to shine a light on a very underrated member of this year's team, last year's team, and the team before that: EJ Floreal.
Floreal hasn't scored a point this season, but I'd argue he's had a bigger impact than most on this group, quietly pulling the strings behind the scenes. Floreal is the social director of the crew, which anyone who's seen the team behind-the-scenes can attest. Also, anyone who's seen his dunks at warmups will tell you that Floreal, son of UK Track & Field Coach Edrick Floreal, is an athletic freak who would get minutes at a mid-major program; yet, he's contributing plenty at Kentucky by helping each crop of Wildcats gel. Also, he's the star of UK's pregame dance circles. A few examples to get you moving this morning:
Death, taxes and @Eddie_Bounce24 killing it in the pregame dance circle pic.twitter.com/yPoiIcLGaC

– Tyler Thompson (@MrsTylerKSR) February 27, 2016
Kentucky dancing after warm ups (is that a gator chomp?) pic.twitter.com/Y5Pbo6hOBt

– Curtis Burch (@curtisburch) March 1, 2016
Tyler Ulis should win MVP, but can we get a commemorative disco ball for my man EJ?
So, how about Skal last night?
After spending most of the season in obscurity, Skal emerged last night, scoring 11 points and grabbing 8 rebounds, and he may have gotten more if not for foul trouble. Was he the "tweak"? I doubt Calipari would ever admit it, but Cal was preaching the importance of building confidence in his bigs all week, and I can't think of a better way than giving Skal his first start than the Ohio State game.
Skal's performance was big, but, as always, I'll really believe if he follows it up with another impressive performance on Saturday.
Jamal Murray's bow and arrow is still awesome
We're accustomed to three-pointer celebrations here at Kentucky, but the bow and arrow trumps Doron Lamb's three-goggles and Devin Booker's reload if you ask me.
The current SEC standings
1. Texas A&M 12-5
2. Kentucky 12-5
3. LSU 11-6
4. Vanderbilt 11-6
5. South Carolina 10-6
6. Ole Miss 8-8
7. Georgia 8-8
8. Alabama 8-8
9. Arkansas 8-8
10. Florida 8-9
11. Mississippi State 6-10
12. Tennessee 6-11
13. Auburn 5-12
14. Missouri* 3-14
That takes tiebreakers into account. For Kentucky to win the SEC Regular Season Championship outright and clinch the #1-seed in the SEC Tournament, they need to beat LSU and hope Vandy knocks off Texas A&M on Saturday.
Louisville gave Trey Lewis and Damion Lee Championship rings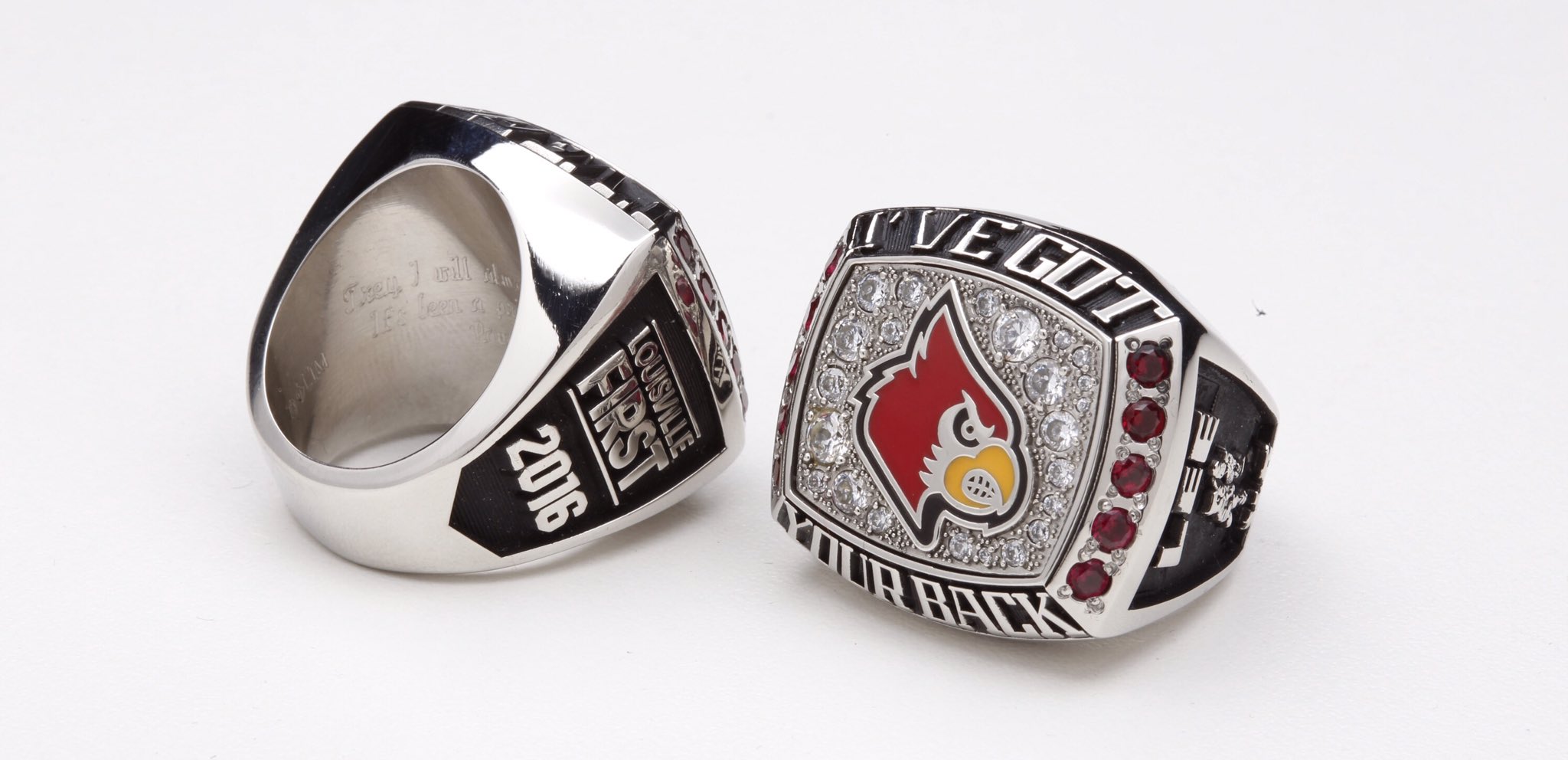 …even though Louisville didn't win a championship. Look, I like Lewis and Lee and, as the only members of the program who weren't at Louisville during the sex scandal, they're been dealt a bad hand in all this, but come on. To hammer home the martyrdom, they also played "One Shining Moment."
Weren't Louisville fans piling on Lewis and Lee just the other day?
College basketball on TV today
SEC
7 p.m.: Mississippi State at Ole Miss, SEC Network
9 p.m.: Arkansas at Alabama, SEC Network
Top 25
7 p.m.: Texas Tech at #10 West Virginia, ESPNU
7 p.m.: #7 Miami at Notre Dame, ESPN2
7 p.m.: #2 Michigan State at Rutgers, BTN
9 p.m.: #9 Oregon at UCLA, ESPN2
Today's radio show may be one to remember
After all the drama that went down in Louisville yesterday, you're going to want to tune in to hear Matt's take. Get some work done, it starts in an hour.