Eddie Gran's Tuesday Morning Wakeup
It's been an odd week or two for UK football. Both Patrick Towles and Reece Phillips announced they were transferring, and on their way out, took shots at Mark Stoops over his decisions to fire Shannon Dawson and name Drew Barker quarterback. The much ballyhooed locker room divide played itself out through emojis and subtweets on Twitter, making the team look more like a middle school cafeteria than an SEC football program. Not a good look, to say the least.
Just when it seemed like some positive news was on the way in the form of Cincinnati offensive coordinator Eddie Gran, the drama with Phillips reared its ugly head and reportedly caused Gran to balk. We're hearing Stoops smoothed things over and finalized the deal with Gran yesterday afternoon, and it will be announced today, assuming there are no more fireworks. Justin Rowland is reporting that Gran will likely bring Cincinnati passing game coordinator/quarterbacks coach Darin Hinshaw with him, a big plus considering the Bearcats' offense ranked fourth in the nation in passing offense this season with 359.9 yards per game.
As we wait for something official, here are some quick facts about Gran and his offense:
He was the Associate Head Coach/Running Backs Coach/Special Teams Coordinator at Florida State when Mark Stoops was the Defensive Coordinator (2010-2012)
He spent 15 years in the SEC as a special teams coordinator and running backs coach, 10 years at Auburn and a few at Tennessee and Ole Miss
Cincinnati was 6th in total offense this season, with 33.8 points per game. To compare, Kentucky was 93rd, with 24.7 points per game. (Worth noting that these stats were much higher before Cincy dropped an egg in their bowl game)
Under Gran, the Bearcats ran a balanced attack, with 52% of plays called passing and 48% rushing.
He's got a reputation for getting the ball to tight ends, turning former Bearcat Travis Kelce into an NFL third round draft pick. Under Gran, Kelce — who is now with the Kansas City Chiefs — caught 45 passes for 8 touchdowns in one season. Hear that, CJ Conrad?
Off the field, Gran really likes to hunt and eat at Jeff Ruby's: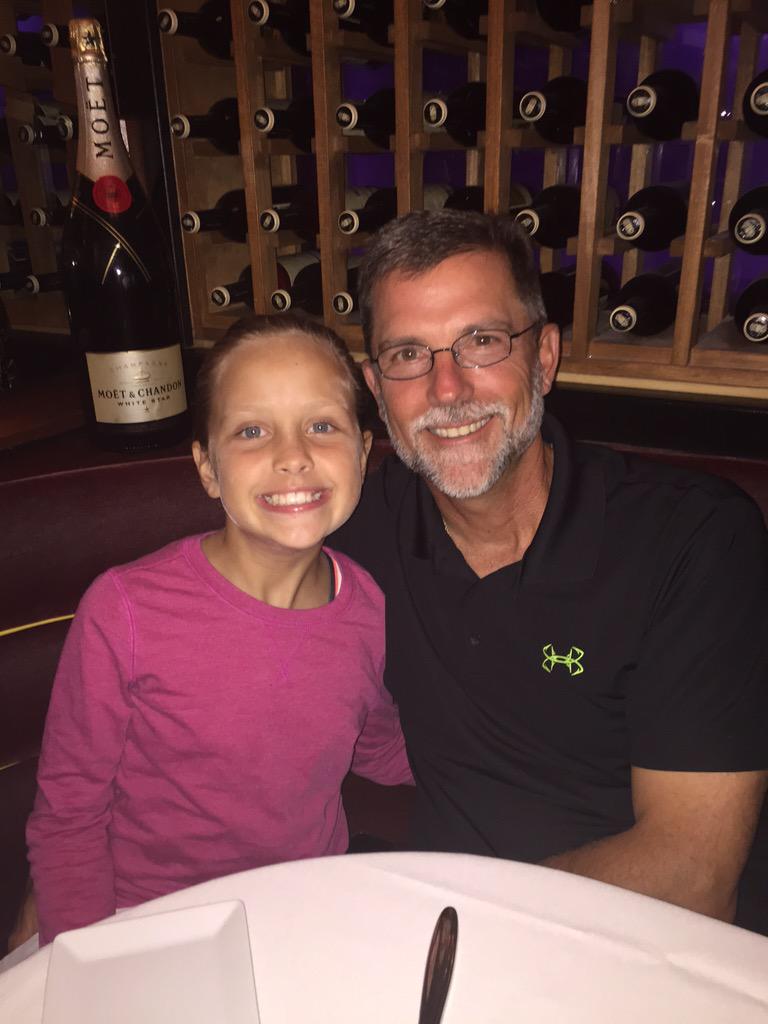 Most importantly, Gran brings a wealth of experience to a program in desperate need of it. Hopefully, there won't be any frantic last second decisions or two-minute offense meltdowns like last season. At the very least, I don't think it can get much worse.
This story will probably dominate the day, but here's what else is going on…
Camp Cal continues
After taking Sunday off, the team is currently going through three-a-days until they begin preparations for the conference opener against Ole Miss later this week. Last night on his radio show, Calipari said Camp Cal is going well, and he is particularly pleased with Tai Wynyard and Isaac Humphries, the former of which has a "fight and physicalness" to him.
Cal also compared Jamal Murray to John Wall in that Murray is currently trying to make too many hard plays (aka SportsCenter Top 10 plays). He said he's encouraging Murray to hit singles and worry less about the home runs. After watching Murray dribble over every inch of the Rupp Arena court on Saturday, I agree.
Here's today's college basketball (and bowl) schedule
Still off for the holidays? Luckily for you, there's plenty of sports on TV to keep you entertained:
College football (SEC games in bold)
Lockheed Martin Armed Forces Bowl: Cal vs. Air Force, 2 p.m., ESPN
Russell Athletic Bowl: #10 North Carolina vs. #17 Baylor, 5:30 p.m., ESPN
Nova Home Loans Bowl: Nevada vs. Colorado State, 7:30 p.m.
Advocare V100 Texas Bowl: #20 LSU vs. Texas Tech, 9 p.m., ESPN
College basketball (SEC games in bold)
Tennessee State at Tennessee, 1 p.m., SEC Network
Wake Forest at LSU, 7 p.m., ESPNU
Florida State at Florida, 7 p.m., ESPN2
Robert Morris at Georgia, 7 p.m., SEC Network
Texas Southern vs. #23 Baylor, 3 p.m., ESPNU
Temple vs. #22 Cincinnati, 3 p.m., ESPN2
#17 SMU vs. Tulsa, 5 p.m., ESPN2
Princeton vs. #13 Miami, 7 p.m., ESPN3
#14 Purdue vs. Wisconsin, 7 p.m., BTN
Cal Poly vs. #20 Texas A&M, 8 p.m., SEC Network+
UC Irvine vs. #2 Kansas, 9 p.m., ESPNU
#1 Michigan State vs. Iowa, 9 p.m., BTN
Manhattan also plays Eastern Kentucky at McBrayer Arena in Richmond at 2 p.m., the first time Dan McHale will face off against his former boss Steve Masiello. Here are the two on the UK bench during Tubby Smith's years (if you don't remember, McHale was a manager):
Ryan and Drew take over KSR
Matt's on vacation the rest of the week, so Ryan Lemond's got the wheel, a terrifying thought. Today, Drew Franklin is helping out, so be sure to tune in to hear their takes on Saturday's big win vs. Louisville and what in the world is happening with the football program.