Duke suspends Grayson Allen indefinitely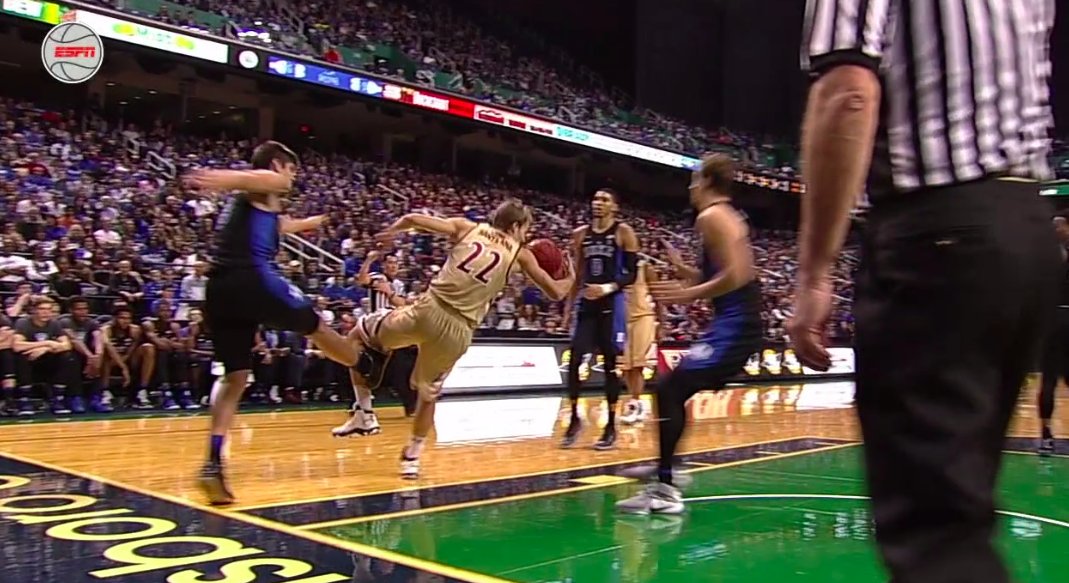 I'll echo what Drew said in this morning's wakeup and say thank you to Grayson Allen and Duke for stealing the headlines from Kentucky's loss to Louisville. This morning, Duke suspended Allen indefinitely for tripping Elon's Steven Santa Ana last night, the third time Allen's been caught tripping an opponent.
"We have had the opportunity to thoroughly review the incident involving Grayson Allen from last night's game against Elon," coach Mike Krzyzewski said in a statement. "As I stated last night, the incident was unacceptable and inexcusable. He took an important step last night by apologizing in person to Steven Santa Ana and Coach Matt Matheny. As a program, we needed to take further steps regarding his actions that do not meet the standards of Duke Basketball. To that end, we have determined that Grayson will be suspended from competition for an indefinite amount of time."
If you haven't checked the news, social media, or this very website yet today, here's the trip and Allen's bizarre tantrum after getting a technical for it:
What to do with Grayson Allen after latest tripping incident?

SportsCenter AM starts NOW: https://t.co/IYOXcFZMkj pic.twitter.com/EaHEzqSczh

– SportsCenter (@SportsCenter) December 22, 2016
The ACC is expected to review the matter this morning. Meanwhile, if you ask Luke Kennard, Duke has bigger problems to worry about, like team chemistry.
"Everybody, they're not bought in," Kennard said. "They're not all the way consumed in winning. Everybody's not consumed in just being one."
That superteam tag can be hard to handle, right?