Dorothy the Dude's Tuesday Morning Wakeup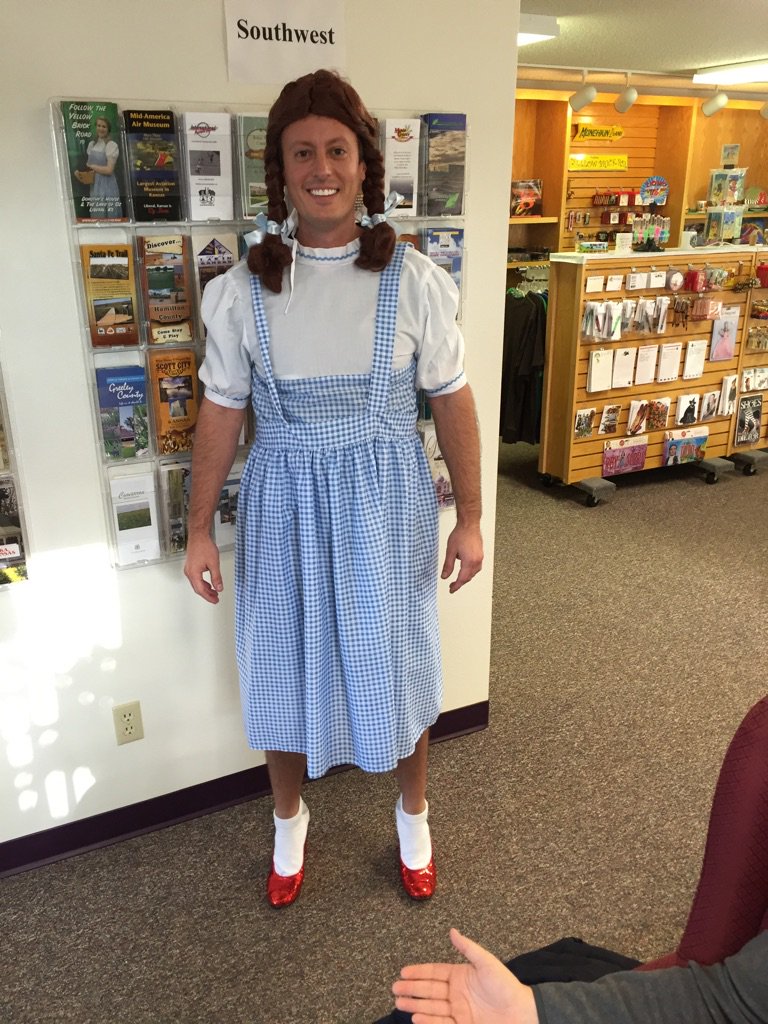 The guys are somewhere in New Mexico, but before we move on to their next adventure, we have to give credit where credit is due. During their stop at Dorothy's house from "The Wizard of Oz" in Liberal, Kansas, Shannon the Dude proved he was the ultimate sport, putting on a Dorothy costume under immense peer pressure.
Shannon didn't just wear the costume, he rocked it, gamely going out to the street and waving at locals in his wig, dress, and ruby red shoes: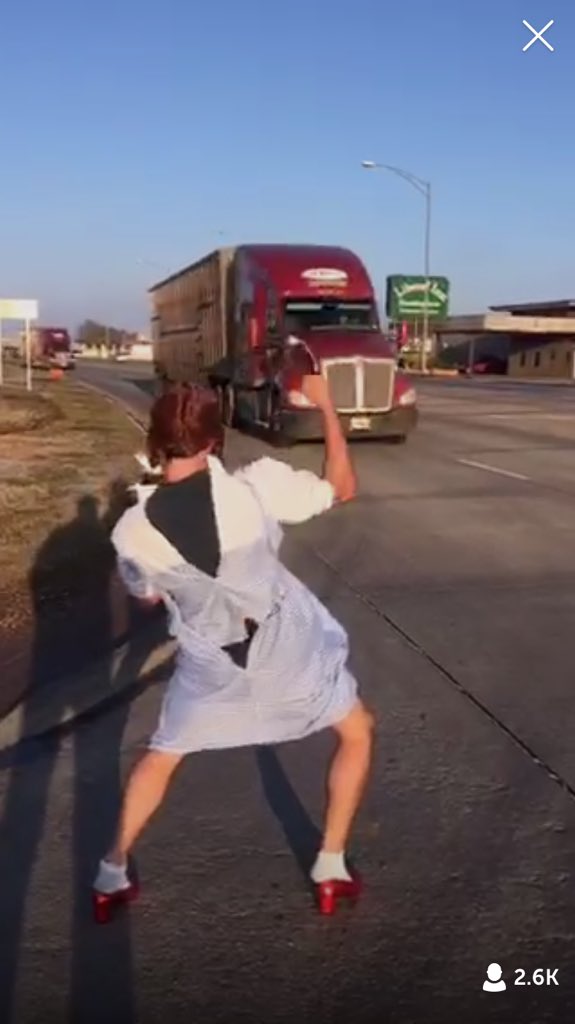 See, a great pair of heels can make anyone a little sassy. Or slutty. Also, is it wrong that I'm jealous of Shannon's legs?
---
Meanwhile, back in the Bluegrass, there's plenty happening. Let's go over the agenda.
The team leaves for California
It's a quick turn around for the Cats, who will leave for Los Angeles today to prepare for Thursday's matchup against UCLA at Pauley Pavilion. The biggest question for anyone who watched last night's game is "Will Tyler Ulis play?". Cal held Ulis out of last night's game to make sure he's 100% for UCLA, and after the game, gave this update.
"I doubt if he practices tomorrow. We're going to travel and practice out in L.A. But I would tell you, he probably needs to practice the next day, Wednesday, before we play on Thursday to see if he can go. If he can't go, we'll go as is. We'll play with what we have."
Here's hoping Ulis is able to play Thursday, because when he's not on the floor, I look like this:
Don't expect a blowout like last year
I doubt many of us expect Kentucky to take UCLA to the woodshed like last season, when the Cats famously held the Bruins to seven points at the half. John Calipari said don't count on that happening this time around.
"Last year was an outlier. I had a ridiculous team. And they would go into a game like that to smoke somebody, like they did Kansas. They would go in with that mentality. This team is, we don't have that mentality."
If Tyler plays, I'll settle for a Duke-esque beatdown.
Meanwhile, the football coaches are recruiting
Mark Stoops, Vince Marrow, DJ Eliot, and Shannon Dawson made the rounds yesterday to check in on their 2016 commits to make sure they're still all in after a disappointing season. Stoops, Dawson, and Marrow saw QB commit Gunnar Hoak:
Coaches came up to Dublin tonight for the "in home" visit! #BBN 🔛🔝🔜 pic.twitter.com/jU8CdqMMKK

— Gunnar Hoak® (@GunnarHoak12) December 1, 2015
And Dakota Holtzclaw:
Had a great time hanging out with @UKCoachStoops @vincemarrow @CoachDawsonUK #BBN #ALLIN Big things coming! pic.twitter.com/4L4l8rF6Bs

— Dakota Holtzclaw (@Dakota81Claw) December 1, 2015
…while Eliot and Derrick Ansley stayed in Lexington to see Davonte Robinson:
Does this mean Eliot and Dawson are here to stay? Maybe. Maybe not. Hopefully we'll find out more soon.
We tape the final KSR Football Podcast tonight
And man, it's going to be a doozy. After the train wreck that was this season, we've all got some things to get off our chests, and nothing will be off limits. Tweet us your questions and we'll attempt to answer them. I'll be Skyping in from Nashville, but I'm prepared to use the Adele CD if things get too tense. It worked wonderfully at Thanksgiving.
Kyvin Goodin-Rogers is transferring
Lost in the pregame shuffle last night was the news that Kyvin Goodin-Rogers will leave the UK Hoops program, the fourth player in six weeks to do so. Matthew Mitchell's squad is currently 6-0 and ranked 11th in the nation, so the trend is baffling. With Ryan on the road trip, Coach Mitchell stepped in to handle the halftime entertainment at Rupp Arena last night and brought his team with him, so at least they're presenting an united front. Still, what in the world is happening with UK Hoops?
Today's show will be live from Tucumcari, New Mexico
Which will probably be the only time we'll ever say that. Get some work done over the next hour so you can give Matt, Ryan, Drew, and Shannon your full attention.