Dickie V calls for Calipari and Crean to make Kentucky/Indiana happen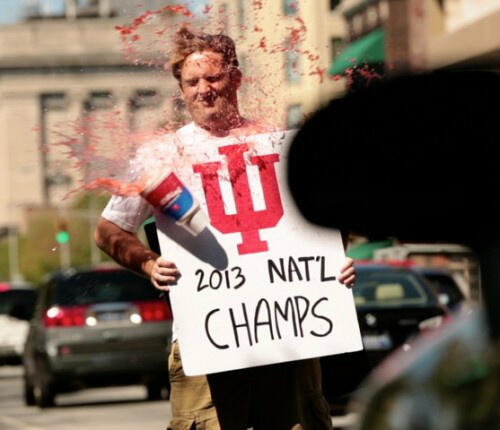 Death, taxes, and Dick Vitale trying to resurrect the Kentucky/Indiana series. Vitale's campaign continued last night during the Louisville/Indiana game, when he managed to bring Kentucky up before the game even started and once again implored the Cats and the Hoosiers to make up and restart the rivalry. He mentioned it again on Twitter today:
It angers me that guys like @TomCrean & @UKCoachCalipari can't sit down 1 on 1 & make KENTUCKY – INDIANA happen – Both R better than that

— Dick Vitale (@DickieV) December 10, 2014
Calipari has said that Kentucky will gladly play Indiana on a neutral court, but refuses to return to Bloomington. Why? First of all, the Hoosiers' behavior when they upset the Cats in 2011 was enough to make you never want to return to Bloomington, but also, what does Kentucky gain from playing there? Not much. Indiana gets a primo game that will sell out in seconds. Why help out the Hoosiers when there's so much burned ground between the programs?
Indiana has repeatedly refused to play UK at a neutral site, but last night, Rick Pitino suggested the possibility of the Cards and the Hoosiers playing at Lucas Oil Stadium in Indianapolis.
"What I suggested to (IU coach) Tom (Crean) was, we go to Lucas Oil Stadium for two years and we try to break the attendance record," Pitino told the media at Madison Square Garden. "We try to get 80,000 people. …

"We'd like to play in Lucas Oil and get 60,000 to 80,000 people there. I hope we can do it."
If Crean and the Hoosiers don't bite on Rick's request, I can't imagine they'll ever agree to do the same with Kentucky. That's no loss to me, but maybe Dickie V needs to redirect his anger if he really wants UK/IU to happen again.