Day 2 at the SEC Tournament LIVE THREAD
Greetings from Bridgestone Arena yet again, my friends, for an exciting day of basketball. First up, we've got Tennessee vs. Georgia, which will determine who plays Kentucky tomorrow. I'm courtside to cover the action, and hopefully not claw my ears off after hearing "Rocky Top" for the millionth time. Join me, will you? Let's have some fun.
12:57 p.m., Tyler: In today's "Let's complain about the free media food," I'm going to whine about the lunch offering, which was actually leftover breakfast food. So, all those eggs, sausages, bacon, potatoes, etc. they put out this morning at 8 a.m.? They're still on the catering burners, overcooked and disgusting as all get out. After people complained, they found some cold cuts so people could make sandwiches, but yuck. Thankfully, I have granola bars in my bag.
1:01 p.m., Tyler: The SEC seems committed to using strobe lights during the team intros, which means I may see that cold cut sandwich I just ate sooner rather than later:
SEC seems committed to this strobe light during intros. Boooo! pic.twitter.com/jmbctRoecE

– Tyler Thompson (@MrsTylerKSR) March 9, 2017
1:08 p.m., Tyler: Yante Maten is not only already in the game, he just hit a three to put Georgia up 5-0.
1:20 p.m., Tyler: Meanwhile, in Brooklyn, Rick Pitino is staying nice and toasty on the way into the Barclays Center for Louisville/Duke.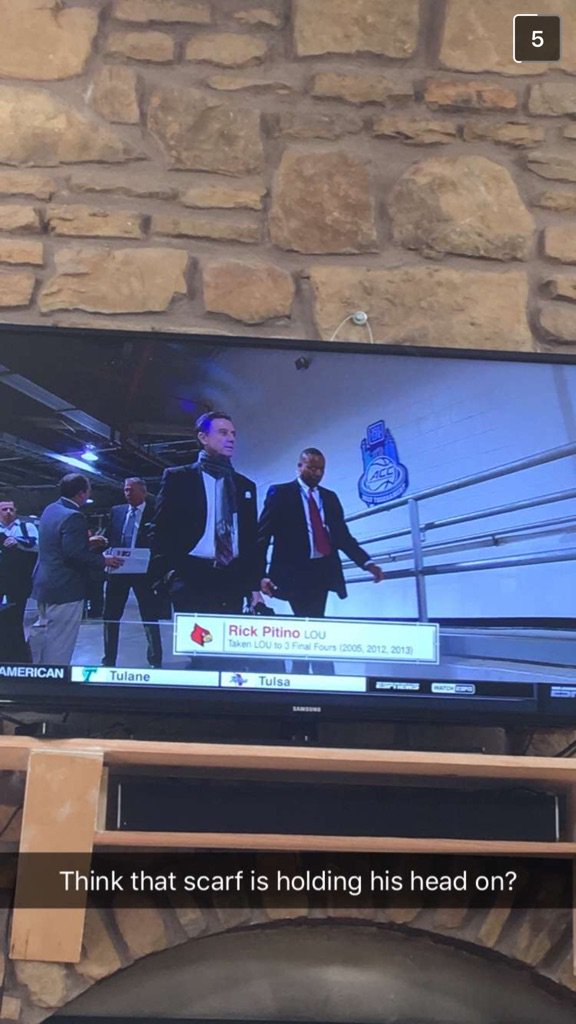 1:30 p.m., Tyler: After a rough start, Tennessee has rallied to make this a one-point game, 17-16. The crowd is slowly filling in here at Bridgestone, and at halftime, I'm determined to find the gift suite, where earlier, De'Aaron Fox tried out a pair of virtual reality goggles:
😂 @Swipathef0x is a fan of the virtual reality glasses at the #SECMBB gift suite. Apparently he's riding a rollercoaster. pic.twitter.com/vjZKnIztow

— Kentucky Basketball (@KentuckyMBB) March 9, 2017
1:45 p.m., Tyler: It's halftime and Tennessee is up one, 27-26. The score may not indicate it, but this is actually a pretty entertaining game. JJ Frazier and Yante Maten lead the way for the Bulldogs with 7 a piece, while Lamonte Turner and Jordan Bone have 9 and 8 for Tennessee.
While we wait for the second half, enjoy these pictures from this morning's show at the Omni:
2:30, Tyler: Georgia tried to pull away, but Tennessee just won't quit. With 7 minutes left, the Bulldogs are up by one. I'll be honest, I'm multi-tasking: