Craig Sager's Thursday Morning Wakeup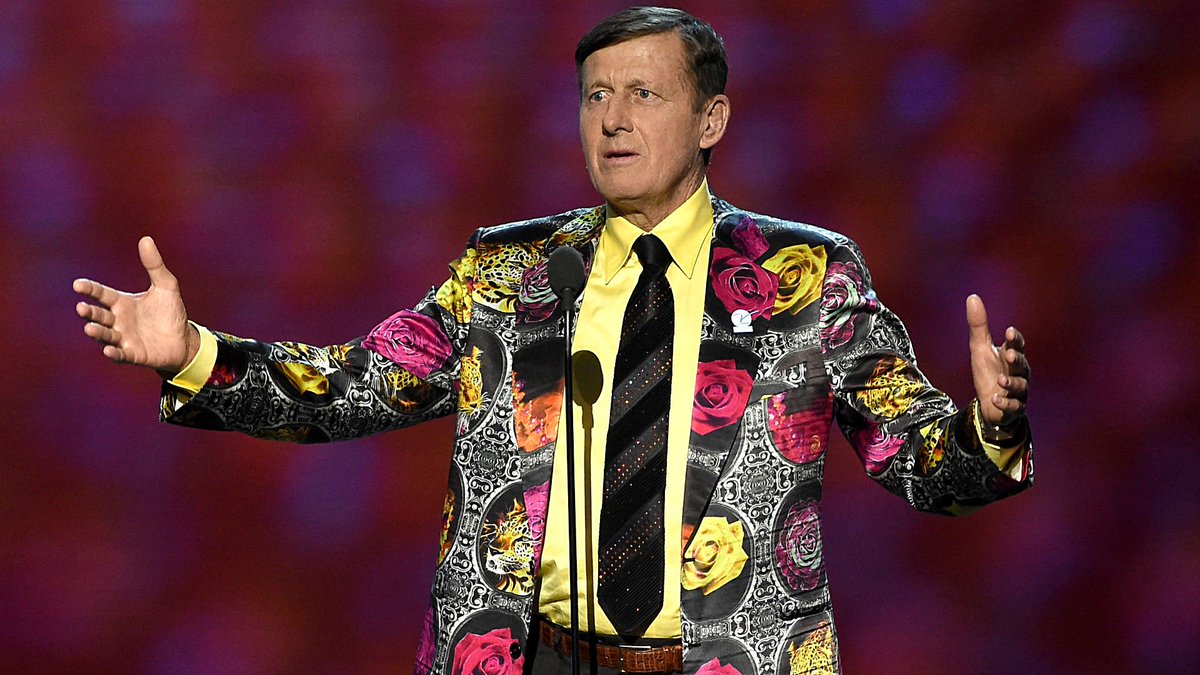 Confession time: I used to tune in to the ESPYs to mock it. Watching athletes attempt to tell jokes and carry an awards show was often painful, but in years past, the ESPYs have morphed into an impressive celebration of not only the most successful athletes in sports, but the underrated heroes who deserve the spotlight. Craig Sager is a great example of that. The longtime TNT commentator is battling leukemia and was presented with the Jimmy V Perseverance Award last night by Vice President Joe Biden, who lost his own son to brain cancer last year; that alone was moving, but Sager's ten-minute speech was enough to bring you to tears:
The speech, like Jimmy V's iconic one from years ago, was funny, emotional, and defiant. Listening to Sager vow to beat his disease on a night we celebrated sports heroes was a timely reminder that sports are games, and those who play them for a living are truly blessed.
"If I've learned anything through all of this, it's that each and every day is a canvas waiting to be painted," Sager said. "An opportunity for love, for fun, for living, for learning."
There's no putting it better than that. Let's channel that optimism as we look forward to the day ahead in Kentucky sports…
The NBA Summer League Tournament continues…
Yesterday, five Cats were in action on the first day of tournament play in Las Vegas. Only DeAndre Liggins (Cleveland Cavaliers) and Trey Lyles (Utah Jazz) advanced to the next round, although Lyles sat out Utah's game, a well-deserved rest after an impressive run thus far. Liggins didn't have a great night, tallying only two points, two rebounds, and two assists in Cleveland's win over Boston, but he played better than James Young, who didn't score any points in seven minutes of play. Meanwhile, Skal, Willie, and the Kings fell to the Heat, with Skal putting up 9 points (3-6), 5 rebounds, 1 assist, 1 steal, and 3 blocks in 23 minutes, while Willie struggled, putting up only 4 points (2-5), 3 rebounds, 1 assist, 2 steals, and 1 block in 17 minutes.
Here's the latest bracket:
And a schedule of games to keep an eye on today:
4:30 p.m.: Minnesota vs. Memphis (Andrew Harrison)
6 p.m.: Miami vs. Phoenix (Devin Booker, Tyler Ulis)
8 p.m.: Utah (Trey Lyles) vs. Denver (Jamal Murray)
10 p.m.: Cleveland (DeAndre Liggins) vs. Los Angeles Lakers
The Kings and the Celtics will play in the consolation round on Friday, at 4 p.m. and 6 p.m., respectively.
SEC Media Days wrap up
UK's run at the SEC Media Days is over, but there's still plenty of fun to be had in Hoover. LSU's Les Miles, Ole Miss' Hugh Freeze, and South Carolina's Will Muschamp will finish up the four-day event, and if you thought yesterday's scuffle between Paul Finebaum and Nick Saban was entertaining, wait until Hugh Freeze takes the stage. Between the ongoing NCAA investigation and the Laremy Tunsil drama, Freeze will likely be grilled by reporters. Meanwhile, Les Miles is always a hoot, but he's bound to be extra salty this year now that he's on the hot seat.
Will Muschamp starts things off at 10:05 a.m., followed by Les Miles at 11:05 a.m. and Hugh Freeze at 11:35 a.m.
The ESPY skit about Peyton Manning's letters was also hilarious
Poor Eli.
ICYMI, Terrence Jones is headed to New Orleans
If you didn't see it in the post directly below this one, Terrence Jones is finalizing a one-year deal with the New Orleans Pelicans that will reunite him with his 2012 National Championship teammate Anthony Davis. Living in New Orleans AND getting to play with Anthony Davis again? Sounds like a win-win to me.
The Bluegrass Boys have two open practices today
The Bluegrass Boys are going through training camp to prepare for their run in The Tournament, which starts this weekend in Chicago. Last night, they lost to the Pro-Am All-Star Team, which is made up of former UofL players and other college stars; not exactly a great start to camp, but hey, it's all about knocking off the rust, right? If you're in the Northern Kentucky area, you'll have three chances to see the Bluegrass Boys today:
Thursday, 1 pm, Erlanger: Open practice against a local basketball team at Griffin Elite Sports & Wellness. Open to the public for no charge.
Thursday, 3 pm, Erlanger: Open practice against a local basketball team at Griffin Elite Sports & Wellness. Open to the public for no charge.
Thursday, 7 pm, Cold Spring: Fans are invited to meet the team at Barleycorn's in Cold Spring
Some highlights from last night's scrimmage courtesy of cn|2:
The @8luegrass8oys had their first scrimmage tonight in New Albany Indiana. Here are a few highlights. #BBN pic.twitter.com/D6XLAZX6TJ

– KSTV (@KSTV_Sports) July 14, 2016
Where in Kentucky is KSR today?
You'll just have to find out in an hour.
Until then, Bam Adebayo wants you to CAPTION THIS picture:
Caption This 😂 pic.twitter.com/AkX1DMr2pz

— Bam Adebayoâ"¢ (@IAmBam13_) July 13, 2016